Missile strikes on military sites 'kill pro-Assad Syrian and Iranian fighters'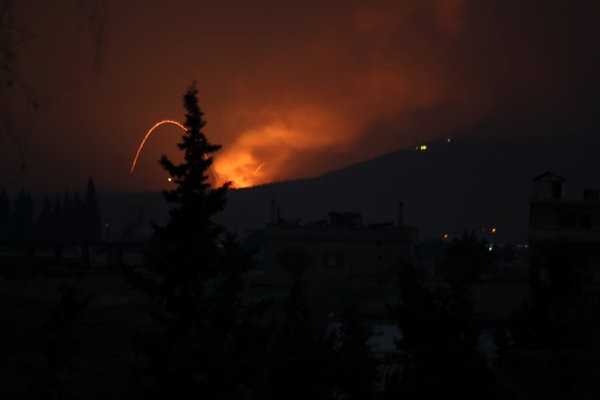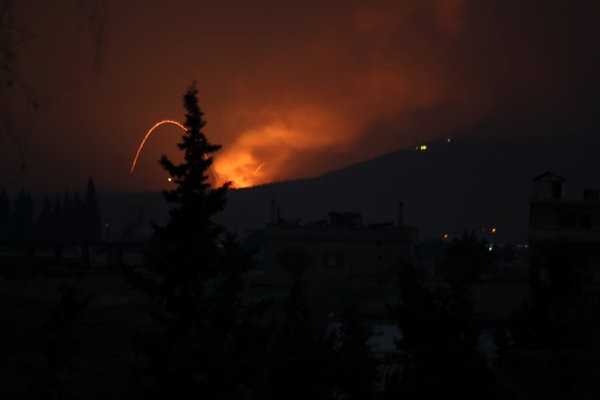 Missile strikes on military sites in northern Syria overnight reportedly killed a number of pro-government fighters, including Iranians.
The Syrian military said facilities in Hama and Aleppo provinces were struck.
It did not say if there were any casualties. But a UK-based monitoring group said four Syrians and 22 foreigners, mostly Iranians, died.
It is not known who was behind the attacks. Western nations and Israel have previously hit sites in Syria.
Earlier this month, the US, UK and France bombed three facilities they said were associated with the Syrian government's alleged chemical weapons programme.
Israel is alleged to have hit an airbase reportedly serving as an Iranian drone command centre and containing an advanced Iranian air defence system. Seven Iranians were among 14 military personnel killed in that attack.
Israel has repeatedly vowed to stop Iran from strengthening its military presence in Syria, where it has deployed hundreds of troops since the country's civil war began in 2011 to help keep President Bashar al-Assad in power.
Thousands of Shia Muslim militiamen armed, trained and financed by Iran – mostly from Lebanon's Hezbollah movement, but also Iraq, Afghanistan and Yemen – have also fought alongside the Syrian army.
A Syrian military source cited by the official Sana news agency said only that the sites targeted on Sunday night were "exposed… to a new aggression".
The source added that the strikes came after terrorist organisations had suffered defeats in the countryside of the capital, Damascus, an apparent reference to the recent recapture of the Eastern Ghouta region from rebel groups.
The Syrian Observatory for Human Rights (SOHR), a UK-based monitoring group, said one strike appeared to have targeted a depot for surface-to-surface missiles at the 47th Brigade military base, south of the city of Hama.
The pro-opposition Orient News website also reported that large explosions were seen coming from what were believed to be ammunition caches at the base.
Opposition media activist Mohammed Rasheed meanwhile told the Associated Press that debris from the explosion at the depot struck parts of Hama and that residents of areas near the base fled their homes.
A video posted by a government supporter purportedly showed the explosion.
Missiles are also reported to have hit locations in the Salhab area, west of Hama city, and the area surrounding Nairab military airport, which is close to the city of Aleppo and its international airport.
The SOHR cited its sources as saying 26 pro-government fighters were killed in the missile strikes, most of them Iranians. It added that the death toll might rise as 60 fighters were wounded, some of them seriously, and that others were missing.
An official from a regional alliance that includes Iran and Hezbollah told the New York Times that the strike on the 47th Brigade base destroyed 200 missiles and killed 16 people, including 11 Iranians.
Iran's semi-official Fars news agency cited its sources as saying that the missiles struck weapons depots in southern Hama and an area north of Aleppo's airport, but they denied that Iranian military advisers were killed.
Iran's Tasnim news agency also cited an unnamed source as dismissing as "baseless" the reports that Iranian facilities were hit and Iranians killed.
The SOHR said that given the nature of the targets, the attacks were likely to have been carried out by Israel.
But Israeli Intelligence Minister Yisrael Katz said on Monday morning that he was "not aware" of the strikes.
"All the violence and instability in Syria is the result of Iran's attempts to establish a military presence there. Israel will not allow the opening of a northern front in Syria," he told Israel's Army Radio.
BBC