CIA chief Pompeo made secret trip to North Korea to meet Kim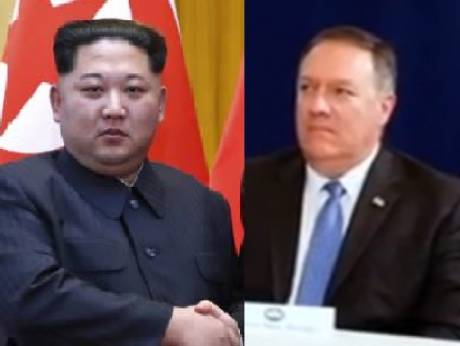 CIA director Mike Pompeo made a top-secret trip to Pyongyang earlier this month to meet with North Korean leader Kim Jong Un.
The highly unusual visit was to lay the groundwork for a direct meeting between US President Donald Trump and Kim over North Korea's nuclear weapons programme, according to the Washington Post, which broke the story Tuesday.
The clandestine mission was conducted over the Easter weekend, soon after Pompeo was nominated to be the next US Secretary of State, according to the Post and the Associated Press.
Trump had earlier alluded to the meeting when he said the US and North Korea were holding direct talks at "extremely high levels".
Speaking from his Florida estate Mar-a-Lago, where he was hosting Japan's Prime Minister Shinzo Abe, Trump added that he gave his "blessing" to "discuss the end of the war," referring to the 1950-1953 Korean War, which ended with an armistice agreement, but no formal peace treaty.
He later confirmed the secret meeting in a tweet on Wednesday.
"Mike Pompeo met with Kim Jong Un in North Korea last week. Meeting went very smoothly and a good relationship was formed," Trump wrote. "Details of Summit are being worked out now. Denuclearization will be a great thing for World, but also for North Korea!"
Trump stunned the international community last month, when he announced that he had accepted Kim's invitation to meet. Trump disclosed that five locations were under consideration for the meeting, which is slated for June.
Pompeo 'optimistic' about conditions for Trump-Kim summit
Kim's offer for a summit, which would be the first-ever meeting between the US and North Korean leaders, was initially conveyed to Trump by South Korea.
The US and North Korea do not have formal diplomatic relations, complicating the arrangements for contacts between the two governments. It is not unprecedented for US intelligence officials to serve as a conduit for communication with Pyongyang.
In 2014, then Director of National Intelligence James Clapper secretly visited North Korea to bring back two American detainees.
At his confirmation hearing last week to become secretary of state, Pompeo played down expectations for a breakthrough deal on ending North Korea's nuclear weapons at the planned Trump-Kim summit, but he said it could lay the groundwork for a comprehensive agreement on denuclearisation.
"I'm optimistic that the United States government can set the conditions for that appropriately so that the president and the North Korean leader can have that conversation and will set us down the course of achieving a diplomatic outcome that America and the world so desperately need," Pompeo told the Senate Foreign Relations Committee.
After a year of escalating tensions, when North Korea conducted nuclear and long-range missile tests that drew world condemnation, Kim has pivoted to international outreach.
The young leader met China's President Xi Jinping in Beijing in late March, Kim's first trip abroad since taking power six years ago. He is set to meet South Korean President Moon Jae-in in the demilitarised zone between the rival Koreas on April 27.
(FRANCE 24 with AP)