Berri wants expats that didn't register to vote to fly home and take part in upcoming elections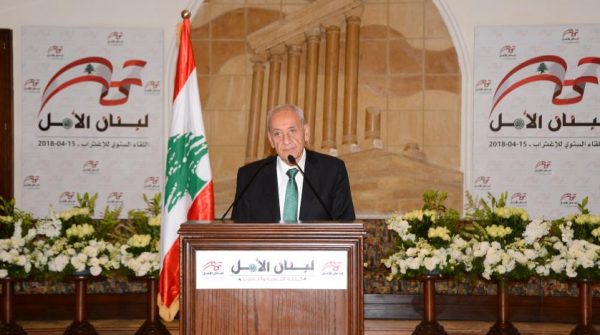 Speaker Nabih Berri who also heads up the Amal Movement called on the Lebanese Diaspora to participate in May's parliamentary race, adding that Lebanon is in dire need for its expatriates, who are necessary for its development.
He expressed his disappointment over the low number of expatriates that registered to vote in Lebanon's upcoming parliamentary elections, calling on those who didn't register to fly home to take part.
In a speech , Berri addressed Amal supporters around the world, telling them Lebanon needs their participation in the May 6 parliamentary elections, Lebanon's first such vote in nine years.
The Lebanese diaspora has been given the chance to vote in the elections for the first time after lawmakers endorsed a new proportional electoral law in June 2017.
Around 85,000 expats around the globe registered to vote
"Don't be afraid of the elections, but be afraid for them [if you do not vote]," Berri warned his supporters
"Vote without hesitation. I know the pressure you were under and the resistance is the one that has been targeted ."
The Amal Movement is running in the elections in partnership with the Iranian backed Hezbollah militant group in all 15 districts.
Berri added that the elections would solidify "the golden equation" of the Army, the people and the resistance. This is the formula that Hezbollah has been insisting on including in all the ministerial statements
Berri warned against "those who play on sectarian sensitivities that destroyed Lebanon in 1958 and 1975," regretting their failure to learn from the painful lessons of the past.
"Do not listen to sectarian voices and do not give them your votes!" the Speaker said.
"The election is to build a society of resistance against the Israeli occupation, which is thirsty for our waters, and breaches our airspace on a daily basis." He added
Berri promised to work on "restoring the Lebanese nationality to children of Lebanese expatriates, and re-assigning an Expatriate Consul to take care of Lebanese civil status records, in addition to establishing schools for expats, linking them to Lebanese educational curricula, especially Arabic language education."