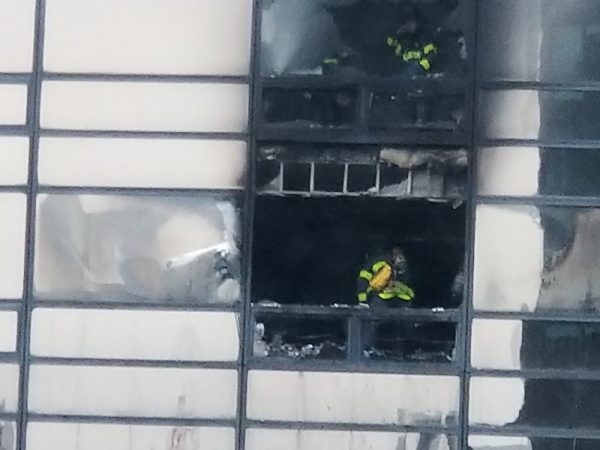 Investigators are trying to determine the cause of a fire at Trump Tower in Midtown that left one man dead.
The four-alarm fire broke out on the 50th floor just after 5:30 p.m. Saturday. The fire was placed under control approximately two hours later.
Firefighters pulled Todd Brassner, 67, from the 50th floor of the building. He was unconscious and unresponsive. He later died at the hospital.
Property records obtained by The Associated Press indicate Brassner was an art dealer who had purchased his 50th-floor unit in 1996.
Six firefighters also suffered minor injuries. Two of the six firefighters are suffering from burns.
"This is a very difficult fire, as you can imagine. The apartment is quite large. We're 50 stories up. The rest of the building had considerable amount of smoke," said FDNY Commissioner Daniel Nigro.
Fire marshals are investigating the cause of the blaze, and a contractor is on site to analyze the damage.
"We're just standing there watching it. It was scary. It was very surreal. And then we saw the counterterrorism guys suit up," says Jordan Podell.
And it was even more terrifying from the inside.
Investigators say there was no 911 call from inside the apartment. Instead they received an automatic notification that there was a fire inside.
"We don't know the cause of the fire yet," said Nigro. "Units went up with the Secret Service afterwards to check the president's residence. Some smoke reached the rest of the building, whether it's in the apartment, I don't know right now. But the floors above the fire of course as they usually do will have some amount of smoke."
Because there are no sprinklers on the upper floors of Trump Tower, authorities said the fire spread quickly.
Fire sprinklers were not required in New York City high-rises when Trump Tower was completed in 1983. Subsequent updates to the building code required commercial skyscrapers to install the sprinklers retroactively, but owners of older residential high-rises are not required to install sprinklers unless the building undergoes major renovations.
Some fire-safety advocates pushed for a requirement that older apartment buildings be retrofitted with sprinklers when New York City passed a law requiring them in new residential highrises in 1999, but officials in the administration of then-mayor Rudy Giuliani said that would be too expensive.
Twitter video showed flames shooting out of the building:

Trump's family has an apartment on the top floors of the 58-story building, but he has spent little time in New York since taking office. The headquarters of the Trump Organization is on the 26th floor.
Eric Trump, the president's second-oldest son, tweeted that the fire was in a residential apartment at the tower.
There were no evacuations inside the building, but some people self-evacuated.
The Department of Buildings has issued a partial vacate order on residences 50C and 51C.
Residents are able to occupy residences on the 55th floor and above and residences on the 45th floor and below.
ABC