UAE Ambassador calls Emirates 'Airbus A380 flight to Lebanon a 'message of love and peace'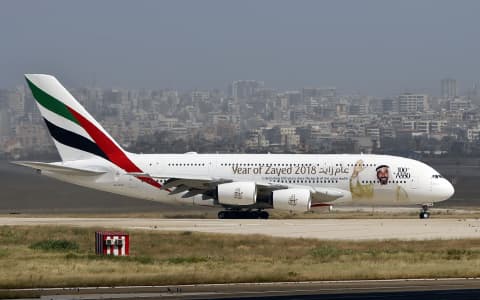 BEIRUT, March 29 — An Airbus A380,  world's largest passenger airliner, arrived at Beirut's Rafik Hariri International Airport Thursday after an inaugural flight from Dubai, the United Arab Emirates (UAE).
Operated by UAE's Emirates Airline, the flight EK957 landed in Beirut at 10:24 a.m. (0824 GMT).
UAE Ambassador to Lebanon Hamad Bin Saeed al-Shamsi, the Saudi head of mission in Lebanon Walid Bukhari, and some Lebanese senior officials awaited the plane's arrival at the airport.
"This is a message of love and peace," al-Shamsi said.
The double-decker passenger plane typically requires airports to be specially equipped to allow over 500 passengers to disembark from both decks.
Such upgrades have not yet been carried out at the Beirut airport.
Public Works and Transport Minister Youssef Fenianos noted that expansion plans for Beirut airport would ensure that A380 planes are properly accommodated.
Fenianos added that the plane's arrival was a symbol of cooperation between the UAE and Lebanon.
Meanwhile, Bukhari told reporters that Saudi Arabia was reviewing advice to citizens against travelling to Lebanon based on "security indications."
Former Education Minister Elias Bou Saab  who was on board the plane said that the plane's arrival marked an important moment for Lebanon and was a sign of the positive relations between the two countries.
(Xinhua)