UN ceasefire applies to all Syria, 'including Afrin,' Macron tells Erdogan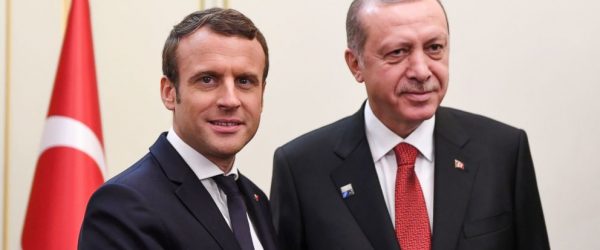 French President Emmanuel Macron told his Turkish counterpart Recep Tayyip Erdogan on Monday that the latest UN ceasefire vote applied to all Syrian territory, including the Kurdish-held enclave of Afrin, where Turkey is waging an offensive.
During a telephone call between the two leaders, Macron said the 30-day ceasefire "involved all Syrian territory, including in Afrin, and must be put into effect everywhere and by everyone without delay," said a statement released by the French presidency.
Macron's call followed the UN Security Council's adoption of a resolution Saturday calling for a 30-day ceasefire in Syria "without delay", to allow for aid deliveries and medical evacuations.
On Sunday the Turkish government said the UN ceasefire would not affect its operation in the Syrian Kurdish enclave of Afrin, which Ankara claims is aimed at fighting "terrorist organisations that threaten the territorial integrity and political unity of Syria".
Turkey launched a military operation on January 20 against the Kurdish People's Protection Units (YPG) militia in Afrin in northern Syria.
Turkey sees the YPG as the Syrian branch of the Kurdistan Workers' Party (PKK), which for more than three decades has waged an insurgency against the Turkish state and is banned by Turkey, the US and the European Union as a terror group.
But the offensive has raised tensions with the US, which works closely with the YPG in the fight against jihadists in Syria.
'Clearing terrorists'
According to sources in the Turkish president's office, Erdogan told Macron that measures were being taken to avoid civilian casualties in Afrin.
Erdogan also reiterated that the offensive was aimed at "clearing terrorists" from the area so that Syrian refugees could return to their country.
On Monday, the Turkish government said it had deployed special forces in Afrin in anticipation of a "new fight" against the YPG.
'Deeply worried' about Eastern Ghouta
Macron also told Erdogan he was "deeply worried" about the bombardments of Eastern Ghouta, on the outskirts of Damascus, saying France would remain "vigilant" concerning humanitarian access to the area and any use of chemical weapons.
The French leader's phone call came hours before Russian President Vladimir Putin ordered a "humanitarian pause" in Eastern Ghouta starting Tuesday.
The Syrian Observatory said one child died and at least 13 other people suffered breathing difficulties in an Eastern Ghouta village after a suspected chemical attack on Sunday.
Earlier this month Macron warned that France would carry out strikes against the government of President Bashar al-Assad if proof emerges that it has used banned chemical weapons against civilians.
More than 500 people have been reported killed in the bombing campaign by Assad's forces over the course of a week.
(FRANCE 24 with AFP)