Macron dispatched adviser to sway Palestinians not to trash Trump's peace plan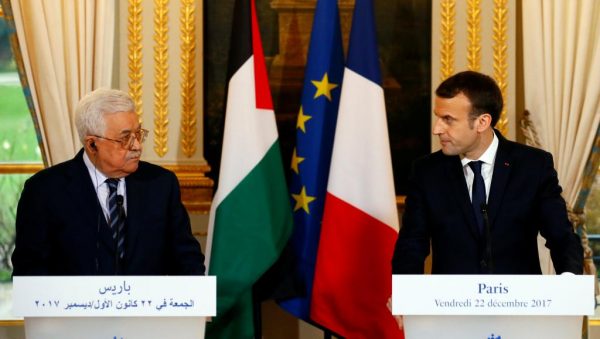 French President Emmanuel Macron dispatched his deputy national security adviser, Aurélien Lechevallier, to the Palestinian city of Ramallah this week to convince Palestinian leaders to give President Trump's peace plan for the region a chance, Axios reported on Thursday.
French and Palestinian officials told the news outlet that Lechevallier met with various senior Palestinian officials, including the head of the general intelligence service, Majed Faraj, and Palestine Liberation Organization (PLO) Secretary General Saeb Erekat.
"You might be right and the plan might turn out to be bad but don't blow it up right now. The plan might have things you don't like but maybe it will also contain interesting and positive things for you," Lechevallier told officials, according to Axios.
"It will be a shame if you throw the plan to the trash even before you received it. Read it first and then decide if you want to say no."
The reported visit comes more than a month after Trump bucked the international community and announced the U.S. would recognize Jerusalem as the capital of Israel.
The move infuriated Palestinians, who view east Jerusalem as the capital of a future Palestinian state.
Macron ripped his U.S. counterpart's decision, saying, "We must prefer appeasement and dialogue."
The French leader, who is an advocate of a two-state solution, repeated his view on Trump's decision during a meeting with Palestinian leader Mahmoud Abbas in Paris last year.
THE HILL