Lebanon prime minister denounces Iraqi militant's trip to ceasefire line with Israel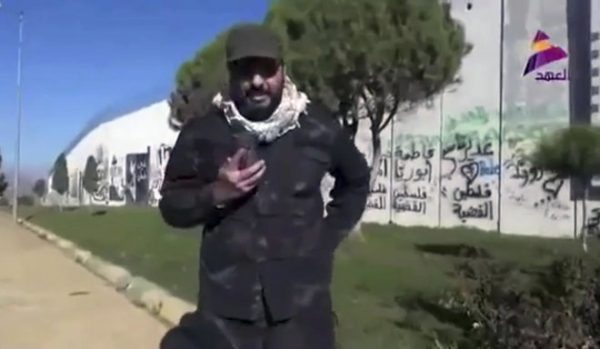 Lebanon's Prime Minister Saad Hariri has criticized the visit of an Iraqi Shiite militia leader to Lebanon's ceasefire line with Israel, saying it violated local law.
The trip by Qais Al-Khazali, the founder and leader of  the Iranian backed Iraq's Asa'ib Ahl al-Haq militia, was organized by Lebanon's Hezbollah, which is also backed by Iran
Video footage of the visit was broadcast on Al-Ahd TV, which is affiliated to the militia. It began circulating on social media on Friday, showing Al-Khazali wearing a military uniform during a tour of southern Lebanon.
Accompanied by some members of Hezbollah, he delivered a statement near Fatima Gate in Kafr Kila, boasting that he and his militia "are in full readiness to aid the jihadists."
Al-Khazali added: "We are here with Hezbollah to declare our total readiness to stand together with the Lebanese people and the Palestinian cause against Israeli occupation."
This move, which violates all agreements between the Lebanese government and its political components, including Hezbollah, elicited a rapid response from Hariri, who declared in a statement that "the video was filmed six days ago, which constitutes a flagrant violation of Lebanese laws."
The statement added that Hariri had contacted military and security officials "to investigate the incident and take measures to prevent any person from carrying out military activities on Lebanese territory … and to prevent the person in the video from entering Lebanon."
The Lebanese government declared on Dec. 5 "the commitment of all its components to the policy of dissociation from any disputes, conflicts, or wars, and from the internal affairs of Arab countries, in order to preserve the relations between Lebanon and its Arab brothers."
It was this commitment that led Hariri to withdraw his resignation which he had announced from Saudi Arabia in protest at Iranian and Hezbollah domination of Lebanon.
The announcement of Al-Khazali tour came less than 24 hours after a statement released by the International Support Group for Lebanon, following a meeting in Paris, which called "upon all Lebanese parties to implement this tangible policy of disassociation from regional conflicts and respect relevant UN resolutions, including 1701."
Mustapha Allouch, a leading member of the Future Movement, told Arab News: "What happened means that Hezbollah cannot keep its commitments even if it signs them. It is practically part of a regional system linked with Iran. This visit could have been kept secret had Hezbollah wanted to commit to the dissociation policy, keeping in mind that the visit of the Iraqi militia leader to the southern borders would not affect the Israeli enemy. What happened is a message to Lebanese society that Hezbollah is part of the Iranian system."
Allouch said that Hariri "is trying to find a way out because the other options mean starting a battle inside (Lebanon), and this is not possible." He also noted that Naim Qassem, the deputy secretary general of Hezbollah, has already violated the dissociation policy in a statement he made in Iran one day after the Lebanese government statement.
And while sources close to Hezbollah told Al-Markazia News Agency that "the tour of Al-Khazali was inside the Syrian borders, not in the Lebanese territories as claimed," Khazali said in a recorded statement that he was "in front of Fatima Gate," which is on the Lebanese-Israeli border.
A security source told Arab News that the entry of any foreigner to the area south of the Litani line requires a "permit from the Lebanese army. This is the area which is subject to UN Security Council Resolution 1701 where UNIFIL forces are deployed."
Former Lebanese minister Ashraf Rifi wrote on his Twitter account, "The tour of Al-Khazali on the border, sponsored by Hezbollah, is a message of defiance and a blow to the sovereignty of Lebanon and international resolutions, and it blasts the policy of dissociation and the conclusion of the Paris Conference and confirms that the real authority is in the hands of Hezbollah and its Iranian masters."
Rifi also wondered: "Has Lebanon become a republic of the Popular Mobilization Forces with official cover? And what is the position of President Michel Aoun and Prime Minister Hariri?"
Hezbollah chief Hassan Nasrallah said in a speech last June that in the case of a new war with Israel thousands of  Shiite fighters from Iraq, Iran, Afghanistan and Yemen will join the party in the fight
ARAB NEWS