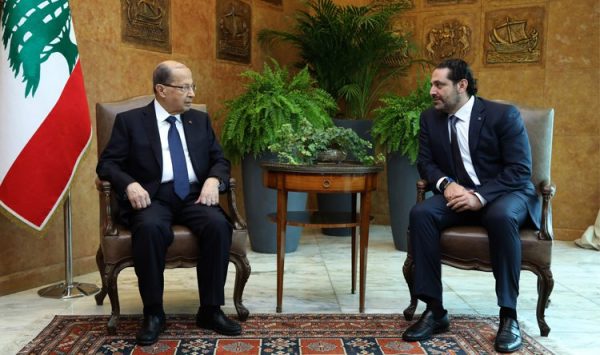 Lebanese Prime Minister Saad Hariri said Wednesday he would wait before putting his resignation into effect, opening a path to solving a crisis that has thrown the tiny Mediterranean nation into turmoil.
Hariri met Wednesday morning with President Michel Aoun to personally tender his resignation almost three weeks after he announced it from Saudi Arabia, under what many believed was pressure from the kingdom's leaders to counter Iranian influence in the region.
"I presented my resignation to his excellency the president, who wished that I wait on tendering it for more consultations on its reasons and backgrounds," Hariri told reporters a day after he returned to Lebanon.
He added that he had agreed to Aoun's request so as to have a "dialogue to treat contentious issues and their consequences on the relations of Lebanon with the Arab brothers."
But much remained unclear, including what made him change his mind, how long he will remain in office and how much of a role Saudi Arabia may have played in his decisions.
Hariri's televised resignation speech on Nov. 4, in which he said he feared for his life, surprised even close aides.
Many in Lebanon suspected that the Gulf kingdom coerced Hariri, a Lebanese-Saudi dual national who has received backing from the Saudi royal family, into making the announcement. Rumors swirled that he was being detained against his will, even though Hariri and Saudi officials denied it.
Hariri's sudden resignation came as Saudi Arabia's ambitious crown prince, Mohammed bin Salman, has been pushing back against growing Iranian influence.
The kingdom, a Sunni Muslim powerhouse, is opposed to the participation of Hezbollah, an Iranian-backed Shiite political movement with a potent armed wing, in a coalition government with Hariri.
In his speech, Hariri echoed the talking points of Saudi leaders: He excoriated Iran and Hezbollah for meddling in Arab affairs — specifically the civil war ravaging neighboring Syria, where the group has dispatched its operatives to bolster the troops of Syrian President Bashar Assad.
That night, Saudi forces announced they had shot down a missile aimed at the capital, Riyadh, by Iran-aligned rebels in Yemen — an attack Saudi leaders labeled an act of war by Iran and Hezbollah.
With fears mounting of a new conflagration in the region, local officials and international diplomats scrambled to de-escalate the crisis in Lebanon.
Lebanese of all political stripes rallied around Hariri. Aoun, an ally of Hezbollah, refused to consider his resignation until he submitted it in person. Posters of Hariri appeared on walls across the capital, Beirut, including in his rivals' strongholds.
On Saturday, Hariri traveled to Paris at the invitation of French President Emmanuel Macron. He then made stops in Egypt and Cyprus for consultations with their leaders Tuesday before his late-night return to Lebanon.
One of his first stops was to Martyr's Square in downtown Beirut to pray at the tomb of his father, the late Prime Minister Rafik Hariri, who was killed in a 2005 bombing.
On Wednesday, thousands of his supporters crowded outside Hariri's Beirut home to welcome him back, waving flags, beating drums and singing along to patriotic songs blaring from loudspeakers. Hariri assured them he would remain in Lebanon.
"I am staying with you and will continue with you … to be the first line of defense for Lebanon, for Lebanon's stability and for Lebanon's Arabness," he said to wild cheers.
Ghezwa Naameh, a 53-year-old social worker from the southern city of Tyre who had draped a national flag around her shoulders, looked relieved.
"We've had enough of wars," she said. "I want to live in a country that is peaceful and stable and independent."
But Hariri's brief remarks Wednesday provided few clues about the reasons for his departure or his future plans, leaving some in the crowd unsettled.
"He should be clear," said Amr Moussa, a 50-year-old school bus driver who brought his wife and three children to Beirut from the far northern region of Akkar to hear Hariri speak. "He should say what he has to say in front of all the people and in front of the president."
Earlier, Hariri stood beside Aoun and parliamentary speaker Nabih Berri at a military parade in downtown Beirut for Independence Day.
Hariri seemed more at ease than he had been in weeks, at times even cracking a smile at a joke from Aoun as Lebanese army and police troops goose-stepped past the three leaders.
It was a marked contrast from his earlier appearances in Riyadh where in one interview he appeared to almost break down in tears, even as he insisted he was a free man.
Although Hariri has given the government breathing space to negotiate a way out of the country's crisis, it is unclear what concessions he might get from Hezbollah.
Its armed wing is  thought to be stronger than the Lebanese army. Many in Lebanon — including Aoun, who is a strong supporter of the Iranian backed group  see its intervention in Syria as a bulwark against Syrian rebel groups, who in the early days of the crisis would often cross the border into Lebanon to regroup and resupply.
"Lebanon had distanced itself, but unfortunately, the others did not do so," Aoun said in a speech Tuesday. "When the war started in Syria, terrorist organizations penetrated our eastern borders … in an attempt to control the villages and towns they could."
In a veiled barb at Saudi Arabia, a top supporter of Syria's opposition, he asked, "From where did this terrorism come to Lebanon? Who sent it? Who funded? Who armed and trained it?"
Nevertheless, Hezbollah's head, Hassan Nasrallah, has indicated that the group could reduce its presence in Iraq and elsewhere after helping claw back Islamic State's last bastions in the area.
LA TIMES