Trump congratulates Aoun, Berri on Lebanon's 74th Independence Day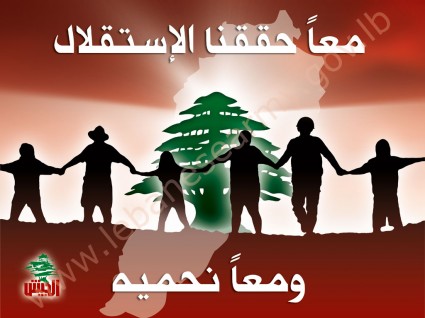 U.S. President Donald Trump has pledged on the occasion marking Lebanon's independence day Washington's continued support of Lebanon's stability and sovereignty.
Trump's stance was expressed in cables to both President Michel Aoun and Speaker Nabih Berri.
In his remarks to Aoun, the U.S. leader described Lebanon as a strong partner for the United States in the fight against terrorism and violent extremism, vowing that the U.S. will carry on with supporting Lebanon's stability, independence and sovereignty.
In his cable to Berri, Trump underscored that Washington greatly appreciates the cultural, familial, political and economic ties between the two countries and peoples.
He also promised to stand firmly by Lebanon as it seeks to protect its stability and sovereignty.
This development coincides with Lebanese Army Chief General Joseph Aoun's, call on the army to be fully prepared to confront any Israeli threats and violations that might occur at the southern border due to its increasingly hostile attitude towards Lebanon, its people and its army, Fort Ross reported quoting an Al Mayadeen TV report.
"I call upon you for full readiness at the southern border to face the threats of the Israeli enemy and its violations, and what it is indicating in aggressive intentions towards Lebanon, its people and its army", the army's Twitter account quoted Aoun as saying on the occasion of the 74th anniversary of the country's independence.
Lebanon has been witnessing a political crisis since Prime Minister Saad Hariri announced a surprise resignation earlier this month from Riyadh, blasting Iran and Hezbollah over their interference in Lebanon and the region.
The shock announcement sparked worries that Lebanon would be caught up in the spiraling tensions between Riyadh and Tehran, which back opposing political and armed groups across the region.
Hariri pledged to be in Lebanon on Wednesday in time to celebrate its independence .
Aoun has so far refused to accept Hariri's resignation, insisting that he should present in person according to the constitution
Aoun sent a cable last September to Trump expressing solidarity in the fight against terrorism to mark the anniversary of the 9/11 attacks .
Aoun also congratulated Trump last November and called his election a "bright hallmark in the history of democracy."
"Your election restores the people's will in choosing their rulers," Aoun wrote in a letter to President-elect Trump. "This is a new chance for Lebanon and the U.S. to boost their bilateral cooperation."
Aoun, a strong ally of the Iranian backed Hezbollah said he hopes a Trump administration will build strong ties with the Mediterranean country.
"It's a (new chance) for the sake of achieving peace in the Middle East, confronting terrorism, and putting an end to wars and violence through peaceful means," Aoun added.
Aoun's son-in-law and president of the Free Patriotic Movement, Gebran Bassil, compared Trump's unprecedented victory to Aoun's victory. Aoun was elected president eight days before the U.S. election.