After Assad's visit, Putin talked with Trump, Saudi King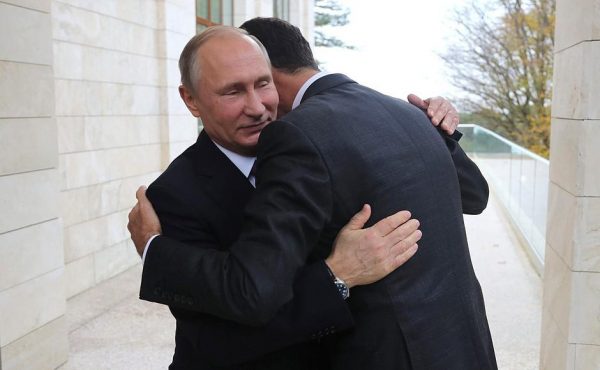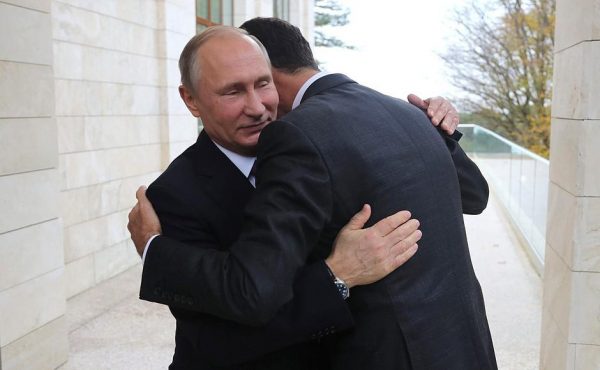 Russian President Vladimir Putin talked with his U.S. counterpart Donald Trump by phone for about an hour on Tuesday as the Kremlin mounts a diplomatic push to resolve the war in Syria after a visit by Syrian leader Bashar al-Assad.
Putin is taking a dominant role in efforts to end the conflict after a two-year Russian military campaign helped his ally Assad fight off opponents, including some backed by the U.S. With Islamic State almost defeated in Syria, the Kremlin is moving to bring together regional and global powers to revive long-stalled efforts to reach a settlement that would cement the Syrian president in power.
"Both sides expressed satisfaction with the conversation that was held, which was businesslike and informative," the Kremlin said in a statement on Putin's call with Trump. The discussions also touched on North Korea, Ukraine, Iran and Afghanistan, according to the Kremlin and a White House official.
Putin is taking a triumphant tone on Syria that underscores his success in turning the tables on the U.S., which under President Barack Obama pressed for Assad's removal. While Secretary of State Rex Tillerson reaffirmed last month that "we do not believe there is a future for the Assad regime and the Assad family," the U.S. is no longer demanding that he step down as a precondition for talks.
Instead, six and a half years after an uprising in Syria morphed into a regional proxy war and terrorist conflict that killed 400,000 and displaced millions, Assad is looking for a stamp of international legitimacy with Putin's help.
In addition to the call with Trump, Putin planned to speak to Saudi King Salman bin Abdulaziz on Tuesday to discuss the almost three hours of talks the Russian leader held with Assad in the Black Sea resort of Sochi, Kremlin spokesman Dmitry Peskov told reporters on a conference call. Turkish President Recep Tayyip Erdogan and Iranian leader Hassan Rouhani were to meet Putin in Sochi on Wednesday to discuss a political resolution in Syria.
"The most important question, of course, is what will happen after the defeat of the terrorists in terms of a peaceful political settlement," Putin told Assad at their meeting in Sochi on Monday, according to a Kremlin transcript. He noted the Syrian leader's support for a Russia-backed peace plan.
'Attained Victory'
Expressing thanks for Russia's role, Assad told Putin the time is right for negotiations, "especially after we attained victory" over the Syrian government's opponents. He added: "We're counting on Russia's support to ensure the non-intervention of outside players in the political process, so that their role is to support the efforts of the Syrians themselves."
Putin told Erdogan and Rouhani before the meeting with Assad that he'd work to ensure agreements on Syria that may be reached at their three-way summit are "viable," Peskov said. The Kremlin said Putin also held talks with the emir of Qatar on Monday.
Assad's visit, which wasn't publicly announced until the following day, echoed a similar trip to Russia that he made in 2015 shortly after Putin launched his air and ground campaign in Syria.
"The active phase of the military operation in Syria is coming to an end," chief of the Russian General Staff, Valery Gerasimov, told his Turkish and Iranian counterparts in Sochi on Tuesday, according to a Defense Ministry statement. Their joint efforts "preserved the sovereignty and territorial integrity of the country, stopped the civil war, and created the conditions for the restoration of peace and the return of refugees," he said.
'Decisive Role'
Russia plans to conclude its military intervention by the end of the year, leaving behind only enough forces to maintain an airfield and naval base in Syria, RBC newspaper reported, citing three unnamed officials in the Foreign and Defense Ministries and close to the Kremlin.
Putin, who's likely to seek a record fourth term in presidential elections in March, presented Assad to the military commanders who led Russia's effort. "I want to introduce to you the people who played a decisive role in saving Syria," he said.
"Today, on behalf of the Syrian people, I extend my gratitude to you for what you did," Assad said.
Riyadh Meeting
Russia is working actively with Saudi Arabia and other backers of Assad's opponents such as Turkey to invigorate the peace process. On Wednesday, the Saudi government hosts a meeting in Riyadh of opposition groups that aims to combine them into a single delegation for peace talks in Geneva.
The unified bloc, including factions less hostile to Assad, would be a "tame" counterparty for the Syrian regime at the negotiating table, said Robert Ford, a former U.S. ambassador to Syria who's now a fellow at Yale University and the Middle East Institute in Washington.
On Monday, Riad Hijab, who headed the main Western-backed opposition group for the past two years, resigned without giving any explanation.
Hijab's High Negotiations Committee earlier this month refused to attend a planned Russian-organized peace conference between Assad and opposition groups in Sochi. Russia has now revived the proposal for the Sochi meeting, which is expected to take place soon.
BLOOMBERG