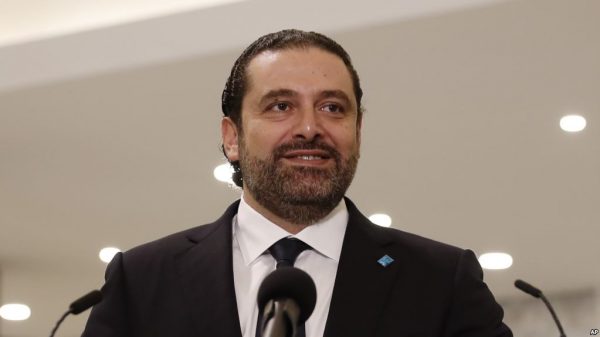 Prime Minister Saad Hariri was on Friday preparing to leave Saudi Arabia for France, a move aimed at defusing political turmoil sparked by his shock resignation in Riyadh.
In a tweet before his expected trip, Hariri sought to dispel rumors about his stay in the kingdom.
"My stay in the kingdom is for consultations on the future of Lebanon's situation and its ties with its Arab neighbors. Any claims to the contrary about my stay, departure or my family's situation are mere rumors," Hariri tweeted.
The Lebanese premier and his family are due to meet French President Emmanuel Macron in Paris on Saturday after allegations from Hariri's political rivals back home that he was essentially being held hostage by the Saudi authorities.
Macron said he will host Hariri with the honors due to a prime minister when they meet at noon on Saturday, seeing as "his resignation is yet to be accepted in his country."
"He intends, I believe, to return to his country in the coming days or weeks," Macron added.
The announcement of the visit came after Hariri, 47, met French Foreign Minister Jean-Yves Le Drian in Riyadh Thursday, with Lebanon's former colonial power Paris hoping to ease a crisis that has driven up tensions between regional rivals Iran and Saudi Arabia.
Hariri, a dual Saudi citizen, has been in Riyadh since issuing a statement on television there on November 4 that he was stepping down because he feared for his life while also accusing Iran and its Lebanese ally Hezbollah of destabilizing his nation.
The announcement — which reportedly took even some of Hariri's closest aides by surprise — and his subsequent failure to return home to officially quit in person, fueled claims that he was acting under orders from his Saudi backers.
Riyadh has denied allegations he was being held against his will.
Macron's office said the French leader would meet Hariri at noon on Saturday, with his family joining shortly afterwards for lunch.
– 'Start of a solution' –
President Michel Aoun, a Hezbollah  ally who had accused Saudi authorities of "detaining" Hariri and refused to accept his resignation from abroad, welcomed the news about the trip to Paris.
"We hope that the crisis is over and Hariri's acceptance of the invitation to go to France is the start of a solution," he said Thursday on the official presidential Twitter account.
"If Mr. Hariri speaks from France, I would consider that he speaks freely, but his resignation must be presented in Lebanon, and he will have to remain there until the formation of the new government," Aoun said later in a statement issued by his office.
There is no indication what Hariri plans to do after visiting Macron, but the French leader had insisted he would then be free to return to Lebanon to either hand in or rethink his decision to quit.
France's intervention was the latest in a string of European efforts to defuse the tensions over Lebanon, where divisions between Sunni Hariri's bloc and Shiite Hezbollah have long been part of the broader struggle between Riyadh and Tehran.
Hariri — whose father Rafik was also prime minister and was killed in a car bombing in 2005 — became head of a shaky compromise government including Hezbollah last year.
5 Hezbollah members were indicted in Hariri's murder and are being tried in The Hague by the UN-backed Special Tribunal for Lebanon STL.
Hariri's resignation comes as temperatures have soared in the long-standing regional rivalry between Saudi Arabia and Iran, with Riyadh undergoing a major shake-up under ambitious Crown Prince Mohammed Bin Salman.
The two powers are backing opposing sides in the protracted wars in Yemen and Syria — entangling them in a complex web of proxy conflicts.