Elias Bou Saab defends Aoun's stance with regards to Saudi Arabia, calls it a "cry for help"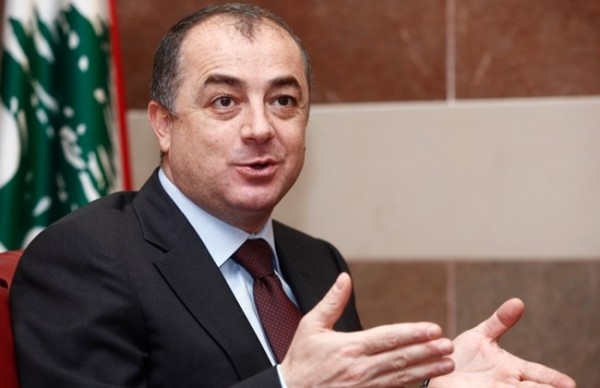 Lebanon's former Minister of Education and current Presidential Adviser for International Cooperation Elias Bou Saab  tried to defend  President Michel Aoun's position with regards to Saudi Arabia  on Thursday  by claiming that that the president's   accusations that Saudi Arabia is holding Lebanon's Prime Minister Saad Hariri in "detention," were not intended to escalate rhetoric with the kingdom.
"Positions made by President Aoun were not launched with the aim of escalation but were merely a cry for help. Aoun has asked the Kingdom  for clarification (as for Hariri's fate) in order to know how to manage the crisis but he received no response," said Bou Saab in an interview with radio VDL (100.5) Thursday.
Bou Saab pointed that the "first foreign visit made by Aoun as president was to Saudi Arabia," adding "the solution comes through dialogue and brotherhood. Relations between Lebanon and Saudi Arabia did not reach the point of no return."
Bou Saab denied any intention to break relations with Saudi Arabia or  freeze  Lebanon's membership in the Arab League. "we have only heard these measures from the media," he said.
Aoun who is allied with Hezbollah  accused Saudi Arabia   on Wednesday  of having "detained" Hariri, who announced his resignation in a statement from the kingdom earlier this month.
"Nothing justifies the failure of Prime Minister Saad Hariri to return for 12 days, therefore we consider him to be held and detained, contrary to the Vienna Convention," Aoun had said.
Speculation continues  about the circumstances of Hariri's resignation since his surprise announcement on November 4 in a statement read on Saudi Arabia's Al-Arabiya television channel.
French President Emmanuel Macron had "invited" Hariri and his family to France in the coming days," a French Presidency statement said Wednesday and Hariri has accepted the invitation but reportedly  did not reveal any details  about his planned visit to the French capital for security reasons.
Hariri resigned a day after he met the adviser to the Supreme Leader of Iran, Ali Akbar Velayati at his office in Beirut  on November 3rd .
During the meeting Velayati  reportedly  threatened Hariri to   and told him he will meet the fate of his father   who was assassinated on February 14th 2005, if he did not join Iran in supporting Hezbollah
5 Hezbollah members were indicted in Hariri's murder and are being tried in the hague by th UN backed Special Tribunal for Lebanon STL.
Lebanon's Christian Maronite Patriarch, visiting Saudi Arabia in an historic visit expressed support on Tuesday for the reasons behind Lebanese Prime Minister Saad al-Hariri's resignation.
France Worried by Iran's 'Hegemonic' Intentions, Says FM
France is worried over  Iran's "hegemonic" intentions in the Middle East, French foreign minister   Jean-Yves Le Drian said  Thursday in in Riyadh  after meeting with Hariri
At a press conference with his Saudi counterpart Adel al-Jubeir, Le Drian echoed Riyadh's concerns over Iranian "intervention in regional crises" and "hegemonic" intentions in the region.
"I'm thinking specifically about Iran's ballistic programme," Le Drian added.
Le Drian focused on Lebanon and  Hariri in his comments to reporters, saying the Middle Eastern country should be "protected from foreign interference".
Hariri, whose sudden resignation on November 4 while in Saudi Arabia sparked a flurry of diplomatic talks.
Lebanon is home to parties allied with both Saudi Arabia and its arch-rival Iran, which backs the Lebanese   militant group Hezbollah.
Over half a million Lebanese live and work in the GCC countries namely  Saudi Arabia, UAE, Kuwait , Bahrain , Qatar and Oman  and over two third of the remittances of Lebanese expats come from these countries.  Bou Saab  is one of these Lebanese  . He  is the co-founder  and Executive Vice President of  the American University in Dubai . On the other hand very few Lebanese live in Iran  and  these they are mainly Shiite Scholars