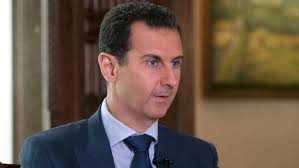 The Future Movement slammed  Syrian President Bashar Assad over the accusations he made   against Prime Minister Saad Hariri, urging him to " quit sticking his nose in Lebanon's internal  affairs."
"With regards to the  remarks  that were attributed to the criminal terrorist regime of Bashar Assad accusing PM Hariri of not being the master of himself, Assad should be  the last creature on earth entitled to speak of sovereignty and freedom of decision," read the Future Movement statement.
It added: "Assad must "quit sticking his nose in Lebanon's internal  affairs and must stop spreading poison in Lebanese issues."
This development comes  after reports  quoted Assad of speaking in front of a delegation of the parties of the Arab Front,  stating that Hariri "is not the master himself and he was fired  and did not resign."
Lebanon's Christian Maronite Patriarch, visiting Saudi Arabia in an historic visit expressed support on Tuesday for the reasons behind Lebanese Prime Minister Saad al-Hariri's resignation.
Patriarch Bechara al-Rai met Hariri as well as King Salman and Crown Prince Mohammed bin Salman as part of a trip that was planned well before the Lebanese political crisis brought on by Hariri's resignation.
"Hariri is returning as fast as possible and I support the reasons for his resignation," Rai was quoted as saying by Saudi-owned Al Arabiya television.
Hariri, who has not returned to Lebanon since he declared his shock resignation, said he stepped down for the sake of the Lebanese national interest, repeatedly saying the country must stick by a policy of "disassociation" from regional conflict.
"I am freely in the Kingdom, and if I want to travel tomorrow, I will travel," Hariri said of his presence in Saudi Arabia. He said he would return to Lebanon within two or three days.
When he resigned on Nov. 4, he said he feared assassination. His father, a long-serving former prime minister, was killed by a bomb in 2005. Hariri said he must be sure his security had not been penetrated before returning.
Hariri added :
"We know there are American sanctions (targeting Hezbollah), but (do) we add to them also Arab sanctions? What is our interest (in that) as Lebanese, because we see today interventions in Yemen and Bahrain by Iran and Hezbollah," said Hariri. He added: "Disassociation is the foundation of Lebanon's interest. Where do we export our goods, is it not to the Arab states? Where do our sons work …?"
"We must work to preserve this interest, and this interest was threatened, so for this reason I did what I did," he said.
He singled out Yemen, where a Saudi-led alliance is bogged down in a war with Iran-allied Houthi rebels, asking what a Lebanese group was doing there, in reference to Hezbollah.
Saudi Arabia has accused Hezbollah of a role in firing a ballistic missile from Yemen towards Riyadh earlier this month.
In order for him to go back on his resignation, Hariri said the "the diassociation (policy)" must be respected and regional interventions by Hezbollah halted.
"Lebanon cannot bear them," he said.