Despite Denials, Aoun continues to accuse Saudi Arabia of holding its PM hostage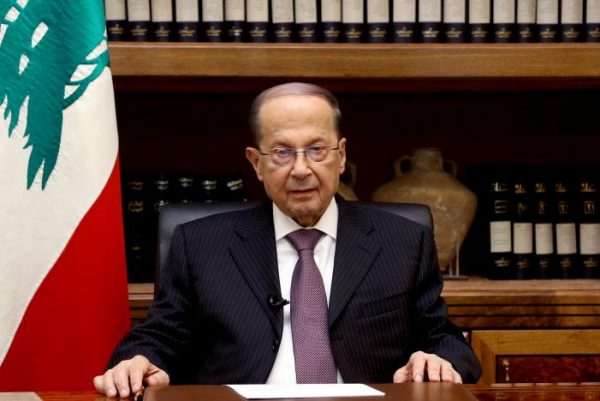 Lebanon's president on Wednesday  accused Saudi Arabia of holding hostage resigned prime minister Saad al-Hariri along with his family – the first time he has explicitly said he was being held – and called this an act of aggression.
"We will not accept him remaining a hostage whose reason for detention we do not know," President Michel Aoun said in a statement.
Hariri's abrupt resignation as premier in a statement televised from the Saudi capital Riyadh on Nov. 4 thrust Lebanon to the front of a Middle East contest for power between Saudi Arabia and Iran.
Aoun has said he will not accept Hariri's resignation until he returns to Lebanon to formally submit it and explain his reasons, which Hariri has said he will do in the coming days. Lebanese politicians close to Hariri said last week that Saudi Arabia had coerced him into quitting.
Hariri has denied being kept in custody by Saudi Arabia and pledged on Wednesday to return soon. Riyadh denies detaining him or forcing him to resign.
Saudi Arabia has long been considered Hariri's main external supporter, while  Aoun is a key  political ally of Lebanon's Hezbollah, a powerful Shi'ite Muslim group with close ties to Iran.
Lebanon's coalition government was formed last year through a political deal that made Aoun president, Hariri prime minister, and brought members of Hezbollah into the cabinet.
Saudi Arabia last week accused Lebanon of having declared war on it because of Hezbollah's role in other Arab countries. It regards Hezbollah as a terrorist organization.
In an interview on Sunday night with a television station he owns, Hariri warned of economic sanctions against Lebanon and of a threat to the livelihoods of hundreds of thousands of Lebanese workers living in Saudi Arabia and its Gulf allies.
"Nothing justifies Hariri's lack of return for 12 days. We therefore consider him detained," Aoun said.
He added that Lebanon had confirmed that Hariri's family were under detention in their house in Saudi Arabia and were searched whenever they entered or left it.
PERFECTLY FINE
Hariri wrote on Twitter that he was "perfectly fine" and would return, "God willing, to dear Lebanon as I promised". On Wednesday he said he would return in a couple of days but that his family was staying in Saudi Arabia, calling it "their country".
Hariri holds Saudi nationality and his family fortune is based on the construction company – Saudi Oger – built by his father Rafik al-Hariri, who served twice as Lebanese prime minister and was assassinated in 2005.
Okab Sakr, a member of parliament for Hariri's Future Movement, told Reuters he had spoken on Wednesday to Hariri and that he told him neither he nor his family were being held.
On Tuesday, European Union foreign policy chief Federica Mogherini said after meeting Lebanese Foreign Minister Gebran Bassil in Paris that she expected Hariri and his family to return to Lebanon soon.
Sources from across Lebanon's political spectrum have said Hariri struck a more compromising tone in his Sunday interview than in his resignation statement, when he bitterly attacked Iran and Hezbollah.
The sources said this represented a retreat by Riyadh attributable to Western pressure. On Wednesday, Aoun said Riyadh had not responded to Arab countries who tried to secure Hariri's return so he had asked the international community to help.
French Prime Minister Edouard Philippe called on Hariri to return to Lebanon. French Foreign Minister Jean-Yves Le Drian arrives in Riyadh late on Wednesday and is due to discuss Lebanon with Saudi Crown Prince Mohammed bin Salman and meet Hariri on Thursday, a French diplomatic source said.
France has close relations with Lebanon, which was under French control between the world wars, and with Hariri, who has a home in France and spent several years in the country.
"(Le Drian) will reiterate the importance of avoiding all interference and respecting the principle of sovereignty in the region," Foreign Ministry spokeswoman Agnes Romatet-Espagne told reporters in a daily briefing. "(Drian) will confirm France's attachment to Lebanon's stability within this context."
Iran, Saudi Arabia's regional arch-foe, accused Riyadh of "multiple mistaken calculations" in the Middle East. In Lebanon it had "made a completely childish mistake", Iranian Deputy Foreign Minister Abbas Araqchi told Fars news agency.
Lebanon's Christian Maronite Patriarch, visiting Saudi Arabia in an historic visit expressed support on Tuesday for the reasons behind Lebanese Prime Minister Saad al-Hariri's resignation.
Patriarch Bechara al-Rai met Hariri as well as King Salman and Crown Prince Mohammed bin Salman as part of a trip that was planned well before the Lebanese political crisis brought on by Hariri's resignation.
"Hariri is returning as fast as possible and I support the reasons for his resignation," Rai was quoted as saying by Saudi-owned Al Arabiya television.
REUTERS/ AGENCIES