All the pro Hezbollah TV stations will boycott and not broadcast Hariri's interview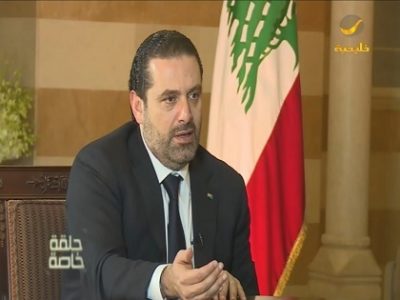 All the pro Hezbollah TV stations including  its mouthpiece  Al-Manar, Speaker Nabih Berri's NBN, President  Michel Aoun's OTV, Al-Jadid and Lebanon Television decided to boycott and not broadcast the interview of resigned Prime Minister Saad Al-Hariri on Sunday at 8 pm with Paula Yaqoubian of Future TV
According to Lebanese media the decision to boycott the broadcast was taken by Aoun  a key ally of Hezbollah , who claims  that anything that Hariri says from Riyadh does not count
Yacoubian confirmed Sunday that she was heading to the Saudi Arabian capital of Riyadh for the interview, which was set to take place Sunday.
It remains unclear whether the interview will also be broadcast on Sunday. Future TV is the mouthpiece of Hariri's Future Movement.
The prime minister announced his resignation on Nov. 4, in a statement broadcast from Riyadh.
He has not yet returned to Lebanon, and has made no public statements since his resignation address.