Lebanon, Armenia sign cooperation agreements, hold a business forum in Beirut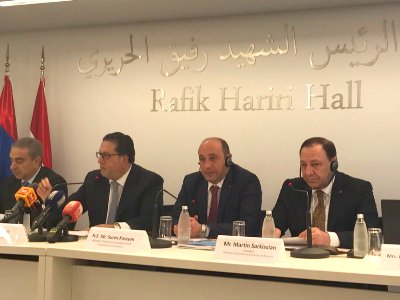 An Armenian-Lebanese business forum was held in Beirut.
A delegation from Armenia, and led by Suren Karayan, Minister of Economic Development and Investments, also attended this event which brought together about 200 businessmen from Lebanon and Armenia, the Ministry of Economic Development and Investments informed Armenian News-NEWS.am.
In his remarks at the forum, Karayan stressed that the Armenian government has a clear approach with respect to entrepreneurs investing in Armenia, and said this approach is full support for the investor.
Also, the minister responded to the businessmen's queries about doing business in Armenia,
In addition, the country's investment and business climate was presented to the discussants.
Furthermore, the Chamber of Commerce and Industry of Armenia and the Chamber of Commerce, Industry and Agriculture of Lebanon signed a memorandum with the aim of development of bilateral economic relations and facilitation of the work of business circles.
Another memorandum of cooperation was signed between Armenian and Lebanese companies, and regarding the industrial sector.
NES AM