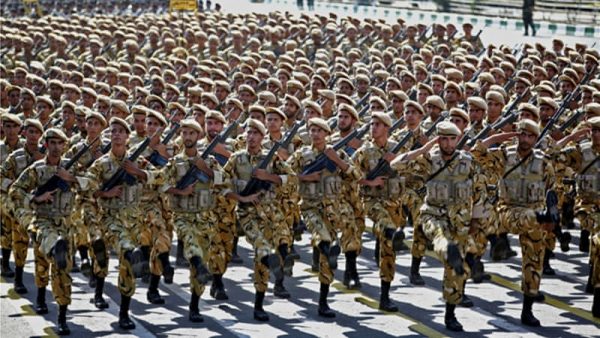 By Pierre Ghanem
Recently, the US administration tried to clarify President Donald Trump's policy on Iran. For its part, Al Arabiya has sought to gain more details about this policy from sources having close links with the US National Security Council and with those having access to White House briefings given by Middle East experts.
It is quite obvious that the US president is highly critical of the Iranian regime. In addition, the team of decision makers around the US president — including Secretary of Defense James Mattis, National Security Adviser H.R. McMaster and his deputy for Middle East affairs Joel Rayburn — are unsympathetic towards Iran. Having served in Iraq since the overthrow of Saddam's regime, they have witnessed Iranian-backed militia attack US soldiers and the way Iraq fell into the hands of ISIS and Iranian influence, after the withdrawal of US troops in 2011.
Trump's team wary of Iran
They understand that US military achievements in Iraq have inadvertently benefitted Iran and are critical of the failure of the Obama administration for allowing the situation to reach critical levels.
In recent months, the Trump administration has 'reviewed US policy on Iran' and according to sources it firmly believes that "Iran is behind all disturbances in the Middle East", and tackling its hostile actions should be central to US strategy, followed by other issues.
Foreign Ministry spokesman Christian James cited US president's recent speech on Iran's history of hostilities since the 1979 Khomeini revolution and emphasized that the US administration can no longer ignore Iran's actions and that it should be the focus of its attention. He highlighted that "the administration's strategy is to isolate aggressive Iranian actions, which causes disturbances".
All departments of the US administration now realize that they all have a role to play in confronting Iran. For instance, the US Treasury Department has ample powers to impose wide ranging sanctions on Iran, particularly against the Iranian Revolutionary Guard Corps (IRGC), while the State Department believes it has to staunchly confront Iran at the international level.
Military deterrence
When Al Arabiya asked about the role of US military in countering Iran's activities in the region, spokesman for the US Defense Department for Gulf and Iranian Affairs Major Adrian Rankin Galloway referred to earlier statements made by US Secretary of Defense James Matisse that Iran would be committing a mistake if it engaged with US forces deployed in the region.
During President Obama's term in office, the IRGC used to provoke US marine forces in international waters, but it is noteworthy that these squabbles have declined dramatically in recent times, and the Pentagon considers such Iranian actions in violation of international norms.
The United States currently faces two challenges from Iran: the threat of its ballistic missiles and its smuggling of weapons to its militias in Yemen, Lebanon, Iraq and Syria.
Pentagon sources did not want to divulge details about US military activities aimed at clamping down on Iran's channels of weapons' distribution. "The United States is now revising its defense and security-related policies in the region, including on the sale of weapons, relations with strategic partners and the deployment of US forces in the region to ensure full readiness," said Major Galloway, a Pentagon spokesman for Gulf and Iranian affairs.
It was revealed that US forces are working hard with Iraqi troops and with forces fighting for democracy in Syria to exercise full control of highways crossings between Baghdad and Damascus to ensure that Iranian weapons do not pass through this route.
The US views the ambit of its relations with Iraq to now include the maintenance of security, preventing the resurgence of terrorism and the eradication of Iranian influence. The current US administration is aware of the depth of influence Iran enjoys through the IRGC's links with various Iraqi militias and some Iraqi parties. However, the administration believes that it should build long-lasting and strong relations with the Iraqi army in order to strengthen an independent Iraq, capable of eradicating Iranian influence.
Eradicate Iranian influence
The Trump administration believes that Iran has spread its dangerous influence in the region. Although it cannot directly confront Arab countries, Iran has sapped the vitality of these countries through its many proxies — Hezbollah in Lebanon, its militias in Iraq and Houthis in Yemen.
In his speech on Iran, the US president affirmed that confronting Iran's hostile actions is an important priority of his strategy, which precedes in importance issues related to Iran's nuclear agreement and the threat posed by its ballistic missiles. The US government now sees IRGC as the main threat, and other Shiite militias in the Arab countries as its extensions.
Therefore, the US is trying to first strike the IRGC by imposing severe sanctions against it to stop its hostile actions, deprive it of its political and economic clout as well as of the resources with which it sustains militias in the Arab world.
These militias pose a huge a problem. Some commentators view Trump's policy as lacking in detail when it comes to Iran-backed militia and the focus seems limited to imposing new sanctions on Hezbollah. It is averred that the policy does not address Iran's influence in Iraq and Syria. It also does not talk of disarming Hezbollah or reducing its political influence in Lebanon.
Role for partners and allies
Officials in the US administration and Congress told Al Arabiya that Washington considers Arab countries as its friends, and that these states along with other Arab political forces should help by providing plans as well as the means for effectively confronting the Iranian influence.
All US officials denied having any appetite for a military confrontation with any party, be it the IRGC or its militias, while some contended that the failure to contain the influence of Shiite militias would allow Iranian influence to continue; which may then pave the way to direct military confrontations between these militias and Israel in southern Lebanon and southern Syria.
A week after Donald Trump's speech to counter Iran's hostile actions, Washington seemed to be a different capital from the one under President Obama. Although the US concentrated its efforts on the issue of the Iranian nuclear threat during the term of President Obama, it had left Iranian influence to infiltrate and fester in Iraq, Syria, Lebanon, Yemen and to threaten Bahrain. In stark contrast, the present dispensation in Washington understands this to be a mistake and realizes that the Iranian threat must be confronted at all levels and by all means.
ALARABIYA