Central bank chief not worried about new sanctions, says US supports Lebanese economy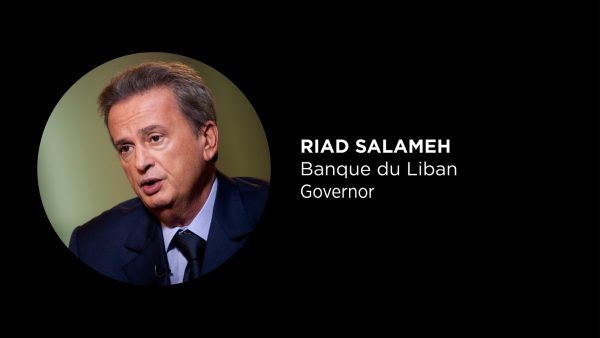 The new sanctions against Hezbollah that are being drafted by the United States will not affect the Lebanese banking sector, Central Bank Governor Riad Salameh said in Washington, DC over the weekend.
Following talks with the U.S. State and Treasury departments, Salameh expressed relief in an interview with Lebanese TV station LBCI. "What we heard is reassuring," he said.
"The goals of the U.S. State and Treasury departments are to support the Lebanese economy and banking sector," said Salameh , who came to Washington to meet with the World Bank and the International Monetary Fund . Lebanese Economy Minister Raed Khoury, who also attended the meeting emphasized Lebanon's commitment to economic reforms with the aim of giving a much-needed boost to the country. He also spoke about the impact of the Syrian war on Lebanon in terms of the refugee crisis and the effect on Lebanese businesses of closures of export routes through embattled Syria, among other impediments to the country's economy.
During his visit to Washington Salameh was honored by "Global Finance" Magazine for the second year in a row with a prestigious shield , for ranking at the top of the list of best central bank governors in the world with "Class A" rating score.
Global Finance Magazine ranked Salameh as one of the nine best central bank governors in the world .
The U.S. Senate and House of Representative are discussing additional sanction bills against Hezbollah that could dramatically increase the scope and extent of existing U.S. sanctions against the party. However, a number of Lebanese official and business bodies have lobby U.S. lawmakers to soften the sanctions, because they could have a drastic impact on the local economy.
Salameh revealed that the U.S. wouldn't implement any mechanism that would affect the value of the Lebanese pound compared to the U.S. dollar, which could weaken the Lebanese currency and banking sector if it became unstable.
Lebanon is also working to amend its own laws to comply with the sanctions including the U.S. Hezbollah International Financing Prevention Act of 2015.
During the interview, Salameh appeared optimistic and said he doesn't believe anyone is trying to harm Lebanon.
He nevertheless warned that any mistake made in the implementation of the sanctions – or any noncompliance – could harm Lebanon.
Last month, U.S. Congress voted unanimously to amend the Counterterrorism Screening and Assistance Act of 2017, and established a network of sanctions aimed at weakening Hezbollah, a move that has yet to be applied but that experts believe would not be significant given that Lebanon has already weathered most of the blow of the sanctions.
Last week, the U.S. State Department applied the first financial reward for information leading to the arrest of senior Hezbollah commanders in over a decade.