Tension flares in northern Iraq after Kurdish and Shi'ite Turkmen clashes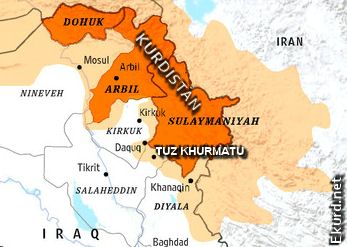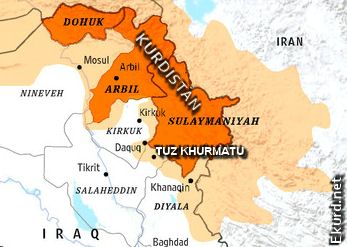 Tension flared on Saturday in the ethnically mixed Iraqi town of Tuz Khurmatu after a clash between Kurdish and Shi'ite Turkmen political parties divided over the independence of the Kurdistan region, security sources said on Saturday.
A dozen Kurdish families were displaced from the predominantly Turkmen district of Askari to Kurdish neighbourhoods of the town, after the two-hour clash in the early hours of the morning, the sources said.
 The exchange of mainly automatic gunfire left no casualties, they said. It pitted members of the Patriotic Union of Kurdistan against Turkmen loyal to Shi'ite political groups ruling Iraq.
Tuz is located 75 kms (47 miles) south of the multi-ethnic oil-rich city of Kirkuk, held by the Kurdish Peshmerga forces and claimed by the central government of Baghdad.
Iranian-backed Shi'ite paramilitary groups known as Turkmen Mobilisation are deployed in the Turkmen neighbourhood of Tuz, while Kurdish Asayish police control the Kurdish neighbourhoods.
The Baghdad central government has taken a series of steps to isolate the autonomous Kurdish region since its overwhelming vote for independence in a Sept. 25 referendum, including banning international flights from going there.
Iraqi Prime Minister Haider al-Abadi has repeatedly denied any plan to go further and actually attack the territory, but the Kurdistan Regional Government (KRG) has repeatedly accused Iraqi forces and Iranian-trained paramilitary groups deployed south and west of Kirkuk of bellicose intentions.
Kurdish authorities said on Friday they had sent thousands more troops to Kirkuk to confront Iraqi military "threats", but also slightly pulled back defence lines around the disputed oil-producing area to ease tensions. The area from which the Peshmerga withdrew overnight on Thursday, Bashir and Taza, is populated mainly by Shi'ite Turkmen.
In Washington, U.S. Defense Secretary Jim Mattis said on Friday the situation had the full attention of the United States, which was working to ensure it does not escalate.
Kirkuk, a city of more than one million people, and Tuz, with a population of about 120,000, lie just outside the KRG territory but Peshmerga forces deployed there in 2014 when Iraqi security forces collapsed in the face of an Islamic State onslaught.
The Peshmerga deployment prevented Kirkuk's oilfields from falling into jihadist hands. They also built a defence line that runs across most of the Kurdish-held territory.
Kirkuk lies within the Kurdish defence line and Tuz is just on the outside. Shi'ite paramilitary groups are deployed opposite the Kurdish defence line in the region of Tuz.
REUTERS