Diplomatic wrangling mars race for UNESCO's top job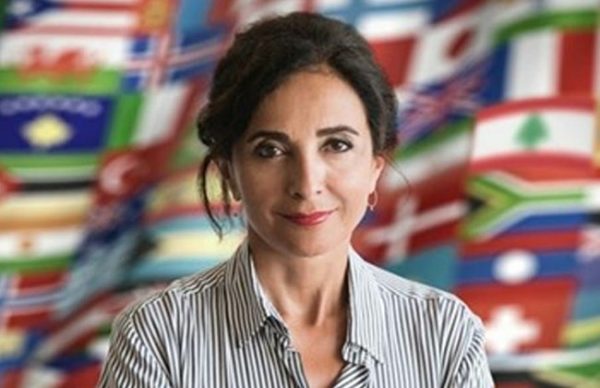 The race to head the United Nations' education and culture agency has descended into a fierce battle that appears to have more to do with countries' diplomatic clout than with their candidates' respective credentials.
On Monday, the 58 members of UNESCO's executive board embarked on a week-long voting process to pick a successor for outgoing Director-General Irina Bokova. The Bulgarian's two four-year terms were marked by a plunge in funding after the controversial inclusion of Palestine as a member state in 2011, which prompted both the United States and Israel to stop paying their dues. The new director-general will not only face the daunting task of clawing those funds back. He or she will also have to reconcile members whose relations have been badly strained by geopolitical tensions and rivalries.
"The qualities my successor will need? The ability to raise funds and unite [members]. The organisation is a dream for the world, but it faces financial and political difficulties," Bokova told French daily Le Monde in an interview published over the weekend.
After the US pulled the plug on its funding six years ago, the UN body's second-biggest sponsor, Japan, last year also held back its dues after the agency inscribed disputed documents recording Japanese war crimes during World War II in its Memory of the World register. These financial set-backs have left the Paris-based institution with an annual budget of just €326 million, according to a source the newspaper spoke to.
'Political and financial hijacking'
Seven countries – France, China, Vietnam, Azerbaijan, Egypt, Qatar and Lebanon – are currently vying for leadership of the Paris-based United Nations Educational, Scientific and Cultural Organization, whose stated aim is to "build peace in the minds of men and women". Heading the agency is seen as a mark of prestige, and a way to widen a nation's scope of influence in the world of UN institutions.
"It's an organisation that has been swept away from its mandate to become a sounding board for clashes that happen elsewhere, and this translates into political and financial hijacking," a former European UNESCO ambassador, who asked to remain anonymous, was quoted as telling the Reuters news agency.
And it is here that the squabbling about the candidates begins.
In UNESCO's 72-year history, no Arab country has ever been at the helm. European nations, on the other hand, have garnered a total of six mandates, with France leading the pack. This time around, Arab countries make up almost half of the shortlisted candidates. Egypt and Qatar, in particular, feel now is their turn.
French bid under fire
The fact that France, which already has the honour of hosting the agency, has had the nerve to field another candidate – this time former culture minister Audrey Azoulay – has made some see red. Over the summer, a group of Arab intellectuals wrote an open letter to French President Emmanuel Macron urging him to withdraw his support for Azoulay. Jack Lang, the head of the Arab World Institute in Paris, penned a letter in April voicing his opposition to her bid.
In an interview published in French weekly Le Point last week, Egypt's Moushira Khattab, who along with China's Quian Tang and Qatar's Hamad bin Abdulaziz al-Kawari, is considered among the favourites, reiterated this stance.
"There is a tacit agreement that [France] won't present a candidate for the director-general job. On top of that, it was understood that the next mandate would be awarded to the Arab world, which has never held the post," she said.
"We don't understand [France's] position. And today, who would be better than an Arab Muslim woman, with the necessary qualifications, to speak up against all sorts of radicalism? And this is without taking into account that my country, Egypt, has been at peace in the Middle East for 40 years and can speak with the Israelis and Palestinians," she said.
But, as France's candidate pointed out to pan-African weekly Jeune Afrique in September, "the rule of regional rotation doesn't exist, and I don't want to be a part of this debate which has little to do with what's actually at stake for UNESCO".
Trips to Doha
The Arab candidates for the job have their own millstones.
Khattab, who served as top aide to former Egyptian first lady Suzanne Mubarak, was recently accused by rights groups of failing to speak out against the government's repressive policies. Qatar's candidacy, which has been promoted with the help of lobby groups such as Portland and ESL & Network, is also seen as controversial in light of the current crisis in the Gulf, which has seen Doha's neighbours accuse it of sponsoring terrorism.
But Kawari, a former culture minister, insists he is simply the best person for the job.
"I'm one of very few people in the world who have received three honours from three different French presidents. [François] Mitterand gave me the Legion of Honour, [Valéry] Giscard [d'Estaing] the medal of merits, and [François] Hollande the order of arts and letters. I'm the favourite, and I'm going to be elected," Le Monde quoted him as saying.
French media also report that Qatar recently invited several members of the UNESCO executive board on an all-expenses-paid trip to Doha.
China's bid, led by UNESCO veteran Tang, has also been met with scepticism. Some critics say Beijing is seeking to take advantage of the gap left behind by the US, in order to gain more influence over UN institutions in general.
Tang denied this in an interview with the Associated Press. "China does not want to replace the United States," he said. "I went to the [US] State Department and I had a long discussion with officials there. I said 'I really don't think you Americans should give up your global responsibility, especially at UNESCO'."
The UNESCO executive board will vote over a maximum of five rounds, in a process expected to last about a week. The winning nominee will then be presented to the agency's general assembly for final approval.
About the Lebanese candidate Vera El Khoury
Vera El Khoury Lacoeuilhe is born in Beirut in 1959. She is a diplomat with over two decades of in-depth experience in multilateral diplomacy and international relations, according to her website veraforunesco.com
Her broad knowledge of the design and structure of international organizations gives Vera El Khoury Lacoeuilhe international-level recognition as an authority on the UN system. In January 2016, she became a member of the "Independent Team of Advisors" established by the Economic Social and Council of the United Nations (ECOSOC), to formulate recommendations on the long term positioning of the United Nations Development System. She also teaches at the Paris I Pantheon-Sorbonne University a Master 2 level seminar entitled "International Institutions and Organizations".
Since 1996 she has driven in UNESCO a tireless agenda for focus and the strengthening of governance and effectiveness, which contributed to the Organization's ambition to remain relevant in a changing world. Today she is regarded as a leading authority on UNESCO.
Vera El Khoury Lacoeuilhe, who embodies the highest ethical standards, will vigorously pursue UNESCO's value adding activities with a real impact. She believes in UNESCO's fundamental contribution and relevance to building a global mind-set for peace and progress.
Vera El Khoury Lacoeuilhe is a politically astute negotiator and effective consensus builder. She has a track record of imparting gravitas to political roles and has headed multiple delegations to ministerial meetings and chaired numerous intergovernmental committees.
 Her reputation for leadership has merited the respect of her peers. Consistently, she has been chosen to lead teams on reform of the Organization and other politically sensitive issues. She leads through engagement, persuasion and diplomacy. Her results indicate the strength of her inspiring leadership as well as her political judiciousness.
FRANCE 24