Oil rises to 26-month high after Turkey threatens to cut Kurdistan oil pipeline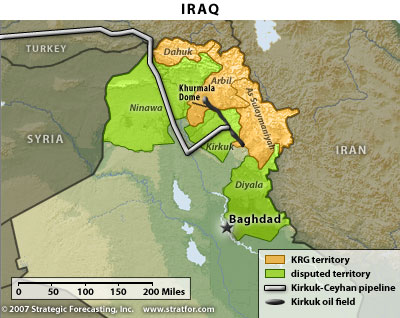 Oil prices took a breather on Tuesday after Brent crude earlier rose to a 26-month high, supported by Turkey's threat to cut crude flows from Iraq's Kurdistan region to the outside world.
Turkish President Tayyip Erdogan threatened on Monday to cut off the pipeline that carries oil exports from northern Iraq, intensifying pressure on the Kurdish autonomous region over its independence referendum.
The pipeline to Turkey's port of Ceyhan usually pumps between 500,000 and 600,000 barrels per day (bpd). The loss of this supply combined with the 1.8 million bpd of supply cuts by the Organization of the Petroleum Exporting Countries (OPEC) and non-OPEC producers has raised concerns of tighter supply.
The Iraqi government said it will not hold talks with the Kurdistan Regional Government about the results of the referendum, which is expected to show a comfortable majority in favor of independence after the results are announced in about 72 hours.
"The high compliance of producers in jointly curbing output as well as the news of (Turkey's response to) the referendum helped oil prices," said Tomomichi Akuta, senior economist at Mitsubishi UFJ Research and Consulting in Tokyo.
 London Brent crude for November delivery LCOc1 was up 1 cent at $59.03 a barrel by 0621 GMT after settling up 3.8 percent on Monday. Earlier it rose to $59.49, the highest since July 10, 2015.
U.S. crude for November delivery CLc1 was down 10 cents at $52.12, after hitting $52.43, a five-month high.
Brent has jumped from just over $55 a barrel a week ago, as OPEC and non-OPEC producers confirmed the market was well on its way toward rebalancing, while oil inventories declined.
However, other analysts were cautious of further price gains because of higher oil output from the United States. The U.S. Energy Information Administration said that production from wells in shale formations will rise for a 10th month in a row in October.
"With oil this high, shale oil output will accelerate, capping oil prices," said a Tokyo-based oil analyst who declined to be identified.
U.S. crude prices have lagged behind Brent's gains amid a large oversupply exacerbated by Hurricane Harvey, which forced the closure of nearly 25 percent of U.S. refining capacity.
The spread between WTI and Brent futures CL-LCO1=R widened to $7.17, its steepest since August 2015.
 U.S. crude inventories likely rose by 2.3 million barrels last week, a preliminary Reuters poll showed ahead of data by American Petroleum Institute (API).
Gasoline stockpiles likely fell by 1 million barrels, while distillate inventories, which include heating oil and diesel fuel, were forecast to fall by 2.5 million barrels.
The API is scheduled to release its weekly data at 4:30 p.m. EDT (2030 GMT).
REUTERS