Geagea tells Hezbollah chief: The Syrian regime is more brutal than IS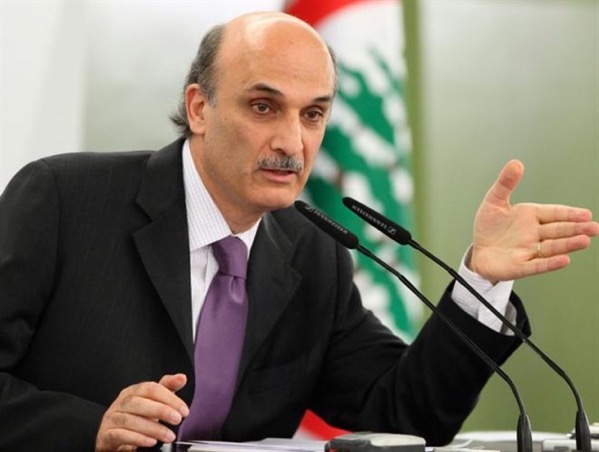 Lebanese Forces chief  Samir Geagea told   Hezbollah chief  Hassan Nasrallah on Friday,  that there cannot be any official coordination "with the  Syrian regime  since it  is more brutal than the Islamic State group."
This comes after Nasrallah on Thursday announced that "the Syrian leadership will cooperate" in any negotiations with the IS group involving the fate of the captive Lebanese troops "on  condition of receiving an official Lebanese request for public coordination."
Hezbollah's chief "is harming the Lebanese army through insisting on coordination between the Lebanese and Syrian armies and Hezbollah in Operation Dawn of the Outskirts, while knowing that such a declaration would harm the army, seeing as a lot of countries helping it in various forms would cease their support should they realize that it is coordinating with"  Hezbollah and Syria's army, said Geagea in an interview with al-Markazia news agency.
He condemned what he called Nasrallah's "use of the captive troops file to pressure the Lebanese government into holding official and public talks with the Syrian government," emphasizing  that "there cannot be coordination with a regime that is more brutal than the IS group."
Responding to Nasrallah's addition of the Syrian army to the so-called "army-people-resistanceformula ," Geagea stressed that Nasrallah's "real equation" also involves Iraq's Shiite Popular Mobilization Forces militia and Iran's Revolutionary Guard.
"How can you assume that we would accept a formula  that has nothing to do with the country? Where are the Lebanese entity, state, National Pact, coexistence, model and message in this equation?" Geagea added, addressing Nasrallah.
"For us, the essential equation will always remain: Lebanese people, Lebanese state and Lebanese army," Geagea stressed.