Iran arrests and sentences a Chinese-American graduate student for 10 years over spying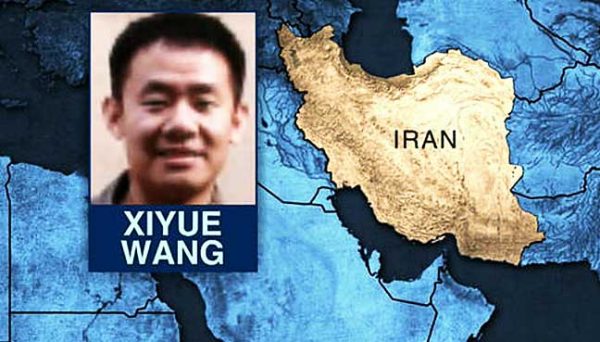 An American student from Princeton University was arrested in Iran and has been sentenced to 10 years in prison on charges he was spying for the United States, an Iranian judiciary official said on Sunday, an action bound to aggravate relations between the two countries.
The arrest and sentencing of the American, Xiyue Wang, a graduate student in history, was announced months after he had vanished in Iran, where he was doing research for a doctoral thesis. There had been rumors of his arrest, but the announcement on Sunday from Iran was the first official confirmation.
A spokesman for Iran's judiciary, Gholam Hossein Mohseni-Ejei, said at a weekly news conference that one of "America's infiltrators" had been prosecuted, but he did not identify Mr. Wang by name or nationality. The judiciary's Mizan News Agency provided his name and his age, 37, saying he had "spider connections" with American and British intelligence agencies.
Mizan also said Mr. Wang, whom it described as fluent in Persian, had digitally archived 4,500 pages of Iranian documents and had done "super confidential research for the U.S. Department of State, Harvard Kennedy School and British Institute of Persian Studies."
A Princeton spokesman, Daniel Day, confirmed that Mr. Wang, an American citizen of Chinese descent, was the man arrested in Iran. "That's our student," Mr. Day said in a telephone interview.
He also said the university had known about the arrest for months but had been trying to work quietly to have Mr. Wang freed.
In a statement issued after news of his arrest and sentence was reported, the university said Mr. Wang was a fourth-year doctoral candidate specializing in 19th- and early-20th-century Eurasian history who had been arrested last summer while doing scholarly research in Iran on the Qajar dynasty.
"Since his arrest, the university has worked with Mr. Wang's family, the U.S. government, private counsel and others to facilitate his release," the statement said.
"We were very distressed by the charges brought against him in connection with his scholarly activities, and by his subsequent conviction and sentence," the statement continued. "His family and the university are distressed at his continued imprisonment and are hopeful that he will be released after his case is heard by the appellate authorities in Tehran."
News of Mr. Wang's sentencing came as the judiciary spokesman also announced that the brother of President Hassan Rouhani of Iran had been arrested in a corruption inquiry, in what appeared to be a move by Mr. Rouhani's hard-line rivals to undermine and embarrass him.
Iran's judiciary spokesman, Mr. Mohseni-Ejei  did not specify the bail amount or the precise charges.
Referring to Mr. Wang, Iran's judiciary spokesman, Mr. Mohseni-Ejei said the person sentenced in the espionage case had been "identified and arrested by the Intelligence Ministry's forces, and it was established that he was gathering information and was involved in spying activities."
Once the verdict is final, Mr. Mohseni-Ejei said, he would "be able to explain more about this person's intentions and activities," adding, "Unfortunately he was taking direct orders from America."
FABRICATED CHARGES
In a statement, the US State Department said: "The Iranian regime continues to detain U.S. citizens and other foreigners on fabricated national-security related changes. We call for the immediate release of all U.S. citizens unjustly detained in Iran so they can return to their families."
A number of American citizens, mostly Iranian-American dual citizens, have been imprisoned in Iran over the years on similar charges.
Five were freed when the nuclear deal took effect in January 2016, including Jason Rezaian, a former Washington Post correspondent in Tehran. But others continue to languish in Iranian prisons, despite repeated calls by the United States and others to release them.
The most notable prisoners include Siamak Namazi, an Iranian-American businessman who had called for improved relations; his father, Baquer Namazi, a former Unicef diplomat; and Nizar Zakka, a Lebanese citizen with permanent United States residency.
Mr. Zakka's lawyer in the United States, Jason Poblete, said his client had been on a hunger strike for the past three weeks. Mr. Zakka was sentenced a few months ago to 10 years in prison.