Trump points finger at Qatar over terrorism financing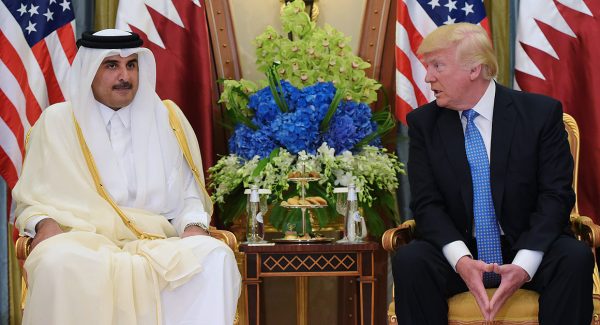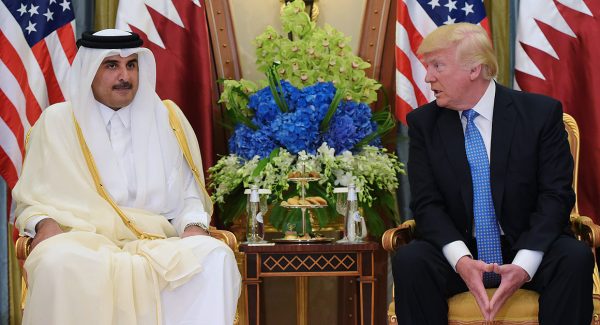 Donald Trump has publicly swung behind Saudi Arabia and other Arab nations in their move to isolate Qatar for allegedly supporting terrorism, saying funding for "radical ideology" needed to be cut off.
The US president's public backing for the unprecedented Arab action came despite Qatar's role as a long-time Washington ally, which hosts the main US military base for operations in the Middle East.
Saudi Arabia, the United Arab Emirates, Egypt and Bahrain cut diplomatic ties and their connections to Qatar's airspace, airports and seaports on Monday. They accused Qatar of backing and financing terrorism in countries including Syria, Yemen and Libya.
Heather Nauert, a state department spokeswoman, said on Tuesday that the UAE had informed the US of the decision, "but only immediately prior to that announcement being made".
Referring to his visit to Saudi Arabia last month, Mr Trump wrote on Twitter: "During my recent trip to the Middle East I stated that there can no longer be funding of Radical Ideology. Leaders pointed to Qatar — look!"
He added: "[Saudi Arabia and its allies] said they would take a hard line on funding extremism, and all reference was pointing to Qatar. Perhaps this will be the beginning of the end to the horror of terrorism!"
Later on Tuesday the White House said Mr Trump had spoken to King Salman of Saudi Arabia and emphasised the importance of a united Gulf Cooperation Council — a body which includes Qatar — to regional stability.
Although Washington has long been concerned about Qatar's funding of Islamist groups, such objections have in the past almost always been conveyed in confidence.
Mr Trump's public accusations are a sharp break, particularly from his Republican predecessors — Qatar's Al Udeid air base served as a major centre of operations for the initial invasion of Iraq under then-President George W Bush — and are likely to raise concerns in the Pentagon.
Qatar serves as the regional headquarters for the US air force and the base is used to co-ordinate the US-led coalition's air operations across Iraq, Syria and Afghanistan, and 17 other nations stretching from north-east Africa across the Middle East into south and central Asia.
Rex Tillerson, US secretary of state, called for all sides to settle their differences, offering Washington's help if needed. "We are hopeful that the parties can resolve this through dialogue, and we encourage that," he said during a visit to New Zealand.
A state department official who works on the Middle East told the Financial Times they had received no prior notice of the Saudi-led split from Qatar. "We were flat-footed — we had no idea this was coming," the official said. "If Tillerson knew he was not passing that information down to folks."
Colin Kahl, who served as national security adviser to former US vice-president Joe Biden, wrote on Twitter: "Trump piles on Qatar. I hope POTUS has a back-up for the Qatari base that is key to the air war against Isis."
During the visit to Riyadh — his first official foreign trip as president — Mr Trump held talks with Arab leaders, including Qatar's emir, as he sought to forge a coalition to counter Iran's regional influence and help fight Isis. The trip is seen to have emboldened Saudi Arabia and its allies, which have long considered Qatar to be a maverick that backs Islamist groups, including the Muslim Brotherhood and Hamas, the Palestinian militants, and is too cosy with Iran.
Qatar, the world's largest exporter of liquefied natural gas, denies it sponsors terrorism and argues that it acts as a neutral force in a region beset by conflict and rivalries. Doha has insisted for years that it engages with Islamist groups with the full knowledge of the US.
Sheikh Mohammed Al Thani, Qatar's foreign minister, on Tuesday rejected accusations of supporting terrorism, telling CNN that Qatar's emir had discussed the issue with President Trump last month in Riyadh.
He said Qatar had told the president that the charges had come from the media and were not founded in evidence.
Qataris have expressed fears that the Saudi-led initiative is aimed at removing Sheikh Tamim bin Hamad Al Thani, Qatar's emir, as well as his parents, who many believe are the real power behind the throne.
"If the Saudis want to do something militarily, we have been told the Americans are not going to interfere," said a senior Qatari businessman. "For them, this is an internal Gulf matter."
Adel Al-Jubeir, the Saudi foreign minister, said Qatar needed to take several steps, including ending its support of Hamas and the Muslim Brotherhood, to restore ties with Riyadh and the other Arab states.
"Nobody wants to hurt Qatar. Qatar has to choose whether it must move in one direction or another direction," he told reporters.
Some Saudi and Egyptian newspapers have also suggested regime change in Qatar is the goal of the co-ordinated action.
But Nasser bin Hamad al-Khalifa, Doha's former ambassador to the US, said Qatar would unite as a "wall" against threats from outside.
"We are not going to give up our sovereignty to anyone," he told the Financial Times. "We will co-operate and listen. If we did something wrong we will acknowledge this, but they need to say what is wrong."
Sheikh Sabah al-Ahmad al-Jaber Al-Sabah, emir of Kuwait, was due in Saudi Arabia on Tuesday for mediation efforts to resolve the worst breakdown in Gulf relations since the formation of the Gulf Co-operation Council more than three decades ago.
Sheikh Tamim heeded a request from his Kuwaiti counterpart to hold back from giving a speech to his nation ahead of the mediation with Saudi Arabia. Kuwait has often played the role of regional broker and in 2014 helped resolve a spat between Doha and its neighbours.
Qatar, one of the world's richest nations in per capita terms and host of the 2022 football World Cup, sought to project an image of defiance.
Newspapers in Doha led with large photos of Sheikh Tamim, pledging their support. "We are all Tamim, we are all Qatar," one headline read.
Qatar has also warned that the crisis raised questions about the viability of the GCC, the six-member political and trading bloc.
"This brings about real questions about the future of the GCC nations," said Sheikh Mohammed. "We reject that some in the GCC are trying to impose their will on Qatar or intervene in its internal affairs. This is rejected."
The move to isolate the import-dependent nation caused Qatar residents to rush to supermarkets to stock up on food. The small state relies heavily on its now closed land border with Saudi Arabia for imports.
Officials told local media that there were sufficient food stocks and supplies were being imported "in a routine manner from different sources".
Aviation links to Qatar were thrown into chaos when Qatar Airways suspended flights to and from Saudi Arabia, the UAE, Egypt and Bahrain from Tuesday morning. That followed the suspension of flights by Etihad, the Abu Dhabi carrier, and Emirates of Dubai to Qatar.
Qatar Airways has shifted its routes to use Iranian airspace. Westbound flights will now avoid Saudi and Bahraini airspace, while Asia-bound flights are circumventing UAE airspace.
The closure of routes between Qatar and the four Arab states has caused concern for many in Doha, who often fly to neighbouring states at the weekend.
"My husband lives in the UAE," said an aviation worker based in Qatar. "From now on we are going to meet in Oman."
FINANCIL TIMES