Turkey's 'Justice (Adalet) March' leaves Erdogan with difficult options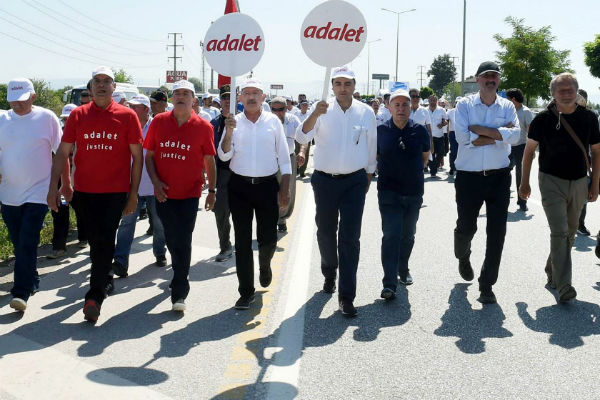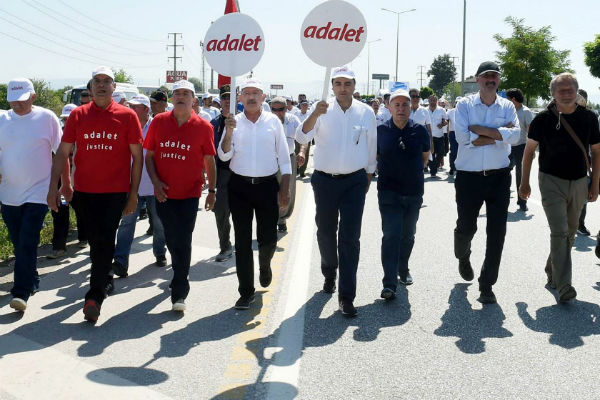 When the leader of Turkey's main secular opposition party began a march for justice from Ankara to Istanbul, it caught everyone by surprise. But as the protest nears its endpoint, President Recep Tayyip Erdogan faces tough options.
In a country that has seen a silencing of virtually all forms of opposition against the government, a startling spectacle has been unfolding in Turkey over the past few weeks.
Since June 15, Kemal Kilicdaroglu, head of Turkey's main secular opposition CHP (Republican People's Party), has been leading a daring 450-kilometre protest march from Ankara to Istanbul.
Since he took over the CHP in 2010, the dull, retiring Kilicdaroglu has been widely considered an ineffective politician, a personification of Turkey's emasculated opposition helplessly watching Erdogan win every round of the Turkish political game.
Suddenly, the former bureaucrat-turned-politician appears to have found his political mojo, catching most Turks off-guard.
Holding a sign printed with a single word, "Adalat" — or "justice" – Kilicdaroglu has been leading thousands of protesters on foot through the blistering Anatolian heat in a display of resistance that has been likened to Mahatma Gandhi's famous "Salt March" against British India's colonial masters.
As he clocks the miles en route to his Istanbul endpoint, the 68-year-old politician is finally firing up the opposition, drawing in demonstrators who are joining the march with one simple rallying cry: "Rights, law and justice."
Nearly a year after a coup attempt that saw the imposition of a state of emergency, rights, law and justice are on the wane in Turkey today. Following the July 15, 2016 coup attempt, Erdogan's promised "cleansing" of Turkey's state institutions has seen hundreds of thousands sacked from their jobs or jailed. On April 16, the country narrowly approved a constitutional referendum that will change Turkey's political system to an executive presidency granting Erdogan sweeping powers.
Through it all, Kilicdaroglu's leadership of the opposition has been marked by an absence of vision and strategy. So, when the CHP leader started his "Justice March" last month, the odds didn't seem in his favour.

"A lot of people, myself included, have tended to write off Kilicdaroglu as an inept opposition leader," said Howard Eissenstat, a Turkey expert at St. Lawrence University and nonresident senior fellow at the Project on Middle East Democracy (POMED). "He's been such an easy figure to ignore, or dismiss as incompetent that suddenly when he does something good, it's hard to break out of the old narrative."
Stakes, and emotions, rise
But with just days to go before the end of the march on July 9, the stakes — and the emotions — are mounting.
On Saturday, Erdogan accused Kilicdaroglu of staging "protests to protect terrorists and those who support terrorism". At a weekend meeting of his ruling AK party, Erdogan said the CHP's latest stance "had gone beyond being a political opposition and taken on a different proportion".
Responding to Erdogan's accusations, Kilicdaroglu said they were "fitting for a dictator". But when it comes to timing and symbolism, Erdogan was not entirely wrong in noting that Kilicdaroglu's march was taking the display of public dissent to a different level.
"Erdogan is gearing up for the anniversary of the coup attempt. For him, that's the defining moment of his presidency, resistance to the coup representation of the national will and his own legitimacy. Now the Justice March comes along at that moment of celebration; it really raises the stakes for him," explained Eissenstat.
Blowback from a parliamentary vote
The Justice March began a day after CHP lawmaker and former journalist, Enis Berberoglu, was sentenced to 25 years in jail on charges of leaking information of Turkish intelligence services supplying arms to Syrian rebels to the press.
The editor of the newspaper that published the report fled into exile in Europe last year. Under normal circumstances, Berberoglu, as a CHP MP, should have enjoyed parliamentary immunity.
But in May 2016, Turkey's parliament voted to lift immunity for lawmakers in a move widely believed to target Kurdish politicians from the opposition HDP (People's Democratic Party). Ironically, a number of CHP parliamentarians voted in favour of the measure, underscoring the fractious divides within Turkey's opposition and the failure of the main secular party to stand up to Erdogan.
The vote enabled the government to arrest the pro-Kurdish HDP's charismatic leader, Selahattin Demirtas, who has been in prison since November 2016.
"When Demirtas went to prison, most Turks saw the HDP as 'terrorists' getting their comeuppance — which is absurd, but that's the perception," explained Eissenstat. "But arresting the CHP leadership would be an entirely different matter."
Lessons from a controversial referendum
But Berberoglu's conviction, Eissenstat noted, was "the catalyst, not the cause" of the Justice March.
The controversial April 16 referendum, which handed the government's "Yes" camp a narrow win, has played an important role in mobilising the opposition. The referendum "finally made it clear that the traditional, institutional game of politics is no longer operational for the CHP", explained Eissenstat
Given the unprecedented display of opposition from the CHP, all eyes in the next few days will be on Erdogan's response to the Justice March.
His options range from letting the march end in Istanbul in a peaceful protest, blocking access to the final demonstration, allowing pro-AK party thugs to descend on the protesters or ordering a security crackdown. Coming as it will, just days before the July 15 2016 coup anniversary, these are options Erdogan will have to carefully weigh. "The Justice March is going to leave Erdogan with some unsavory possibilities," noted Eissenstat. "It forces him to either allow the opposition to oppose him on the streets or forces him to use force. But if it comes to seeing Kemal Kilicdaroglu in shackles that would be politically explosive. None of the options work out well for him."
FRANCE24