Mashnouq discuses with Aoun new vote law. Blasts Hezbollah chief as 'irresponsible'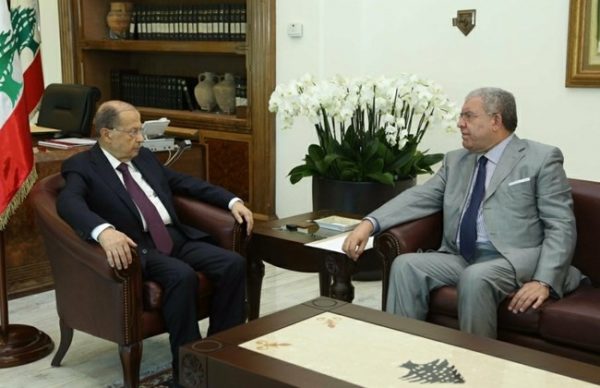 LEBANON Interior Minister Nouhad Mashnouk met Thursday with President Michel Aoun art  the Baabda presidential palace  to  discuss the security situation in the country and the implementation of  the new electoral law  for the  2018  parliamentary elections  according to media reports
Mashnouk said that a group of experts is currently studying the best ways to implement the new electoral  law that divides Lebanon into 15 electoral districts based on proportional representation.
"We discussed the electoral law and its complications if we can call them complications because the proposed [vote] formula is new to Lebanon," Machnouk said after meeting Aoun  "There is a group of experts who are constantly meeting at the Interior Ministry to discuss all formulas that will facilitate the implementation of this law and its provisions on time."
He added that there are between 18,000 to 20,000 employees, including judges, school teachers and Interior Ministry staff, who will oversee the elections at polling stations and vote counting centers, but they need to be trained on how to implement the new voting system.
"In my estimation, the [experts'] final report about all this operation will not be ready before a month. There are many details that need to be clarified, particularly with regard to the [magnetic voting] card," Machnouk said.
The new law included an article that called for an 11-month "technical extension" of Parliament's term, with the next parliamentary elections set to be held between March 20 and May 19, 2018. This was the third extension after Parliament's four-year mandate was extended for another full term in 2013 and 2014.
Mashnouk asserted that the elections would be held on time in May, ruling out any postponement.
"Definitely, there will be elections and definitely they will be held on time," he said, adding: "Definitely, there will be a [voting] card which you can call magnetic or anything else. There are talks on it with experts. What matters is the result and accuracy in implementation."
Irresponsible and dangerous
On another topic, Mschnouk dismissed as "irresponsible" last week's speech by Hezbollah chief Sayyed Hassan Nasrallah in which he warned that "hundreds of thousands" of Arab and Muslim fighters would join Hezbollah in the battle against Israel if it attacked Lebanon or Syria.
"It is clear that this statement does not reflect the opinion of the Lebanese government, nor that of the Lebanese state or the Lebanese people. Frankly, this statement is irresponsible at the national level and opens the door for a political clash which we can do without," Machnouk said. "Before bringing in masses [of fighters[ to resist the Israeli enemy, we are duty-bound to rally the Lebanese behind one opinion, one position and one understanding."The minister was referring to sharp divisions among the Lebanese over Hezbollah's arsenal and the party's deep involvement in the 6-year-old war in Syria alongside the Syrian President Bashar Assad's forces.
Declaring that Nasrallah's speech came outside the context of Lebanon's policy line and it gave "the impression as if we are importing the Syrian fire into Lebanon," Mashnouk said: "No Lebanese can accept this issue … Our position as a government and a state is that we will not accept this matter and we will forbid it with the force of law, the force of the state and the force of all responsible political and security institutions."
Nasrallah's speech has also drawn condemnation from the Future Movement and Lebanese Forces chief Samir Geagea.
"Nasrallah's speech contrasted with the positive atmosphere that has prevailed in the country," Geagea said. "The speech was highly escalatory … None of us [parties] can unilaterally bring up and decide upon the paths of strategic topics."
Speaking to the Free Lebanon radio station Thursday, Future MP Mohammad Hajjar said: "What Hezbollah is doing is very dangerous and the speeches are an act of madness … This insistence on linking Lebanon to the Iranian project and provoking the Lebanese as well as neighboring countries are no longer meant to repulse the Israeli enemy, but there is something bigger."