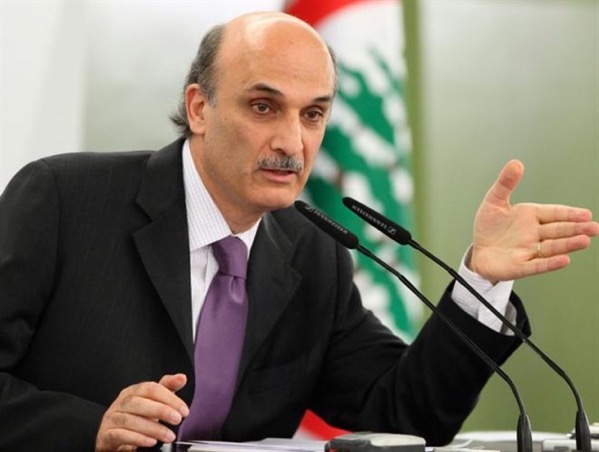 Lebanese Forces leader Samir Geagea on Friday renewed his  attack against  Hezbollah chief    Hassan Nasrallah over his threat to use  foreign  Shiite fighters, stressing that only the Lebanese State and citizens should defend Lebanon against any attack.
"Over the past few days, we heard a lot statements about allowing chaos on Lebanon's borders and about opening them to all sorts of armed groups under the excuse of defending Lebanon," Geagea said at an LF rally.
"We do not want anyone to defend us or to defend Lebanon, seeing as this is an exclusive mission for the Lebanese State… and what the Lebanese army did today and what it is doing everyday along with the other security agencies is the best proof of this," Geagea added, referring to the army's raid  in Arsal's outskirts that resulted in foiling terror plots.
The LF leader added: "No one at all, other than the Lebanese state, has the right to take strategic decisions regarding Lebanon's defense or foreign policy."
Recalling the 1975-1990 civil war, Geagea said "the experience of the armed Palestinian groups that were brought (into Lebanon) in the 1970s under the excuse of facing Israel is still fresh in our minds."
"The result was a confrontation for the Lebanese people and an unprecedented war inside Lebanon," Geagea lamented.
"History has proven, throughout 1,500 years, that the Lebanese deserved Lebanon because they themselves defended it all the time and not because they brought groups of foreigners to defend it," the LF leader went on to say.
"Lebanon is for the Lebanese and they will sacrifice their lives for it whenever the need arises," Geagea added.
Geagea renewed his attack after  Hezbollah MP Nawwaf al-Moussawi defended Nasrallah's remarks, stressing that Hezbollah has the right to invite its allies to take part in any future war with Israel.
"The allies of the Zionist entity and the U.S. administration do not find any harm in going beyond their geographic and political borders and their sovereign rights to unite together in a 70-nation coalition aimed at waging aggression against Syria, while over 30 nations have come together in order to wage aggression against Yemen," Moussawi said.
"Thus it is normal for us, the resistance factions in this region, to confront the anti-resistance axis," the Hezbollah MP emphasized.
Last Friday, Nasrallah had warned Israel against attacking Lebanon or Syria, stressing that "hundreds of thousands" of Arab and Muslim fighters would be ready to strike back.
"The Israeli enemy should know that if it launches an attack on Syria or Lebanon, it's unknown whether the fighting will stay just between Lebanon and Israel, or Syria and Israel," Nasrallah said.
 Several other Lebanese leaders attacked Nasrallah's  stance  and some went as far as calling it irresponsible and dangerous .
"It is clear that this statement does not reflect the opinion of the Lebanese government, nor that of the Lebanese state or the Lebanese people. Frankly, this statement is irresponsible at the national level and opens the door for a political clash which we can do without," Interior Minister Nouhad Mashnouk said Thursday