Angela Merkel Sets Collision Course With Trump Ahead of G-20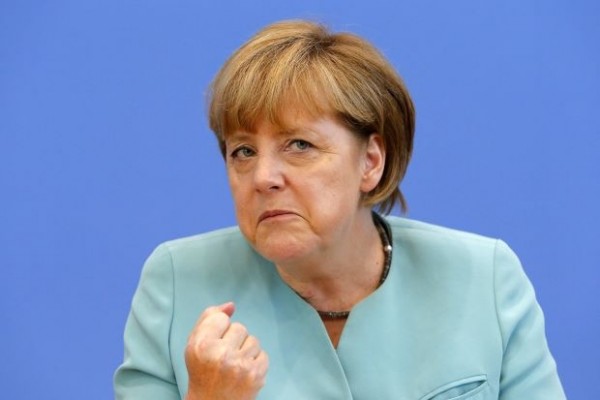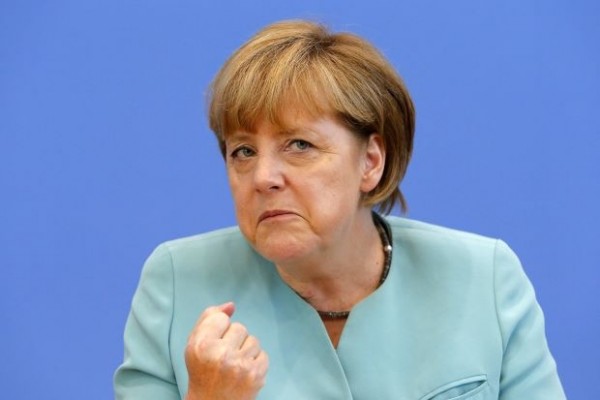 BERLIN — A combative Chancellor Angela Merkel set herself on a collision course with President Trump and his "America first" agenda on Thursday, predicting "very difficult" talks over climate change and trade when she hosts a summit meeting of 20 global leaders next week.
Speaking before Parliament on a day when she also gathered European Union leaders in Berlin to form a common front, the German leader made no bones about the "obvious" disagreement with the United States.
"Whoever believes the problems of this world can be solved by isolationism and protectionism is making a tremendous error," Ms. Merkel said, in what will most likely be her final address before Parliament before closing out her third term in office.
In the midst of an election campaign, the chancellor has been criticized by her main opponent for not standing up more forcefully to the American president. Her tough tone to some degree served as domestic political posturing, intended to enhance her appeal as a global leader uniquely qualified to guide Germany after more than 11 years in office.
But there was also little doubt that Ms. Merkel was trying to gird Germans and her European Union partners for a more conflictual relationship with the United States, which she said could no longer be counted on as a "reliable" ally after Mr. Trump's visit to Europe in May.
Those divisions are likely to be full display during the Group of 20 summit meeting that begins July 7 in the German city of Hamburg, where Ms. Merkel will welcome not only Mr. Trump but also President Vladimir V. Putin of Russia, President Recep Tayyip Erdogan of Turkey and other leaders from industrialized and emerging nations.
Global trade, as well as measures to halt climate change, migration, terrorism and international pandemics are all on the agenda. For the chancellor, however, the most important single message of the gathering is ensuring multilateral cooperation through international institutions. Those include the International Monetary Fund and the World Trade Organization, both of which will are taking part in the meeting.
The stage for conflict at the gathering was set in March, when a meeting of finance ministers and central bankers from the Group of 20 ended in discord as the United States broke with its allies and forced a rewriting of the final joint statement. Among other things, the United States delegation insisted that a pledge to support the 2015 Paris accords on climate change be dropped.
In the months since, Washington has only toughened its stance, repeatedly criticizing Germany over its trade surplus and formally announcing that the United States would back out of the Paris climate agreement.
Combating climate change is an issue close to the chancellor's heart, and on Thursday she saved some of her most pointed language to address her differences with the Trump administration. "Since the decision by the United States of America to quit the Paris climate accords, we are more determined than ever to make it a success," Ms. Merkel told lawmakers.
"We will and must take on this existential challenge," she said, "and we cannot and will not wait until every last person in the world can be convinced of climate change by scientific evidence. In other words: The climate treaty is irreversible and is not negotiable."
Ms. Merkel said she would not pretend that differences with Washington on this stance do not exist. "It would be disingenuous if we tried to gloss over it," she said. "At any rate, I will not do that."
On global trade, German impatience with Washington's stance could be seen this week, when the secretary of commerce, Wilbur Ross, canceled a trip to Berlin, where he was supposed to appear alongside of Ms. Merkel at an economic conference. Instead, Mr. Ross appeared via video link, repeating the administration's criticism of the German trade surplus, but calling for the resumption of talks on a trans-Atlantic trade agreement. After his talk went on more than twice as long as the 10 minutes originally scheduled, organizers at the Christian Democrats' Economic Council pulled the plug on him to allow the chancellor to take the stage.
The decision to cut the secretary off midsentence "had nothing to do with the content of the speech — we were just running behind schedule, and we told that to our contact on the American side," said Klaus-Hubert Fugger, a spokesman for the council.
Mr. Trump is not the only challenge Ms. Merkel will face at the summit meeting, which the chancellor had hoped would demonstrate Germany's role as an open, tolerant global leader. Trouble has also been brewing around the Turkish president, who has also clashed openly with the chancellor and her government, most recently by refusing to allow lawmakers to visit troops stationed at Incirlik Air Base. The German government relocated them in Jordan.
On Thursday, the German government rejected a request by Mr. Erdogan to hold a rally while he is in the country for the gathering.
An estimated three million Turks or Germans with Turkish heritage live in the country, and officials in Berlin fear stirring up conflicts linked to Turkish domestic policies. Ms. Merkel's government has condemned Turkey's crackdown on dissent since a coup attempt against the Turkish leader last July. And this year, Germany refused to let politicians from Mr. Erdogan's party address campaign rallies in the country before a Turkish referendum, a decision which the Turkish president criticized as "Nazi style" behavior.
Hamburg is home to about 90,000 Turkish immigrants and their descendants, many of them ethnic Kurds, and security officials in the port city are seeking to prevent any clashes between Mr. Erdogan's supporters and opponents in Germany. Hundreds of thousands of protesters are expected to descend on Hamburg during the summit meeting, taking part in mass demonstrations that have been planned surrounding the event.
On Wednesday, Germany's highest court ruled that city officials had to allow demonstrators to camp in city parks. The police had sought to prevent such tent cities, arguing they could harbor protesters planning violence. Protesters say the camps are necessary to allow them to demonstrate an alterative, anticapitalist style of living.
In closing her address to Parliament, the chancellor acknowledged the right to protest but urged those taking part to show restraint.
"We know that there will be protests, and that is more than legitimate in a democracy," Ms. Merkel said, adding her hope "that these demonstrations will be peaceful."
NY TIMES