Largest Anti-Kremlin Protests in Years Roll Across Russia. Hundreds detained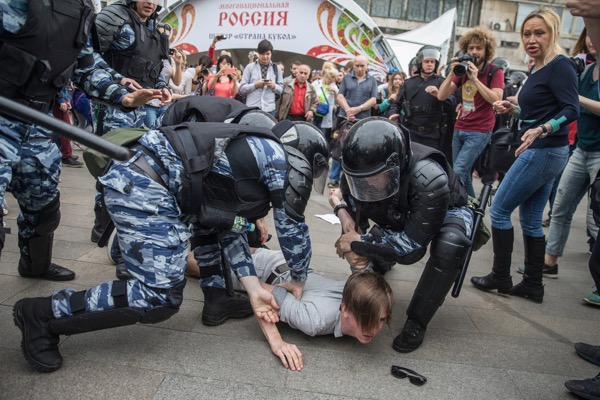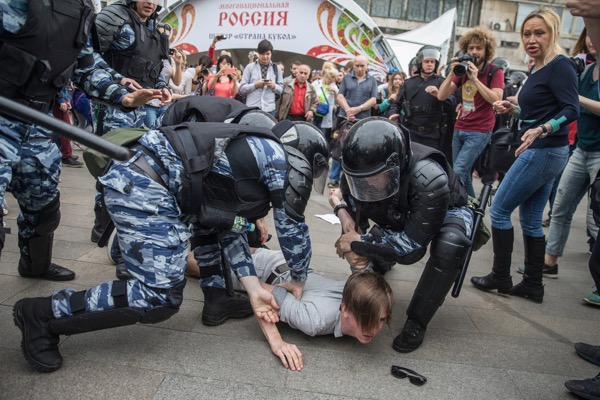 A wave of antigovernment demonstrations rolled across Russia on Monday as thousands of people gathered in scores of cities to protest corruption and political stagnation despite vigorous attempts by the authorities to thwart or ban the rallies.
The police detained the architect of the national protests, the Kremlin critic Aleksei A. Navalny, as he emerged from his apartment building to attend a rally that he had forced into the center of Moscow. There were scattered reports of hundreds of detentions elsewhere, too.
The protests were the biggest antigovernment outpouring in Russia in years, with more people in more cities heeding Mr. Navalny's call than his last series of demonstrations in March.
Organizers in more than 200 cities across Russia had filed requests to hold demonstrations on Monday, trying to revive a popular opposition that had been somnolent since a violent crackdown in 2011 and 2012. Protests unfolded on Monday in more than 100 cities as the sun moved westward, even in some where they had been banned outright.
Russian news media reported an estimated 5,000 people turned out in the Siberian city of Novosibirsk, the largest crowds since demonstrations in 1991 calling for the dissolution of the Soviet Union. Protest organizers estimated 4,000 participants in the southwestern Siberian city of Omsk, and 2,000 in Irkutsk, in eastern Siberia, though the police estimates in those cities were less than half.
In the eastern city of Kazan, a permit was for 7 a.m., a markedly early hour in a country that generally gets going around 10 a.m. The authorities had told organizers that anything later in the day would interfere with a major soccer match. Protesters showed up anyway.
In addition to their resolve, the protesters displayed a sly mastery of modern political organization. The demonstration in Vladivostok, a port city in Russia's far east, nearly 4,000 miles away from Moscow, resembled a social-media-driven flash mob more than a traditional political rally.
Their approach had its drawbacks: Without a public address system, people could not hear what was being shouted from a makeshift podium hastily installed near a bronze statue of Lenin. Still, when it looked as if the riot police were about to intervene, supported by camouflage-clad Cossacks — thuggish men carrying horsewhips — the crowd nimbly decamped. Protesters quickly marched through the center of the city unmolested to another site, where the demonstration continued until more police officers moved in to snatch people suspected of being the organizers.
In Moscow, Mr. Navalny set the stage for a confrontation with the police by insisting that demonstrators ignore the officially sanctioned venue and gather instead on Tverskaya Street, the main boulevard leading toward the Kremlin and Red Square.
After he was detained, his wife posted a picture of the incident on his Twitter account with the caption "Happy Russia Day!" — referring to the national holiday on Monday. In addition, workers at his headquarters reported that their electricity and internet connection, used to transmit updates from around the country, had been severed.
To commemorate the holiday, Red Square was scheduled as the site of historical re-enactments of various Russian military and other achievements across the centuries. On Sunday night, the end of Tverskaya Street near the Ritz Carlton Hotel had been shut off by a wall of sandbags and tank traps that were officially part of a re-enactment, but that conveniently also blocked protesters from mingling with visitors to the Russia Day celebrations.
The protesters managed to circumvent the makeshift blockade, and there were reports on Monday that the city had relented at the last minute and agreed to allow the protest march on the main boulevard.
It was difficult to ascertain the scale of the protests because riot police officers kept groups of protesters divided around Pushkin Square, which was also the site of some of the historical re-enactments and a public concert.
Protesters mingled awkwardly with Russians who had come out to participate in the holiday celebrations. As some people dressed as medieval knights acted out historical battles with wooden shields and prop swords, crowds chanted "Russia without Putin," referring to President Vladimir V. Putin.
Whenever the police swooped in to arrest protesters in Pushkin Square, the crowds erupted in vigorous chants of "Shame!" Initial reports from OVD.info, an independent organization that tracks arrests, said around 670 people had been detained in Moscow and 300 were arrested in St. Petersburg.
Mr. Navalny urged potential protesters not to fear arrest, saying time in jail was worth the effort — Mr. Navalny himself was detained for 15 days after a protest on March 26. "They cannot put everyone in prison" has become one of his mantras.
He has also said repeatedly that the demonstrations should be nonviolent. Protesting "doesn't mean there will be an awful revolution or a civil war," he said on his YouTube talk show on June 1. "We will live better, because they will stop stealing from us," he said.
The latest confrontation between Mr. Navalny and the Kremlin began on March 2, when the 41-year-old opposition leader released a video depicting Prime Minister Dmitri A. Medvedev as the crooked beneficiary of palaces, yachts, vineyards and other luxuries paid for by some of Russia's richest tycoons and disguised as charity holdings.
"People understand very well the connection between corruption and property," Mr. Navalny said in an interview this month. "The main driver of people coming out in the regions is poverty, the constant worsening of the standard of living."
Officially, the demonstrations are against corruption, but they are also an effort by Mr. Navalny to force the Kremlin to let him run against Mr. Putin in the March 2018 presidential election, even if he has virtually zero chance of unseating the president. A felony conviction, which Mr. Navalny has called politically motivated, technically bars him from running.
In Vladivostok, home to Russia's Pacific Fleet, where at least 11 protesters were detained, according to OVD-Info, the protest crowds were peaceful if wily in their efforts to avoid the riot police.
The crowd of hundreds, while constituting only a tiny portion of the city's population of 600,000, signaled defiance against the authorities by waving copies of the Russian Constitution, which guarantees freedom of speech and assembly. The demonstrators paraded through narrow streets with Russian flags to an esplanade overlooking the Pacific Ocean.
"Russia without Putin," they shouted, while one protest banner said "Power must be changeable," a reference to tightly controlled elections that mostly consolidate the power of Mr. Putin and his allies.
The rally broke up after riot police officers plunged into the crowd and dragged away several protesters.
The authorities in the city had rejected a request from protest organizers to gather in the square by the station, saying that it had already been booked by Cossacks, descendants of the fierce horsemen who secured the frontiers of the Russian Empire under the czar. In an unsubtle hint, the Cossacks who gathered put on a display of how to smash eggs with a horsewhip.
Yuri Kuchin, an organizer of the Vladivostok protest, said he was detained by the police on Monday morning to prevent him from participating, before being released and then detained again until late afternoon. He said he had been fined the equivalent of about $350 for organizing an illegal event. Mr. Kuchin had said in an earlier interview that the Cossack event had been orchestrated by the local government as a ruse to keep Mr. Navalny's supporters from gathering.
"They have put us all under tremendous pressure," he said, complaining that local officials in places like Vladivostok were particularly zealous because they wanted to prove their loyalty to the Kremlin and because they feared being punished if dissent against Mr. Putin sprouted too openly.
As was the case during the day of nationwide protests called by Mr. Navalny in March, the demonstrators who turned up in Vladivostok were mostly young people, members of a generation who have known nothing but the 17-year rule of Mr. Putin.
"I am here for my future," said a 22-year-old protester who declined to give his name for fear of reprisals. "The Cossacks can stand up for their own future, but I want to defend mine," he added, waving a big Russian flag.
NY TIMES