Trump irritates allies and returns home to face a whole new set of challenges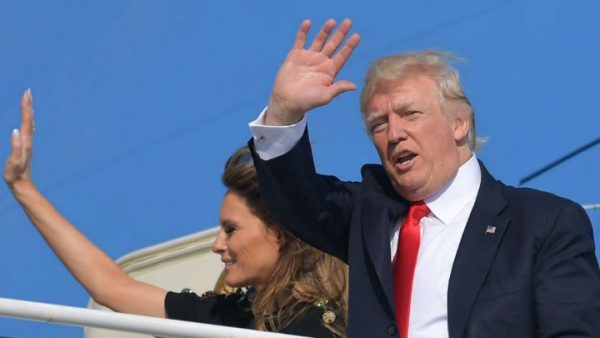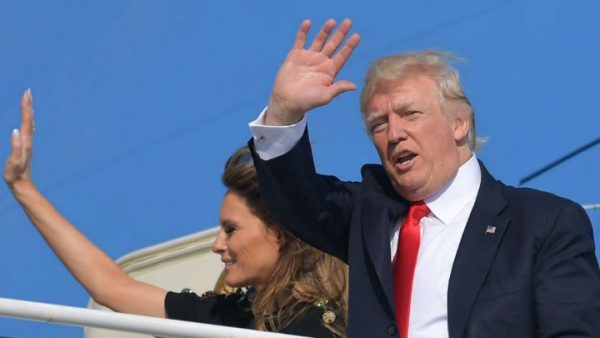 President Donald Trump flew back to the United States on Saturday without a much-awaited commitment to fighting climate change, at odds with many of his allies on big policy issues and to a brewing crisis in the White House.
Now back home, Trump is unlikely to get much rest after his gruelling nine-day diplomatic marathon, with Russian controversies and claims that his son-in-law Jared Kushner wanted to set up secret communications with Moscow swirling overhead.
Trump's first trip abroad as president took him to Saudi Arabia and Israel, the Vatican, and Belgium and Italy. He met with heads of state, the pope and attended gatherings of NATO leaders and members of the G-7 industrialised nations.
The royal treatment in Saudi Arabia
Trump is not a conventional president and neither was his first foray into international politics.
From the start, he set a new direction. In many ways, the first leg of his journey in the Middle-east was the easiest for the US leader who made 'America First' a cornerstone of his presidency and is still learning the ropes on international diplomacy.
Instead of following presidential tradition by heading to a neighbouring democracy like Canada or Mexico, Trump kicked off his maiden voyage in Saudi Arabia, the repressive desert kingdom, where he sought to win Arab states' support for fighting extremism.
He was given the royal treatment, and looked delighted as he took part in traditional dances and enjoyed lavish meals. Raising the human rights record of his host, one of the world's most oppressive governments, was not on his agenda.
"We are not here to lecture — we are not here to tell other people how to live, what to do, who to be, or how to worship," Trump said.
Instead, the US closed a $110 billion arms sale to show its renewed commitment to the security of the Persian Gulf region and unveiled numerous business agreements, but without going into details.
Trump then travelled to Israel and the West Bank to more rapturous welcome. He looked solemn as he lay a wreath at a holocaust memorial and as he prayed at the sacred western wall in Jerusalem. But while he called for peace in the region he was vague as to what form it should take. Trump stayed clear of calling for 'a two-state solution', an option backed by his predecessor Barack Obama.
Trump chastised the members
Things started to heat up when Trump left the warm climes of the Middle East for Europe, for the NATO summit in Brussels and the most confrontational part of his trip.
On his way, Trump made a short stop in Rome for an audience with Pope Francis. The two men have in the past clashed on issues such as migration, climate change and the Mexico-US wall. After the meeting, the Vatican said, laconically, that there had been an "exchange of views" on international issues.
Trump was more enthusiastic: "Honor of a lifetime to meet His Holiness Pope Francis. I leave the Vatican more determined than ever to pursue PEACE in our world," he tweeted on May 24th after meeting the pontiff.
The NATO summit in Belgium the next day pitted Trump against the 27 other members of the military alliance. The US president unnerved them by not affirming his commitment to the alliance's key Article 5 on mutual defence — which states the principle that an attack on any one member is an attack on all. A US administration spokesperson downplayed their fears however and saying the US would adhere to it.
Trump chastised the members for not spending enough on defence and repeated the charge that some members owed "massive amounts of money" from past years, even though allied contributions are voluntary.
Brussels summit a "disaster"
Trump's appearance in Brussels was particularly frustrating for Germany. In a meeting with senior European Union officials, he said the country was "very bad on trade" despite months of painstaking relationship building between Germany and the US in the run up to the summit.
It is little surprise European officials described the summit as a "disaster".
Side meetings with other leaders in the Belgium capital provided with some light relief however. A series of "manly" and prolonged handshakes with French President Emmanuel Macron, followed by an apparent snub by Macron in favour of European Union leaders, delighted the twittersphere.
Leaving the EU headquarters and his crestfallen NATO allies behind, Trump ended his diplomatic tour in Italy for the G7 summit with the leaders of the world's wealthiest industrial nations. This stop was set to be just as acrimonious: four preparatory meetings had failed to clear up differences with the Trump administration on trade, how to deal with Russia and climate change.
Little surprise, but some disappointment
So there was perhaps little surprise, but some disappointment, when after three days of contentious private debate and intense lobbying by other leaders, Trump refused to commit to the hard-fought Paris Agreement on Climate Change. The six other G7 nations reaffirmed their commitment to it in a joint statement issued Saturday.
Trump promised to make a decision in the week ahead on whether the United States will be the first of 195 signatories to pull out.
The leaders reached agreement on some issues however. On trade, Trump bowed to pressure from allies to retain a pledge to fight protectionism. And on Russia, Trump did not insist on removing the threat of additional sanctions for Moscow's intervention in Ukraine, as the allies had feared.
'Someone who is willing to listen and who wants to work'
But despite disagreements over many policy issues, leaders also warmed to the US president.
"I saw someone who is willing to listen and who wants to work,' said France's Macron. "I think Donald Trump understood the importance of multilateral discussion and that, along with the pragmatism he demonstrated during his campaign, Trump will now take into account the interests of his friends and partners."
The Italian Prime Minister Paolo Gentiloni, the G7 summit's host agreed. "I found him very willing to engage, very curious, with an ability and desire to ask questions and to learn from all his partners," he said.
At the summit's close on Saturday, Trump appeared to rate his trip as a success.
"I think we hit a home run no matter where we are," he said.
Home, where a whole new set of challenges begin.
FRANCE24