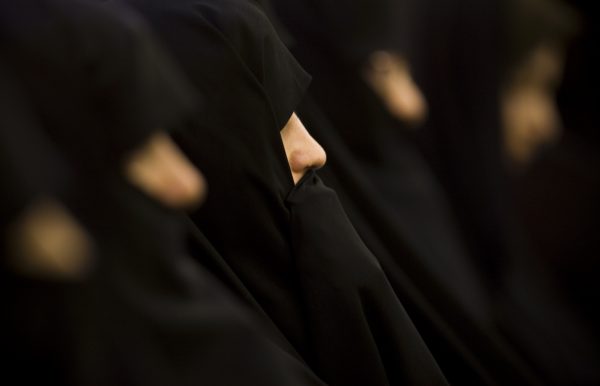 With black chadors over their uniforms, officers of Iran's "guidance patrols" are a scourge for Iranian women who want to wear bright colours and push the limits of the Islamic Republic's dress code. But some Iranian women are fighting back, using their smartphones to document what happens once they are arrested.
The Gasht-e-Ershad (guidance patrol) is Iran's morality police. Part of the regular police force, its male and female officers are charged with enforcing Islamic codes in Iranian society, and have the power to arrest people they think are violating them. While the total number of its officers is unknown, a spokesman said the force made 207,000 arrests in 2013, and notified a total of 2 million women that their hijab (Islamic dress) was not correct.
Under Iran's Islamic law, women are supposed to cover everything except their face and hands. Conservative women wear the chador – a black garment that covers the head and goes down to the ankles. But other women choose to wear a scarf that covers their hair, a knee-length "manteau", or coat, with sleeves to the wrist, and a skirt or trousers.

In recent weeks, a series of videos has emerged on social media showing what happens when women are arrested by the morality police. Many of the videos – filmed surreptitiously inside the patrols' white and green vans, and inside police stations where women are questioned – have been posted to a Facebook page called "My Stealthy Freedom".
Our Observer Bita (not her real name) is a 19-year-old engineering student. She was arrested by a Gasht-e-Ershad patrol while out walking with a friend in east Tehran. She discreetly filmed the arrest on her cellphone, and posted her video on the "My Stealthy Freedom" Facebook page.
"I was walking in the street with one of my female friends when we saw a Gasht-e-Ershad van. There were three armed male officers, a male soldier and three female officers. They didn't like what we were wearing and asked us to get in the van, saying if it was our first offence they'd let us go. We didn't want to get in because we knew they were lying, but they insisted.
After they picked us up, they continued driving around looking for women with bad hijab. At one point, we stopped in a busy street and they tried to arrest a woman. But she began shouting and the male officer said to the female officers, "Forget her, people are going to start gathering." Another time people began filming on their phones and they gave up.
They're cowards in the street, but they were bullies inside the van. They picked up seven or eight other women. Some of them refused to show their ID cards, and asked the female officers what was wrong with their outfits. I filmed it because I wanted to show what happens in these vans. When the male officer shouted at some of the women, I said, "Look, we're not criminals. We haven't killed anybody. We're not thieves either. You can't treat us like this." He stopped but a few minutes later called us "harlots"."
"Three hours of insults and humiliation"

"They ended up taking us to a police station. One of the female officers there told me I was right, my hijab was correct. But then she read the report and said I was apparently arrested because of my hair color – my hair is dyed blue. They also said the buttons of my manteau were undone. That's a lie.

The female officers at the station were even harsher than the ones on patrol. They insulted us non-stop, saying things like "Shut up" and "Do you want a slap?" Some of women were frightened and started crying. I was just angry – it was three hours of insults and humiliation.

They took our cellphones and asked for our ID, our address, and the name of our university. They took photos as if we were criminals, and took videos of us, telling us to explain on camera why we had been arrested. They told us we'd have to pay a fine. I don't know how much because I haven't received the summons yet.

They told my friend to call someone to bring new clothes for her. My clothes were ok, but they said my friend's pants were too tight. Another friend brought some pants for her and after that they let us go."

"The next time it happens – I'll resist"

"The problem is we're never sure what's forbidden and what's not. Women are arrested because their sleeves are too short, or their manteaux are a bright colour like red or yellow. Or they're wearing torn jeans, or a hat instead of a scarf or chador. Or they dye their hair a colour like blue or pink. Or they have a tattoo. Or long boots. Or heavy makeup. Or leggings.

The arrest is not going to change the way I dress. But one thing has changed: I don't feel safe in the streets anymore, because of the patrols. I feel suffocated. How can I be arrested in my own country, humiliated and treated like a criminal when I've done nothing wrong? Just because they don't like the way I look. The next time it happens, I'll resist – I won't get in the van even if they beat me up."

FRANCE24
This error message is only visible to WordPress admins
Error: No connected account.
Please go to the Instagram Feed settings page to connect an account.