Berri warns over "dangerous developments in the region"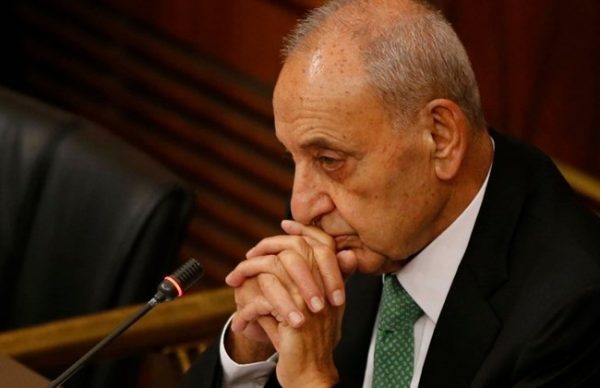 Lebanon Parliament Speaker Nabih Berri warned on  Wednesday about  the dangerous developments in the region"  and "the grave economic situation  in the country "and urged the politicians to agree on an electoral law
"Contacts are still underway over the electoral law but there is nothing new until the moment," MPs quoted Berri as saying during his weekly Ain el-Tineh meeting with lawmakers.
Also on Wednesday, the speaker noted on his official Facebook page that "the implementation of the Greater Middle East scheme of (late Israeli leader) Shimon Peres has started."
The scheme stands for "dividing what's already divided and economic cooperation among all the peoples and countries of the region instead of granting the Palestinians a state," Berri added. in a possible reference to the late Israeli President's  so called 'Marshal plan' for the region.
Peres' plan was named after the US Marshal plan
The US Marshall Plan (officially the European Recovery Program, ERP) was an American initiative to aid Western Europe, in which the United States gave over $13 billion (approximately $130 billion in current dollar value as of June 2016) in economic support to help rebuild Western European economies after the end of World War II. The goals of the United States were to rebuild war-devastated regions, remove trade barriers, modernize industry, make Europe prosperous once more, and prevent the spread of communism. The Marshall Plan required a lessening of interstate barriers, a dropping of many regulations, and encouraged an increase in productivity, labour union membership, as well as the adoption of modern business procedures.
Peres' plan which was first publicized in 1986 also calls for removing trade barriers, modernizing industry, make the Middle East more prosperous by creating job opportunities for the young people of the whole region
The US initiative was named after United States Secretary of State George Marshall, who served as the United States Army Chief of Staff during WWII