Trump blames everyone but himself for his problems. The Justice Department blamed him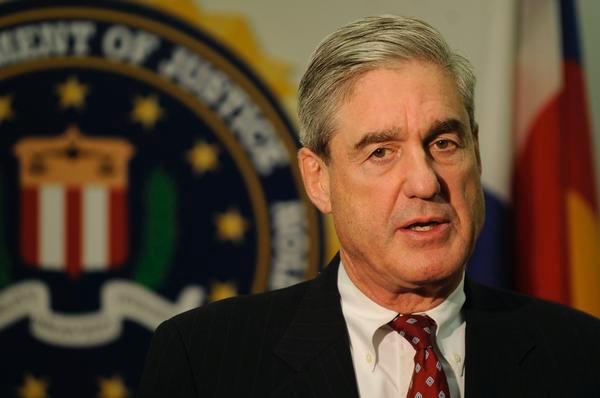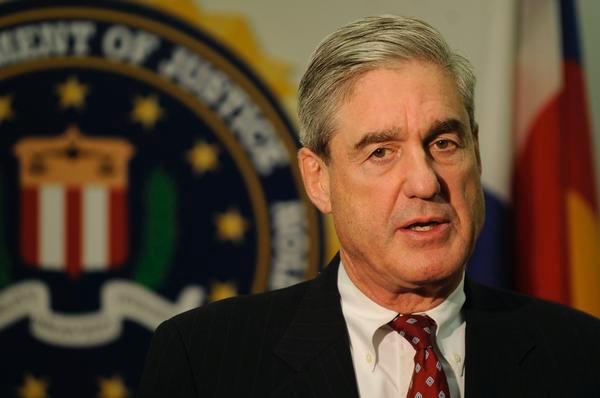 On Wednesday afternoon, President Trump declared that no politician in history had been treated more unfairly than he had.
By Wednesday evening, the Justice Department effectively pointed its finger directly at Trump himself. It tacitly admitted he had badly damaged the credibility of the FBI's Russia investigation by announcing the probe would now be handled by a special prosecutor, former FBI director Robert S. Mueller III.
The bombshell revelation represents a startling admission of fault for the administration — if not the White House directly. This was a Justice Department decision about which the White House reportedly learned shortly before it was announced.
"What I have determined is that based upon the unique circumstances the public interest requires me to place this investigation under the authority of a person who exercises a degree of independence from the normal chain of command," Deputy Attorney General Rod J. Rosenstein said in a statement.
The words "chain of command" loom larger there. At the top of that chain, of course, is Trump, who has earned criticism even from Republicans for his heavy hand in dealing with now-former FBI Director James B. Comey.
And it's not at all clear what the president will think or say. He and his team have spent the better part of the past nine days continuing to dig themselves a hole that they first broke ground on with the firing of Comey on May 9. And at every turn, the White House's strategy has been to deny, deny, deny. Just two days ago, White House press secretary Sean Spicer said there was no reason for a special prosecutor.
In a statement, Trump conspicuously didn't weigh in on the need for a special prosecutor:
As I have stated many times, a thorough investigation will confirm what we already know – there was no collusion between my campaign and any foreign entity. I look forward to this matter concluding quickly. In the meantime, I will never stop fighting for the people and the issues that matter most to the future of our country.
But the sum total of it was that the president had done irreparable harm to the credibility of most of those directly overseeing the investigation and the FBI. In many ways, the Justice Department was being given no choice.
Rosenstein has been a perhaps-unwitting participant in the drama. The White House's attempt to initially pass off Comey's firing as a Justice Department decision — and then Trump later saying he made his decision regardless of DOJ's recommendations — effectively made it look like he had used Rosenstein and his memo detailing the case against Comey as political cover. Rosenstein, who has assembled a strong, bipartisan track record over his decades on law enforcement, suddenly became embattled and, according to various reports, fought back against the White House trying to pin all of it on his recommendation.
Rosenstein's boss, Attorney General Jeff Sessions, had long ago compromised himself in this matter — to the point where he had to recuse himself from the investigation. Sessions had failed to report two meetings with Russian Ambassador Sergey Kislyak during his confirmation hearings, despite saying, "I have been called a surrogate at a time or two in that campaign, and I did not have communications with the Russians." (Sessions wasn't the first Trump surrogate to deny contact with the Russians, only to later have his contact with Kislyak discovered.) And then there were also major questions about whether, given that recusal, Sessions should even have been involved in Comey's firing, which he supported in a letter.
And lastly, Trump also compromised his yet-to-be-named pick for FBI director. He did this first by firing Comey, who had been leading the investigation and announced in March that it was looking into ties between Russia and the Trump campaign. He then made it worse by admitting he was considering the Russia investigation when he did it. Then came reports that he had sought a loyalty pledge from Comey and also that he had asked Comey to shut down the investigation into his former national security adviser, Michael Flynn.
In the end, Trump's apparently very heavy-handed approach to his FBI director's investigations would have hung over any new FBI director — no matter how bipartisan the pick.
With Sessions, Rosenstein and Trump's hand-chosen FBI director all irrevocably involved in this process now and with questions looming about all three, the White House was always going to be vulnerable to doubts about the probe's credibility. And now the Justice Department has admitted that.
The question is: Will Trump?
Meet Robert S. Mueller III
Mueller, 72, will oversee a sprawling and potentially explosive investigation that, his fans and critics alike said Wednesday night, will be finished when he says it's finished, no matter the pushback from the White House or Trump's political appointee running the Justice Department, Attorney General Jeff Sessions.
Mueller's appointment comes a week after Trump fired FBI Director James Comey, who had been leading the investigation, just as it was heating up, with subpoenas being issued and Comey himself asking for more prosecutorial resources.
Based on past history, the investigation could stretch over a period of several years, as Mueller encourages FBI agents and prosecutors to pursue every lead, interview every witness – numerous times if needed – and consider any possible permutation of criminal violations, current and former colleagues said.
John Carlin, who led the Justice Department's National Security Division as it pursued the Russia hacking probe in its earliest stages before the November election and is a former chief of staff and senior counsel to Mueller, said his former boss would run a buttoned-down, by-the-book operation.
"I can't think of a better selection," Carlin said, praising Mueller as someone whose reputation for integrity and experience overseeing complex investigations is respected "by people of all parties and background… by prosecutors and law enforcement agencies."
He added: "There will either be charges that can be brought or there won't. There won't be additional discussion," citing Comey's explanation last summer of why the FBI and Justice Department weren't filing charges in the Hillary Clinton email investigation, a decision that sparked controversy and, according to Trump, played a contributing role in his decision to fire Comey last week.
While the public mostly knows Mueller as the media portrays him – as a square-jawed G-man – he was also in his element briefing Presidents Bush and Obama on the nuances of the government's most sensitive global counterterrorism operations, including their significant constitutional and legal limitations, according to Michael Leiter, a former Justice Department prosecutor who later headed the National Counterterrorism Center.
Mueller was born in New York City in 1944 and grew up outside of Philadelphia. After getting degrees at Princeton and New York University, he enlisted in the Marine Corps in 1968, led a rifle platoon in Vietnam and earned a Bronze Star, a Purple Heart and other medals for valor.
After receiving a law degree from the University of Virginia, Mueller worked as a federal prosecutor in San Francisco, rising to become head of the criminal division before moving to Boston to serve as the Justice Department's top prosecutor there before ultimately returning to headquarters in Washington.
There he rose to become head of the criminal division, and oversaw the investigation into the Lockerbie bombing of Pan Am Flight 103, and the investigation and the prosecutions of Panamanian leader Manuel Noriega and New York mobster John Gotti.
In 1993, Mueller went into private practice, but didn't stay long and soon headed back to the Justice Department in Washington – as a line prosecutor working homicide cases. "He hated it," a longtime Justice Department colleague said of Mueller's stint at a fancy law firm. "So he came back to the line. All he wanted to do was try cases."
Mueller became a legend in the Justice Department's Washington homicide squad, for his intensity but also his insistence on wearing both pinstripe suits and cowboy boots. "Everyone knew he just did it, but no one asked him why" Mueller favored the unusual fashion combination, the Justice Department colleague said. "He was ramrod straight, and it was always, 'Yes sir, no sir' with him. But he was the guy you wanted to perform well for. He was supportive a supervisor as you could have."
It wasn't long before Mueller was promoted again to a supervisory position by his boss, future Attorney General Eric H. Holder Jr. "He was conflicted, because he loved the homicide work. But when duty calls, Bob will answer."
Those who know him well say Holder's promotion of Mueller was prescient, because he proved to be a better manager, supervisor and leader than he was a prosecutor. He was sent back to San Francisco to clean up some problems in the U.S. Attorney's office there, before being tapped by President Bush as director of the FBI in 2001.
During his 12-year tenure at the FBI, which included a special two-year extension sought by Obama and approved by Congress, Mueller displayed the same penchant for discipline, independence and support of his staff. In 2004, he reportedly threatened to quit over the Bush administration's efforts to renew a top-secret warrantless wiretapping program.
After the 9/11 attacks, which occurred just one week into Mueller's tenure, he orchestrated an unprecedented overhaul of the FBI, redefining it as an intelligence-driven agency that still investigated crimes, but focused on preventing terrorism and other destructive acts. "He has, in short, set the standard for what it means to be the Director of the FBI — positioning the Bureau to deal with 21st century threats without losing sight of its traditional law enforcement missions," Holder said at Mueller's farewell ceremony in August 2013.
But Mueller's abrupt and merciless approach to reform also won him a lot of critics, and some enemies. "He shook things up, and did things his own way," one Justice Department colleague said. "Did he have detractors? Sure. But I've worked long enough with the bureau to know that any time a new guy comes in, I don't care who it is, there is always grousing."
Friends and colleagues say those challenges have given Mueller the experience and perspective he needs to tackle what may prove to be his most complicated investigation yet. The probe will be complicated somewhat by Mueller's relationship with Comey, and it remains to be seen what role, if any, the former director will play in it; he is expected to brief Congress soon on its findings to date, and the circumstances surrounding his firing.
Some friends and colleagues wonder if this latest, and perhaps last chapter, in Mueller's career could tarnish his record, citing the long-running and much-criticized Whitewater investigation into President Bill Clinton led by independent counsel Kenneth Starr.
Mueller is known mostly as a rigid disciplinarian who brooks no compromise. And that's true to a fault, according to longtime FBI associate James Bernazzani, who served as head of the FBI's contingent of agents and analysts at the CIA Counterterrorism Center in the critical years after the Sept. 11 attacks.
But it's what Mueller did after another catastrophe that illuminates another facet of his management style that will serve him well – and the FBI – as they face the challenges of the current investigation and the political pressures being placed on them by the Trump administration, Bernazzani says.
After Hurricane Katrina slammed into New Orleans in August 2005, the city was in crisis and so was the FBI contingent there. Agents and support staff were trying to keep law and order in the city, even as some were burying loved ones, evacuating flooded homes and trying to find safe haven and schools for their children.
"Every time I asked for something, he said what else do you need?" recalls Bernazzani, who had just recently assumed what he thought would be a relatively peaceful post as agent in charge of the New Orleans field office.
Mueller made frequent visits to New Orleans to check in with Bernazzani and to personally view the devastation, the looting and the agents working under siege conditions. "He said to me, 'Jimmy, remember one thing: Take care of your people, and your people will take care of the mission.' "
The FBI did such a good job that Bernazzani was being talked up as a candidate for mayor of New Orleans in the upcoming election. But when the FBI leader merely mentioned on a radio interview that he might be interested, Mueller told him he had to accept a promotion and return to Washington, to avoid any appearance of the FBI becoming involved in politics.
Bernazzani refused, and nearing retirement anyway, left the bureau as one of its most decorated agents. "He's tough, he's no bull—-, he's fair and he does not suffer fools wisely. I have tremendous respect for him, even though once in a while he kicked my ass."
Like others, Bernazzani said he looks forward to seeing what the FBI uncovers with the support and protection from interference that Mueller will provide.
"He will get to the bottom of this investigation and he will ensure that the FBI remains independent and apolitical," Bernazzani said, "and he will make sure it is the not the administration's FBI, it's the people's FBI."
WASHINGTON POST/POLITICO