2 young demonstrators killed as mass protests rage in Venezuela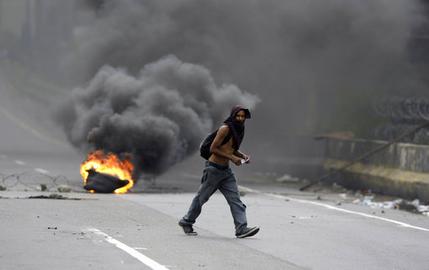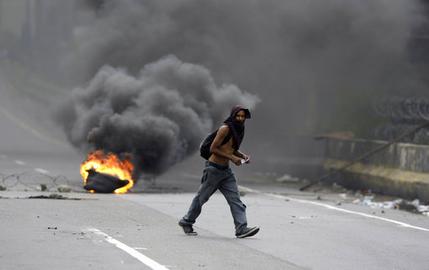 Chaos erupted in western Venezuela during another round of protests against the socialist government, with buildings set afire, tear gas swirling around protesters and at least two people killed.
A grisly video purporting to show the final moments of one man left dead in the turmoil capped Monday's unrest as a morning of initially peaceful demonstrations turned violent outside Caracas, with two deaths reported at separate demonstrations in Tachira, a mountainous state bordering Colombia.
In the video, a crowd surrounds a man identified as Diego Hernandez, 33, lying lifeless on the pavement, his eyes wide open. A bystander rips open his blue T-shirt, revealing a bloody wound underneath.
"They killed him!" someone cries out.
Authorities in Tachira said the second man killed was Luis Alviarez, 18, who died from a bullet wound in the thorax.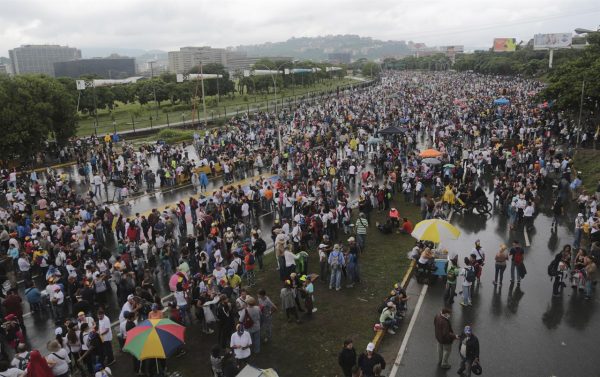 Demonstrators clashed with police and national guardsmen, throwing rocks and setting an armored truck on fire. State security officers unleashed clouds of white tear gas and rubber bullets at protesters. Several buildings were in flames and dozens injured, including one young woman, who stood on a street, her face covered in blood.
In the central state of Carabobo, three officers were shot, including one in critical condition after being struck in the head, authorities said. In Lara, a vehicle ran over three protesters.
The violence added to a mounting toll of bloodshed as Venezuela's opposition vows to step up near-daily demonstrations and Maduro shows no intention of conceding to opposition demands. More than three dozen people have been killed, including a national guardsman and a police officer, hundreds injured and as many as 2,000 detained in nearly seven weeks of protests.
International pressure on the troubled South American nation is continuing to increase, with the Organization of American States voting Monday to hold a rare foreign ministers' meeting later this month to discuss Venezuela's political crisis. The Washington-based group only convenes such meetings to address most urgent affairs.
"We ask the world to look at what's happening right now in Venezuela," opposition leader Maria Corina Machado said after Monday's violence. "A deranged regime that represses and kills its people."
Venezuela announced in late April that it would be leaving the OAS, a regional body that Maduro contends the OAS is meddling in Venezuela's domestic affairs, infringing on its sovereignty and trying to remove him from power. Venezuela's representative to the OAS did not attend Monday's meeting.
The fiery Venezuelan president is vowing to resolve his nation's crisis by convening a special assembly to rewrite the nation's constitution, while the opposition is demanding an immediate presidential election.
Polls indicate the great majority of Venezuelans want Maduro gone as violent crime soars and the country falls into economic ruin, with triple-digit inflation and shortages of many basic foods and medical supplies.
The wave of protests was set off by a government move to nullify the opposition-controlled congress in late March, but the demonstrations have morphed into a general airing of grievances against the unpopular socialist administration amid worsening economic problems and rising crime.
In Caracas on Monday, thousands hauled folding chairs, beach umbrellas and protest signs onto main roads for a 12-hour "sit-in against the dictatorship," the latest in a month and a half of street demonstrations. Demonstrators assembled a giant rosary with balloons hanging from a Caracas highway overpass. A group of flamenco dancers dressed in black performed for the crowds. Others simply sat and held signs declaring their resistance.
Former presidential candidate Henrique Capriles said the opposition would take its protests "to another stage" as Maduro continues his push to rewrite the nation's constitution.
"We are against this fraudulent process," Capriles said on his radio broadcast.
Maduro blames the opposition for the violence, claiming its leaders are fomenting unrest to remove him from power. The opposition maintains state security and civilian-armed pro-government groups known as "colectivos" are responsible for the bloodshed.
Few arrests have been made and the death toll is fast approaching the violence seen during protests in 2014.