Berri's optimism over a possible deal on a new electoral law was short lived |update|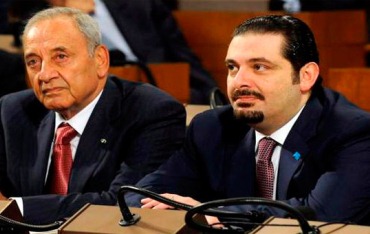 Lebanese Parliament Speaker Nabih Berri sounded optimistic  over a deal   on a new electoral law  that could be reached  during "a very important meeting" that will be held Sunday evening at his residence in Ain el Tinah .
"A very important meeting will be held this evening and perhaps it could lead us to a solution and an electoral law based on proportional representation, women's rights and the right of expats to vote, a law that shuns sectarianism and puts this country on the track of the future," Berri said via telephone conference, addressing a Berlin rally for AMAL Movement's cadres in Europe.
"Our movement is the only one that is confronting the sectarian electoral law proposals for the sake of Lebanon and for the sake of real Islam and real Christianity," Berri claimed .
Berri sources told   LBCI : "today is the chance to endorse Speaker Berri's electoral format," adding that "the important meeting is with Prime Minister (Saad) Hariri."
Hezbollah 's Al-Manar television meanwhile said that the meeting will gather Berri, Hariri and a representative of the Free Patriotic Movement.
According to Lebanese media  a meeting is already taking place at this moment at Hariri's central house  that includes FM  Gebran Bassil representing FPM , MP George Adwan representing the Lebanese forces and PM Saad Hariri. The meeting  is in preparation for the meeting with Berri in Ain Al Tinah.
Media reports said the parliament speaker intends to withdraw this proposal on Sunday and that Lebanese Forces deputy leader MP George Adwan is trying to convince the political parties of an amended version of Berri's proposal.
Berri's electoral law proposal calls for the election of a parliament under a proportional representation system in six electoral districts and the creation of a Senate that addresses the concerns of the country's sectarian components. The senate will be headed by a member of the Druze community according to Berri's proposal.
In Lebanon the president should be a Christian Maronite , the PM  a Sunni  Muslim and the Speaker a Shiite Muslim
Update :  short lived optimism 
The optimism of Speaker Nabih Berri seems to have been short lived and the "very important meeting "seems to have ended in  a very big disappointment .
It appears that no deal was reached .
FM  Gebran Bassil skipped the meeting which indicates that President Aoun and Berri are not yet on the same page with regards to the electoral law.
Only MP George Adwan representing the Lebanese forces and PM Saad Hariri along with his aide Nadir Hariri went to Ain al Tinah.
Berri and his aide Minister Ali Hassan Khalil met briefly with their guests and then headed for dinner .
Berri had to postpone the May 15th  parliament meeting ( on electoral law agreement)  for another 2 weeks. The new date is May 29th.