In a blow to US-Turkish relations Trump approves plan to directly arm Syrian Kurds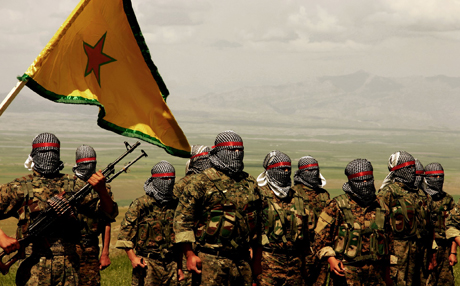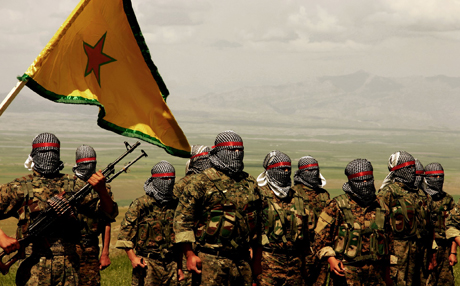 President Trump has approved a plan to directly arm Kurdish forces fighting in Syria as part of a U.S. military plan to capture Raqqa, the Syrian city that is the Islamic State's de facto capital, the Pentagon said on Tuesday.
Pentagon spokesperson Dana W. White said the president made the decision on Monday and described the Kurdish People's Protection Units, or YPG, as "the only force on the ground that can successfully seize Raqqa in the near future."
"We are keenly aware of the security concerns of our coalition partner Turkey," White said in a statement. "We want to reassure the people and government of Turkey that the U.S. is committed to preventing additional security risks and protecting our NATO ally."
The decision, which was first reported by NBC, is sure to enrage Turkey, the NATO ally that views the YPG as a threat and has rebuked the United States for partnering with the group in its fight against extremists in Syria.
White provided no details on what kind of weaponry would be provided to the Kurdish fighters or when. The YPG, which dominates a diverse group of fighters known as the Syrian Democratic Forces (SDF), has emerged as the United States' premier partner force against the Islamic State in Syria.
That partnership has generated ongoing friction with Ankara, which sees the YPG as an extension of the banned Kurdistan Workers' Party, or PKK, which is considered a terrorist group by both Turkey and the United States.
The Turkish position has created a dilemma for U.S. military officials, who see no viable alternative force in Syria capable of and willing to mount an assault on the Islamic State's final stronghold. Already, the YPG has received air support from the United States and, indirectly through Arab fighters, some U.S. weaponry.
Neither the Trump administration, nor the Barack Obama administration before it, had made any secret of its intention to give the Syrian Kurds a primary role in isolating Raqqa leading up to the planned offensive. Defense officials have said repeatedly that such a role would require direct weapons shipments and upgrading the equipment provided to move through what are expected to be vast minefields and other obstacles leading into Raqqa.
Turkish officials have privately acknowledged that the matter appeared to be decided. But they have continued to complain publicly about what they framed as a counterproductive U.S. strategy that amounted to enlisting a terrorist group to fight another terrorist group.
Turkey has continued to lobby the Trump administration to change course in the days leading up to Erdogan's visit, dispatching top Turkish officials, including General Hulusi Akar, the military chief of staff, and Hakan Fidan, the intelligence chief, to Washington. A Turkish delegation briefly met with President Trump on Monday, according to a report in the Turkish Daily Sabah newspaper.
Trump is expected to officially inform Turkish President Recep Tayyip Erdogan of his decision next Tuesday, when Erdogan visits the White House.
To soften the blow, senior administration and military officials have been in near constant contact with their Turkish counterparts to assure them the Kurds will not be part of the force that enters Raqqa and will not dominate the establishment of a new local government. That force, U.S. officials have said, will be comprised of the Arab fighters who are part of the Kurdish-Arab Syrian Democratic Forces.
Turkey has charged that the political wing of the YPG has moved in behind the SDF forces who have taken territory from the Islamic State across northern Syria and forced out Arab and Turkmen populations. Their goal, Erdogan has said, is to create a Kurdish canton that can join with Turkish Kurds of the Kurdistan Workers Party, or PKK, separatists who have been at war with the Turkish government—and which both the United States and Turkey have designated as a terrorist organization.
Turkish forces moved into northern Syria late last year, ostensibly to fight against the Islamic State, but equally to ensure that YPG forces did not consolidate their control of the border. Erdogan has said that he will now send his troops, and Syrian rebels fighting with them, to Raqqa, eliminating the need for the United States to depend on Kurdish forces.
Defense Sec. Jim Mattis, speaking earlier on Tuesday, suggested that the United States hoped to continue some sort of military partnership with Turkey in Syria.
"Our intent is to work with the Turks, alongside one another to take Raqqa down," Mattis said during a news conference in Denmark. "We're going to sort it out, we'll figure out how to do it, but we're all committed to it."
Mattis would not elaborate on the possible Turkish involvement or if that meant Turkish troops would enter Raqqa. "NATO allies stick together," he said. "That's not to say we all walk into the room with same appreciation of the problem."
The White House decision comes as Turkey ramps up its military operations against PKK and YPG fighters in Iraq and Syria. Last month, Turkish warplanes launched assaults on Kurdish fighters in Iraq and Syria, killing more than a dozen people, and prompting a public condemnation from Washington. In the latest airstrikes, on Tuesday, Turkey said that it had destroyed "PKK terrorist camps" in northern Iraq, according to Turkey's semi-official Anadolu News Agency.
Currently, the SDF troops are locked in a pitched battle with the Islamic State around the Syrian town of Tabqa on the Euphrates River. U.S. officials have championed the fight there as a key part of the operation to retake Raqqa and an example of the group's prowess.
The U.S.-backed campaign against the Islamic State is just one of several parallel conflicts unfolding in Syria after more than six years of civil war.
It was not immediately clear whether the decision by Trump means the YPG will receive heavier weapons, including anti-tank missiles and armored vehicles. Both are likely to be needed if Kurdish troops are to successfully penetrate Raqqa, well-fortified by Islamic State militants.
WASHINGTON POST