Venezuela to quit the Organization of American States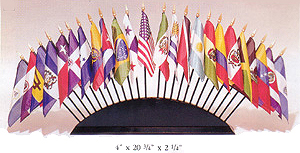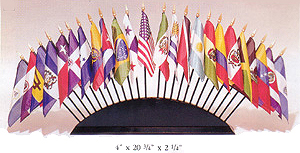 Faced with growing criticism from its neighbors over a slide toward authoritarian rule, Venezuela announced Wednesday it will quit the Organization of American States, the hemisphere's oldest regional alliance.
The move comes after OAS member states voted Wednesday to convene an emergency meeting of their top diplomats to discuss the worsening humanitarian crisis and deadly political violence that has convulsed Venezuela all month. At least three people were killed in fresh protests Wednesday, including a 20-year-old student struck by a tear gas canister in Caracas.
Speaking on national television Wednesday evening, foreign minister Delcy Rodriguez said President Nicolás Maduro would give formal notice on Thursday of Venezuela's plans to renounce its OAS membership. During the 24-month period it will take for the country to formally leave, Rodriguez said her government will no longer participate in OAS activities or meetings with other nations she said are trying to "undermine the stability and peace of our country" with the goal of promoting an "invasion."
OAS general secretary Luis Almagro in recent months has become a fierce critic of Maduro's, calling him a "dictator" guilty of widespread human rights violations. His concerns are backed by the Washington-based OAS's largest member states: the United States, Mexico, Brazil, Argentina, Canada, Colombia and several others.
If Venezuela quits OAS, which was founded in 1948, it would join its leftist ally Cuba, whose communist government was expelled in 1962, as the only non-OAS nation in the hemisphere. But Venezuela's opposition-controlled legislature may attempt to block it, and if Maduro is unseated in elections due to take place late next year, his successor could halt the process.
Chris Sabatini, a Latin America expert at Columbia University, said Venezuela's withdrawal risks a major split in OAS if Nicaragua, Bolivia and other Maduro allies follow him in protest.
"At that point, the body that had once represented the hemisphere would be fractured," Sabatini said, adding that none of the region's other international organizations has the same institutional heft as the OAS, including the CELAC bloc of states that excludes the United States and Canada.
Venezuela has asked for an emergency CELAC meeting, that, if boycotted by many other Latin America nations, could leave that international body crippled as well, Sabatini noted, saying Venezuela's decision is a "rejection of long-standing international rules and commitments" that leaves it increasingly isolated.
On Wednesday, thousands of anti-Maduro protesters again seized control of the main highway through Venezuela's capital, but their march toward government buildings downtown was pushed back by police water cannons and stinging clouds of tear gas.
Although the standoff has played out the same way several times this month, opponents of Maduro insist they will continue to pressure his government through near-daily protests, sit-ins and other acts of civil disobedience.
One 20-year-old protester died after being struck with a gas canister in the city's upscale Altamira district, authorities said.
As the government lashed out at foreign critics Wednesday, the blocked march underscored the degree to which the country's political crisis has become a battle of attrition ­between Maduro and his ­re-energized opponents.
The country's political crisis intensified after its supreme court curbed the powers of the opposition-controlled legislature, then reversed the rulings days later.
Caracas was crippled for another day as the government shut down subway and bus systems and choked off highway access to the capital in what appeared to be an attempt to limit the size of the protests.
Thousands marched against the government anyway, some ready with gas masks. By calling their supporters into the streets repeatedly, opposition leaders say they want to wear down security forces and push the government to meet their demands: new elections, the release of political prisoners, acceptance of international aid and a return to democratic rule.
Their ability to summon huge crowds also sends a message to Venezuela's armed forces, said political analyst Margarita López Maya, because Maduro grows increasingly dependent on their loyalty as he weakens. Opposition leaders are appealing directly to Venezuelan soldiers, asking them to defy Maduro's orders and force the government to give ground.
"By putting thousands and thousands of people in the streets almost every day, they're trying to keep the cost of supporting Maduro very high for the armed forces," said López Maya. "And the government is in a slide that looks irreversible."
The unrest has left at least 29 dead this month, according to Venezuelan officials, including protesters, police, government supporters, alleged looters and several others who appeared to be bystanders.
The antigovernment surge was triggered by a perfunctory attempt by pro-Maduro judges last month to incapacitate Venezuela's legislative branch, which the opposition has controlled since it won a landslide victory in the 2015 elections.
The court mostly reversed the decision, but anger swelled again a few days later when the government barred opposition leader Henrique Capriles from running for office.
Venezuela's downward spiral has left food and medicine in short supply but anger at the government in abundance. Maduro charges that his enemies are trying to sabotage the oil-rich country's economic recovery and are paving the way for a foreign invasion.
"They want to fill our country with hate, to push our country into violence," Maduro said Wednesday. He said he plans to announce "a historic measure" in the coming days but did not elaborate.
WASHINGTON POST