Flynn's troubles mount over misleading government on payments from Russia ,Turkey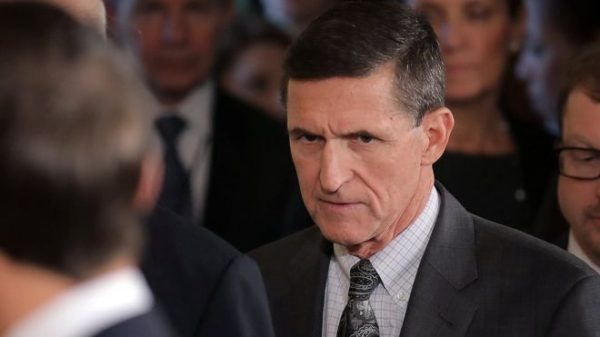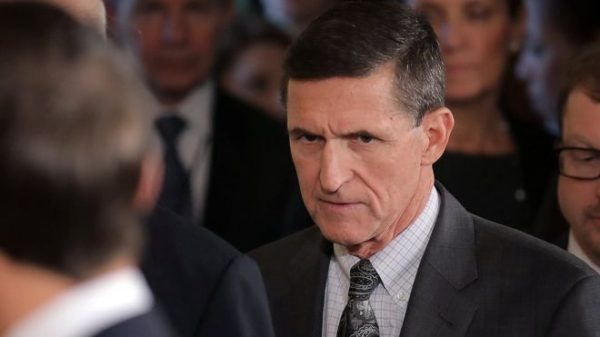 Michael Flynn has his back against the wall.
The leaders of the House Oversight Committee on Tuesday said the former national security adviser might have broken the law by accepting payments from Russia and Turkey, and later by misleading the government about them.
The White House later in the day sought to distance itself from Flynn, who was forced to resign in February over phone conversations he had with the Russian ambassador.
Meanwhile, Flynn's offers to testify before the House and Senate Intelligence committees in exchange for immunity remained unanswered.
It all appears ominous for Flynn, who less than a year ago was close to President Trump and leading chants of "lock her up" against Democratic presidential nominee Hillary Clinton during the Republican National Convention. Now, he is the subject of multiple investigations.
Flynn's troubles deepened Tuesday, when House Oversight Committee Chairman Jason Chaffetz (R-Utah) and ranking member Elijah Cummings (D-Md.) gave a damning review of Pentagon documents they viewed that morning.
"Personally, I see no data to support the notion that Gen. Flynn complied with the law," said Chaffetz, who earlier this month announced he will retire from Congress at the end of his term.
According to Chaffetz and Cummings, the documents showed that Flynn did not disclose a paid speaking engagement in Russia when he applied to renew his security clearance, nor did he seek permission to accept the funds.
As a retired military officer, Flynn is prohibited under the Emoluments Clause of the Constitution from accepting payment from a foreign government without advance permission from both the secretary of State and the secretary of the Army.
Further, according to Cummings, Flynn applied to renew his security clearance in January 2016 — using a form called an SF-86 — just months after he traveled to Moscow.
But there is "no evidence in the documents that he reported funds he received for his trip" and "no evidence he sought permission to obtain these funds from a foreign source," Cummings said Tuesday, noting that knowingly falsifying or concealing a material fact in an SF-86 is a felony.
While he was working for the Trump campaign, Flynn's firm was also paid as a lobbyist for a Turkish consultancy.
Flynn declined to disclose the payments from Russia in his original financial disclosure forms submitted to the White House in February.
He filed an amended disclosure last month reporting payments for speeches from three Russian-linked companies, including the government-backed network RT, but remains under intense scrutiny amid the FBI's ongoing investigation into possible coordination between the Trump campaign and Russia during the election.
Congressional investigators had previously exposed that Flynn was paid $45,000 to speak at an event hosted by RT, during which he was seated with Russian President Vladimir Putin. He also received payments for additional speeches to Russian firms Kaspersky and Volga Dnepr.
In a brief statement Tuesday, Flynn's lawyer said that the former intelligence official briefed the Defense Department "extensively" before and after the 2015 trip to Russia.
The Oversight Committee in March requested documents from the Defense Department and several other agencies about the payments to Flynn.
The panel is also seeking a wide swath of documents from the White House related to what Flynn reported when he was vetted to become national security adviser.
But the White House is refusing to provide that information, calling the request "extraordinary."
White House legislative affairs director Marc Short said the committee is requesting documents that are not in the possession of the White House because they involved Flynn's activity prior to Trump's Jan. 20 inauguration. Other documents sought by the committee, from after Jan. 20, involve sensitive information, he said.
"It is unclear how such documents would be relevant to the stated purpose of the committee's review, which according to your letter is to examine Lt. Gen. Flynn's disclosure of payments related to activities that occurred in 2015 and 2016, prior to his service in the White House," Short wrote in a letter dated April 19 that was sent to committee leaders.
The refusal to cooperate has left unanswered questions about the extent to which the White House was aware of Flynn's activities.
Both Chaffetz and Cummings were careful to say that they don't think the White House is obstructing their investigation, and press secretary Sean Spicer on Tuesday attempted to distance the White House from the controversy.
"That would be a question for [Flynn] and a law enforcement agency. I don't know what he filled out or what he did and did not do — he filled that form out prior to coming here," Spicer said when asked whether Flynn broke any laws.
But former ethics officials from both Republican and Democratic administrations criticized the White House's rationale for denying the committee's request, characterizing it as flimsy.
"The question is, who else knew about it? Did anyone in the White House know about those payments? And that's why the White House needs to turn over those documents right away," said Richard Painter, chief ethics officer under George W. Bush.
"How in the world he could have gotten away with doing this and lying about it and no one caught it — or if they did, they covered it up — we need to get to the bottom of how this happened."
Chaffetz said Tuesday that Flynn could potentially be on the hook for tens of thousands of dollars in remittance to the U.S. government.
But the authority to levy that penalty would rest with the administration — not with the committee.
It remains unclear what direction the Oversight probe will take. Chaffetz said the "lead" in any Russia-related investigations is the Intelligence Committee. Oversight, he said, is playing "more of a support role."
Although Cummings said that he would like to see Flynn appear before the committee, Chaffetz said it is highly doubtful.
The Hill