Hezbollah may quit border posts to bolster Assad in Syria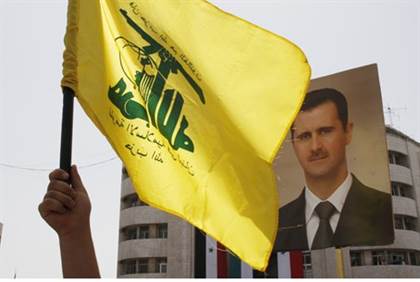 By Nicholas Blanford, The Arab Weekly
Hezbollah is expected to hand over a chain of hilltop military bases along Lebanon's border with Syria to the Leba­nese Army, potentially freeing up hundreds of fighters for combat in Syria, including Hama province where the Iranian-backed Party of God is heavily engaged in pushing back a rebel offensive.
Despite securing significant vic­tories in recent months, particu­larly the seizure of eastern Aleppo from rebel hands in December, Syr­ian government forces are woefully short of manpower even with the support of Iranian allies and Hez­bollah.
The chronic shortage — due to heavy combat losses, large-scale desertions and draft dodging — is seen as a possible explanation for the regime's apparent use of chem­ical weapons in an airstrike against the town of Khan Sheikhoun in Idlib province on April 4 that left scores of people dead and more than 500 sickened.
The town is controlled by Hayat Tahrir al-Sham, a coalition of radi­cal groups that follow al-Qaida.
The attack, apparently using the deadly nerve agent sarin, spurred the Trump administration to un­leash Tomahawk cruise missiles against al-Shayrat airbase from where the United States says the sarin attack was launched.
That was the first direct U.S. inter­vention against the Syrian regime in the 6-year-old war and could be pushing the war into a new phase.
Hezbollah forces have played a key role in keeping Syrian Presi­dent Bashar al-Assad in power since 2013, with an average of 8,000 fighters serving in Syria at any given time. Saving the Damascus regime has come at a high cost for the Lebanese Shia movement.
It is estimated to have lost more than 2,000 men in combat, with many more wounded, and the war has imposed a worsening financial burden and a growing war weari­ness among the party's Shia sup­port base.
So dispatching reinforcements freed from garrison duty along Lebanon's eastern border would bolster efforts by Assad , who has repeatedly boasted he will retake "every inch" of territory he has lost since 2011, to re-establish regime authority across his war-ravaged land.
Committing more Hezbollah fighters to the Syrian bloodbath will place further pressure on Hez­bollah's leadership to keep their constituency motivated and sup­portive.
Since 2014, Hezbollah has con­structed around 100 hilltop com­pounds along the rugged frontier with Syria to protect populated ar­eas of the Bekaa Valley, the party's heartland, from infiltration by ji­hadist militants based in Syria.
Most of the compounds are un­manned and consist of little more than horseshoe-shaped bulldozed earthen ramparts but bases dotting the hills a few miles south of the Sunni-populated town of Arsal are fortified, some with artillery platforms.
These positions mark the front line against several hundred mili­tants from the Islamic State and Jabhat Fateh al-Sham holed up in the mountains around Arsal. Hezbollah routinely harasses the militants with ambushes and rock­et fire.
The Lebanese Army is also de­ployed around Arsal and bombards the militants' positions and move­ments on a near-daily basis.
In 2013, the Lebanese Army be­gan raising the first of four Land Border Regiments to secure the frontier with Syria. Britain fund­ed the training and equipping of troops for those units and three have been deployed.
A fourth is being raised to plug a gap between Arsal and Masnaa, which sits on the strategic Beirut- Damascus highway. The deploy­ment of this unit could pave the way for a long-anticipated assault against the jihadists tucked into the mountains outside Arsal.
The militants overran the town in August 2014, triggering a 5-day bat­tle with the army. Under a cease-fire deal, the jihadists were allowed to retreat to their mountain redoubts along with large quantities of cap­tured arms and ammunition.
The recent appointment of a new Lebanese Army commander, Gen­. Joseph Aoun, who previously headed a brigade deployed around Arsal, overcomes one bureaucratic hurdle on the path to launching an offensive against the militants.
A decision to launch the offensive by the Beirut government is not thought to be imminent, although political and military sources say that planning is well under way.
Lebanese Prime Minister Saad Hariri told a group of foreign re­porters recently that an assault would only happen "once every­thing is in place," a reference to the army receiving new weapons and logistical support from the United States and other friendly powers that do not want to see Lebanon swept by internal conflict as it was in its ruinous 1975-90 civil war.
Meanwhile, Hezbollah appears to be readying for its withdrawal from its border compounds. It is not clear how many Shia fighters serve in these positions but it could amount to several hundred — and for now, every fighter Hezbollah can deploy in Syria is crucial.
Rebel forces, including Hayat Tahrir al-Sham, launched a wide-ranging offensive in northern Hama in March, seizing a string of towns and villages and even briefly taking over some districts of Damascus for the first time in years.
The regime launched counterof­fensives with Russian and Syrian air force cover and has regained most of the lost territory but heavy fighting continues.
UPI