Lebanon army orders eviction of 3,000 Syria refugees near security installations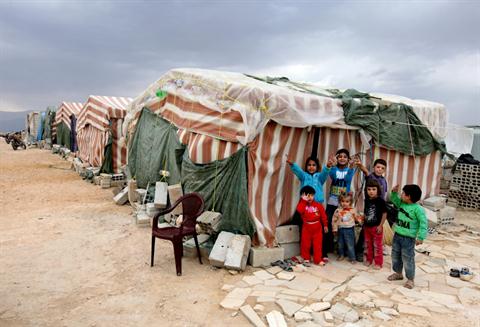 Around 3,000 Syrian refugees have left their tents in Lebanon's Bekaa Valley after oral eviction orders issued last month by the army, Human Rights Watch told AFP on Tuesday.
Lebanon is home to over 1.5 million Syrian refugees, many of whom live in informal tented settlements set up on private agricultural land across the country.
In late March, Lebanon's armed forces said refugees living in camps near security installations, like the Riyaq military airport, would have to leave.
At the time, a security source told AFP that the decision had been "taken for security purposes".
"There cannot be large population centres around military bases. We choose security —  over any other consideration, the security of our bases over everything else," the source said.
Human Rights Watch has said a total of 10,000 Syrian refugees were at risk of displacement from camps.
"About 3,000 people have left their homes of their own accord after receiving oral eviction notices," HRW's Lebanon researcher Bassam Khawaja told AFP.
"The orders came out starting in late March… and they gave people between 7-10 days to evacuate their camps," Khawaja told AFP.
Although the deadline had already passed, HRW said the army had yet to carry out any forced evictions.
"But the big issue is there continues to be a lack of clarity from the government and the army about where these people are supposed to move to," Khawaja said.
"Not all areas within the eviction zone have received these notices. If they move to a different area that is still within the eviction zone, they may face a secondary eviction in the future," he said.
"It is an utterly unrealistic timeline to expect people to uproot their lives in."
The UN's refugee agency (UNHCR) said it did not know how many refugees had relocated but said "a number of families have already moved to nearby plots of land".
"Some have managed to speak to the landlord and relocate to a nearby plot of land (owned) by the same landlord," said spokeswoman Dana Sleiman.
Refugees living in camps pay rent to Lebanese landowners in order to set up their tents.
Lebanon's infrastructure, already devastated by a 15-year civil war that ended in 1990, has been further strained by the influx of refugees from the conflict in neighbouring Syria.
Prime Minister Saad Hariri last month warned of "huge tensions" between Lebanese and Syrians in many host communities that could implode into "civil unrest" and Lebanese President Michel Aoun  renewed calls  in February for Syrians to be repatriated to their home country.