Mikati says Hezbollah is free to boycott him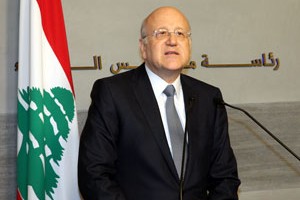 Former Prime Minister Najib Mikati commented on Saturday over the campaign launched against a letter sent to the Arab Summit by five Lebanese presidents and prime ministers including himself, stressing that he stands by Hezbollah's fight against Israel saying "it is up to the party" to boycott him.
"When Hezbollah is in a battle with Israel I would blindly jump to its side, but other matters are subject to national constants," Mikati told al-Akhbar daily on Saturday.
Commenting on reports that Hezbollah has decided to boycott him after signing the so-called five-party letter, he said: "My ties with all Lebanese parties have been nothing but respectful and based on the national constants which I believe in. Anyone wishing otherwise is his own business."
Mikati denied that the letter aimed at tarnishing the position of presidency : "How can that be possible when we have already sent a copy to President Michel Aoun , PM (Saad Hariri) and Speaker (Nabih Berri)?", adding that the campaign only aims to divert the attention from "our national constants."
Mikati revealed that the idea of the letter first emerged during a lunch banquet at the residence of former President Michel Suleiman, pointing out it is not the first for a certain Lebanese side to send out a letter to the Arab summit or international forums.
"I will allow no one to question my patriotism ", he stressed .
The letter was signed by former Presidents Michel Suleiman and Amine Gemayel, along with former Prime Ministers Tammam Salam , Fouad Siniora and Mikati. It stresses the importance of Lebanon's commitment to the Taif Agreement and U.N. resolutions, especially UN Security Council Resolution 1701 and tackled controversial issues such as Hezbollah's arms, the Baabda Declaration, Lebanon's dissociation policy, the state's authority over its territory and foreign interference in the Syrian crisis.
The participation of Lebanon in the summit received extra attention after the controversial letter and its repercussions are just beginning.
The letter caused great concern among Hezbollah and its allies and may have reflected a fear of a new era. This fear is based on previous negative experiences regarding the positions of Foreign Minister Gebran Bassil at previous Arab conferences. It also reflected concern over the positions of President Michel Aoun, who granted legitimacy to Hezbollah in a recent interview in Egypt .
The letter was politically embarrassing and its timing caused confusion, but it did, however, reflect the reality in terms of the division over the main issues in Lebanon, particularly Hezbollah's weapons and Lebanon's relations with its neighbors. The harsh attack on the five former leaders' letter is only a confirmation of this.