Lebanon president Michel Aoun takes tumble at Arab summit in Jordan but is ok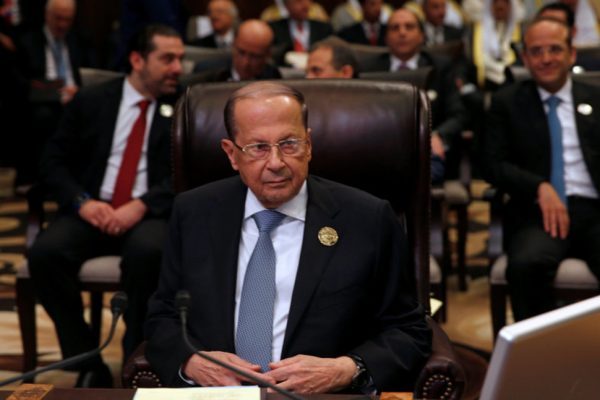 Lebanese President Michel Aoun tripped and fell face down as Arab heads of state gathered at the start of their summit at the Dead Sea in Jordan on Wednesday, television footage showed.
Aoun, 82, appeared to trip on a low, red-carpeted podium where flags of Arab states had been arranged. Two men in suits rushed to help him to his feet as Egyptian President Abdel Fattah al-Sisi stood nearby.

Aoun became head of state last year in a political deal that saw Saad al-Hariri appointed prime minister, ending a 2-1/2 year vacuum in the presidency.
Aoun, Prime Minister Saad Hariri, and Foreign Minister Gebran Bassil are all attending the Arab League Summit in Jordan.
Palestinian statehood
The Arab leaders poised to endorse key Palestinian positions in the conflict with Israel — a signal to President Donald Trump that a deal on Palestinian statehood must precede any Israeli-Arab normalization.
The Palestinian quest for independence also served as a showcase for Arab unity in a fractured region, where leaders find themselves on opposite sides of long-running conflicts, particularly Syria's six-year-old civil war.
The 21 kings, presidents and top officials gathered on the Jordanian side of the Dead Sea, with a clear view of the Israeli-occupied West Bank on the opposite shore.
Syrian President Bashar Assad was absent; he hasn't been invited since Syria's suspension from the 22-member Arab League following his crackdown on a 2011 uprising that quickly turned into a brutal civil war.
The gathering came ahead of White House meetings in coming weeks between Trump and three Arab leaders — Jordan's King Abdullah II, Egyptian President Abdel-Fattah el-Sissi and Palestinian President Mahmoud Abbas.
The Palestinians want to set up a state in the West Bank, Gaza Strip and east Jerusalem, lands Israel captured in the 1967 Mideast war.
On Wednesday, the leaders were expected to reaffirm a 2002 Arab peace plan that offers Israel normalization with dozens of Arab and Muslim countries if it cedes the war-won lands for the creation of a Palestinian state.
Israeli Prime Minister Benjamin Netanyahu has not formally abandoned his stated support for the two-state solution, but has stopped mentioning it in his speeches since Trump was elected. Instead, he has made vague statements about seeking a region-wide agreement.
Netanyahu frequently boasts of strong behind-the-scenes alliances with unidentified Arab countries.
The Arab summit was to adopt a series of resolutions, several dealing with the Palestinian issue. The statements, subject to last-minute change, were previously endorsed by Arab foreign ministers.
The draft resolutions condemn Israeli policies, including settlement construction, that are "aimed at eliminating the two-state solution and replacing it with apartheid."
They also warned against moving diplomatic missions to contested Jerusalem, whose eastern sector is sought by the Palestinians as a capital. Trump has said he would move the U.S. Embassy in Israel to Jerusalem, but relocation no longer appears imminent.
Jordan's king told the summit's opening session that there can be no peace or stability in the region without setting up a Palestinian state alongside Israel.
REUTERS/ABC