Several Hezbollah field commanders, fighters killed in Syria, report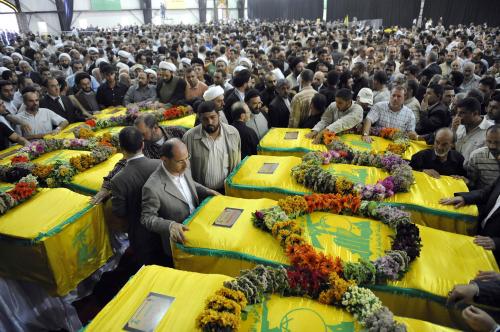 Syrian opposition rebels destroyed a Hezbollah military position and killed a number of its commanders and fighters in the town of Qamhana in central Syria's Hama district on Sunday, Sky News reported Monday.
According to its sources, the opposition rebels targeted the position with guided missiles, which led to the destruction and the killing of all Hezbollah fighters inside, asserting that among them were field commanders, according to Sky News.
On Saturday, Syrian rebels managed to counter a large-scale military offensive by Iranian government and armed forces in the northern Hama countryside, the report added
The opposition said in a statement that the government forces tried to regain control of al-Sakher checkpoint but turned back after suffering heavy losses.
The opposition pointed out that the clashes resulted in the death of a number of government forces, and the destruction of a tank.
The developments coincide with the battle in Raqqa, led by Syria's Democratic Forces, to recapture the city from the grip of the Islamic State group. According to the report the US backed Syrian Democratic Forces are within few miles from Raqqa
According to SOHR ( The Syrian Observatory For Human Rights) a number of civilians were killed and or wounded by aerial bombardment targeted Sarmad in Raqqa province. Sources reported to SOHR that among the dead was a commander in Tahrir al-Sham, the wounded were transported from the affected area, it is still unknown whether it was Syrian regime warplane or Russian .
On Sunday, the US-backed Democratic Forces of Syria controlled the Tabqa airbase, which was recaptured from ISIS, and is located near the largest dam in Syria on the Euphrates River.
Sky News Arabiya