Ex-president Hosni Mubarak is freed, to dismay of many Egyptians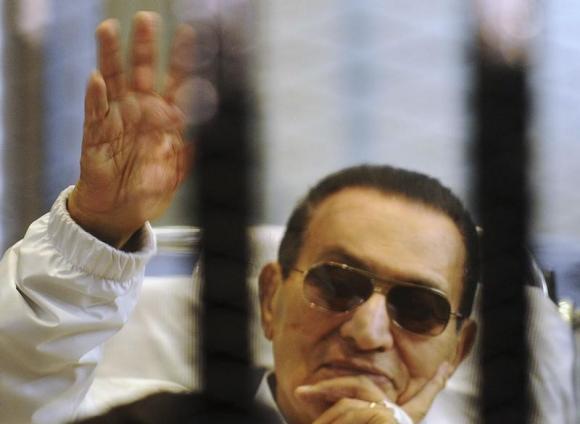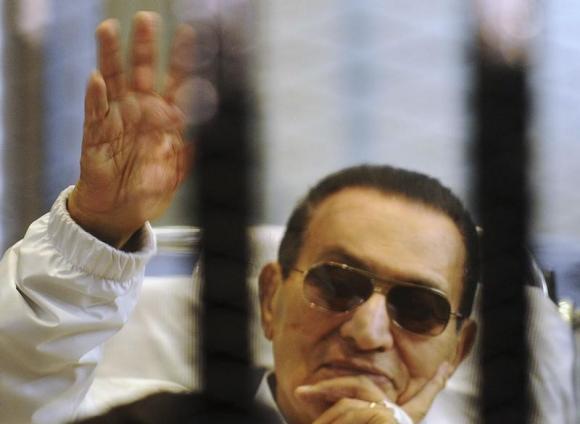 CAIRO — Six years after roaring crowds ousted him at the peak of the Arab Spring, former President Hosni Mubarak of Egypt was freed on Friday from the Cairo hospital where he had been detained, capping a long and largely fruitless effort to hold him accountable for human rights abuses and endemic corruption during his three decades of rule.
Mr. Mubarak, 88, was taken from the Maadi Military Hospital in southern Cairo, where he had been living under guard in a room with a view of the Nile, to his mansion in the upmarket suburb of Heliopolis.
"He went home at 8:30 this morning," his longtime lawyer, Farid el-Deeb, who has stewarded Mr. Mubarak through a tangled cluster of prosecutions since 2011, said by telephone. "I don't have further details, but he is home and all is well now."
The release begins a third act for a once unassailable Arab ruler and American ally who came to power in 1981 after the assassination of President Anwar Sadat during a military parade. Thirty years later, Mr. Mubarak was ousted by the multitudes that thronged Tahrir Square for 18 days in the heady, hopeful early months of the Arab Spring.
At the time, Mr. Mubarak's fall seemed to signal a sea of change across the Arab world, shattering the established political order and suggesting that even its most powerful leaders were no longer immune from prosecution.
His release on Friday crowned the crushing of those hopes for change, and the enduring disappointment of the Egyptians who risked their lives to topple him — even if many now say the challenge is far bigger than a single man.
"At this point, I really don't care," said Ahmed Harara, an activist who lost his sight when he was shot by the police, first in the right eye and then in the left, during demonstrations in Cairo in 2011. "I realized years ago that this is not just about Mubarak and his regime, it's an entire system that has now resurrected itself."
In contrast with the loud and clamorous scenes that marked his departure from power, Mr. Mubarak was released under conditions of secrecy early Friday, the quietest time of the week in Egypt. The former leader was spirited across the city under tight security, and the news spilled out hours after his return to Heliopolis.
Even the loyalists who frequently cheered Mr. Mubarak from the hospital gates through the years had not been told of his pending release, but they were no less jubilant afterward.
"The lion is back in his den!" said Rehab Abdel Halim, a paratrooper who befriended Mr. Mubarak after he gave her a service award in 2009. "We feel so vindicated. Now nobody can call him ruthless or corrupt any more. If he had done something wrong, the courts would not have cleared him."
Many other Egyptians, though, said nothing as they absorbed the news that Mr. Mubarak, a strongman once seen as the root of their problems, was once again free.
Weary, apathetic or fearful of openly speaking their mind, Egyptians have grown shy of confronting power. Years of trials for Mr. Mubarak, on a wide range of charges, ultimately yielded a single conviction on a minor corruption charge. Few expect that his release from detention — an unthinkable prospect just a few years ago — will result in any significant protests.
After becoming the first Arab leader to face trial in his own country, Mr. Mubarak was initially imprisoned at the notorious Tora complex, and was then held at the Maadi Military Hospital. He faced numerous charges, some of which carried the death penalty as a potential sentence.
Mr. Mubarak faced accusations of conspiring with the police to kill 239 protesters in Tahrir Square; of siphoning tens of millions of dollars from state coffers; and of cutting off the country's internet access during the 2011 uprising, among other crimes. But what astonished Egyptians most was the sight of a man many had long feared, scowling in a courtroom cage.
Despite the severity of the charges, Mr. Mubarak remained defiant, insisting that it was he, not the Egyptian people, who had been wronged. His sons, Alaa and Gamal, joined him in the dock, accused of embezzling millions of dollars and overseeing a vast system of cronyism and corruption.
But by then, it was becoming clear to many Egyptians that while Mr. Mubarak had gone, the system he controlled — with the military, security agencies and courts in the background — remained firmly in place and was not inclined to cede power easily to restless young protesters.
The first democratic election, in 2012, brought to power a leader of the Muslim Brotherhood, Mohamed Morsi. But he lasted only a year, making a series of political blunders that cost him the support of the military, crucial parts of the security apparatus and millions of Egyptians, who gathered in the streets in June 2013 to call for his removal.
The military obliged on July 3 and installed Gen. Abdel Fattah el-Sisi, who cleared Brotherhood protesters from central Cairo with a massacre of at least 800 people by the security forces in August 2013. It sent a signal that no further uprisings would be tolerated, and Mr. Mubarak's trials seemed to reflect the political riptide.
For his court appearances, Mr. Mubarak was flown by helicopter from the Maadi hospital, often wearing sunglasses as he was carried off the aircraft on a stretcher. Public anger toward his misdeeds faded to weariness as Egyptians turned to more pressing matters: Mr. Sisi's harsh crackdown on his opponents, the emerging war against Islamic State militants in the Sinai Peninsula, and a growing economic crisis.
After being convicted in 2012 for the deaths of protesters, Mr. Mubarak was sentenced to life in prison. But an appeals court overturned that verdict and ordered a retrial, and he was ultimately exonerated. He also skirted several corruption accusations.
As the political will to pursue Mr. Mubarak seemed to dissipate, his supporters re-emerged in public, cheering him from the hospital gates on his birthdays and blowing kisses during courtroom hearings. Rowdy public protests against Mr. Mubarak fizzled under draconian anti-protest laws Mr. Sisi introduced.
But one charge stuck: that Mr. Mubarak and his sons had embezzled millions of dollars from the state coffers to refurbish the family's main Cairo residence and other homes and offices. (The expenditures were classified as fictional maintenance costs for telecommunications towers).
In May 2015, a court sentenced Mr. Mubarak and his sons to three years in prison each and ordered them to pay $20 million in restitution and fines. But they were allowed to count time served against the sentences, resulting in the release of Mr. Mubarak's sons later that year.
On Thursday, a Cairo court paved the way for prosecutors to reopen a corruption investigation into gifts that Mr. Mubarak had received from a state-owned newspaper while he was in power. But the inquiry will not require his continued detention.
Mr. Deeb, the lawyer, has said that his client intends to spend the coming months at his mansion in Cairo. He will join his wife, Suzanne, who in 2015 said the family had been vindicated. Some supporters have suggested that the couple will move to his villa at the Red Sea resort of Sharm el Sheikh.
Mr. Mubarak will enjoy the privileges of a retired head of state, including a security detail. Mr. Sisi's main concern is likely to revolve around controlling the optics of Mr. Mubarak's new lease on life.
Although Mr. Sisi routinely pays lip service in speeches to the 2011 uprising, his government has allowed most of Mr. Mubarak's former allies, many of whom grew fabulously wealthy, to return to civilian life. In contrast, tens of thousands of opposition supporters are in jail or in exile abroad.
Mr. Mubarak was the last person in his government to remain in detention. In allowing the release, Mr. Sisi will no doubt hope that he has not given ammunition to his critics, as was the case last year when Egypt transferred sovereignty of two small Red Sea islands to Saudi Arabia, setting off street protests.
But even Mr. Mubarak's fiercest opponents say he is unlikely to cause major problems.
"Everything is upside down," said Montasser al-Zayat, an Islamist lawyer who was imprisoned four times under Mr. Mubarak, and whose clients include the supreme leader of the Muslim Brotherhood, Mohamed Badie. "The road to democracy is blocked. Egyptians do not feel safe expressing themselves. They cannot come into the streets without risking death or imprisonment."
As a result, he said, "it has become acceptable to let Mubarak out."
During his 30 years of rule, Mr. Mubarak was often described as a modern-day pharaoh. So it was notable that shortly before his release, a team of Egyptian and German archaeologists pulled a giant statue of an actual pharaoh from the ground in a low-income Cairo suburb.
Although deeply disappointed by the outcome of the 2011 uprising, Mr. Harara, the blind activist, said he had one comfort — that Mr. Mubarak's corruption prosecution meant he would be deprived of military honors at his funeral. "At least we have that," Mr. Harara said.
And the events of 2011 had not, he insisted, been entirely fruitless. "Politically it failed, but socially we won," he said. "Freedom is not just about walking down the street. It's about being free in your mind."
NY TIMES