U.S. clashes with Russia over its veto of UNSC sanctions against Syria for chemical weapons use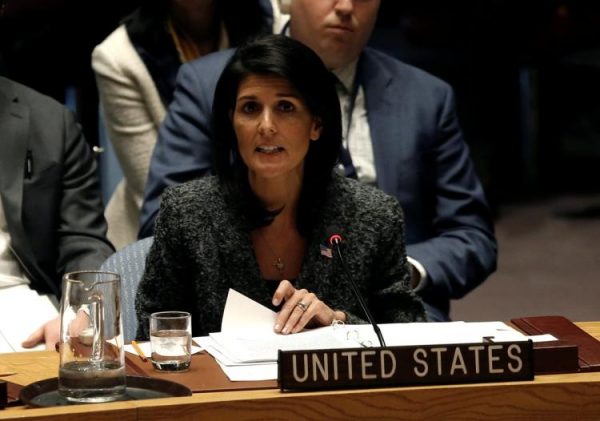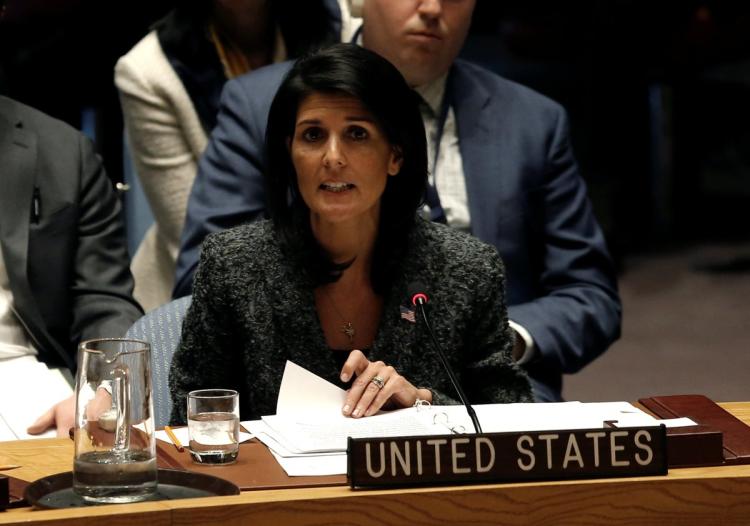 By SOMINI SENGUPTAFEB
Russia and the Trump administration clashed in a vote at the United Nations Security Council for the first time on Tuesday, as the Kremlin vetoed a measure backed by the United States and its Western allies to punish Syria for using chemical weapons.
While the Russians had long signaled their intent to block the resolution, which was supported by dozens of countries, the clash offered insights into the big divisions that remain between the Kremlin and President Trump, who has vowed to improve ties.
Russia and China, two of the five permanent members of the Council, blocked the measure. It was the Kremlin's seventh Security Council veto in defense of President Bashar al-Assad of Syria over the war that has been convulsing his country for nearly six years.
The American ambassador, Nikki R. Haley, who has called chemical weapons attacks in Syria "barbaric," accused Russia and China of putting "their friends in the Assad regime ahead of our global security" in her blunt rebuke of the vetoes.
"It is a sad day on the Security Council," Ms. Haley said after the vote. "When members start making excuses for other member states killing their own people, the world is definitely a more dangerous place."
Diplomats said that Ms. Haley had insisted on putting the measure up for a vote this week, signaling a desire to take a tough stand on Russia.

In recent weeks, Ms. Haley has condemned what she called Russia's "aggressive actions" in eastern Ukraine, vowed to maintain sanctions over Russia's annexation of Crimea and, in her Senate confirmation hearing, went as far as saying that Russia was guilty of war crimes in Syria.
Her comments on Russia have sometimes contradicted the more conciliatory language of Mr. Trump, who has made clear his desire to increase cooperation with Russia. Ms. Haley, by contrast, has often echoed the talking points of the previous administration, as well as the concerns of Republicans in Congress who distrust the Kremlin.
The resolution, proposed by Britain and France months ago and endorsed by the United States last week, would have imposed sanctions on a handful of Syrian military officials and entities for having dropped chlorine-filled barrel bombs on opposition-held areas on at least three occasions in 2014 and 2015, according to a United Nations panel.
Russia's envoy, Vladimir Safronkov, defended the veto, calling the resolution "politically biased" and asserting that Russia's concerns about the draft language had not been addressed. "This is railroading the draft by the Western troika," he said.

China's ambassador, Liu Jieyi, recalling the now-discredited American warnings of Iraq's "so-called W.M.D.s" in 2003, criticized the resolution as an example of "hypocrisy" by the Western powers. "It was forced through to a vote while Council members still have differences," he said. "This is in no way helpful to finding a solution."
Chlorine is banned as a weapon under an international treaty that Mr. Assad's government signed in 2013.
The French ambassador, François Delattre, said he welcomed the solidarity from Ms. Haley on the resolution. "The Trump administration has a very clear position that is also our French position, the British position and the position of the majority of members of the Security Council," he said. "We're exactly on the same page."
Britain's ambassador, Matthew Rycroft, said: "This isn't even about Syria. It's about taking a stand when children are poisoned."
The arguments and vote over the resolution were important because they shed light on how Mr. Trump would deal with the Kremlin over the Syria war. Russia is Mr. Assad's most important foreign ally.
Mr. Trump has repeatedly expressed admiration for President Vladimir V. Putin of Russia and said he wanted to strike a deal with him to stop the Syrian war and focus on fighting terrorism. But disagreements within Mr. Trump's administration appear to have complicated that goal.
A former governor of South Carolina, Ms. Haley has by her own admission limited foreign policy experience. Since she was confirmed on Jan. 24, she has limited her comments to a handful of foreign policy issues that plainly deliver political dividends at home.
She has maintained a tough line on Russia and Iran, pledged to defend Israel and promised more oversight of how American funding for the United Nations is spent.
She has said nothing about the Trump administration's travel ban on refugees and visa applicants from seven predominantly Muslim countries, which the United Nations secretary general, António Guterres, has criticized.
Ms. Haley, an American of Indian descent who grew up in a small South Carolina town, also has been silent on the attack on two Indian engineers in Kansas last week, which is suspected of being a hate crime and which threatens to cloud Indian-American relations.
The conflict over the Syria resolution was in sharp contrast to a Russian-American consensus on the need to contain Syria's use of chemical weapons. After a sarin gas attack on a suburb of Damascus in August 2013, Moscow and Washington struck a deal to force Mr. Assad to sign the chemical weapons treaty and dismantle his stockpile of the poisonous munitions under international supervision.
The Syrian government, though, violated the deal, according to a United Nations panel set up by the Security Council, known as the Joint Investigative Mechanism. It found that the government had used chemical weapons at least three times.
Russia helped to create the panel but questioned its findings when it implicated the Syrian government. The panel also found that Islamic State militants in Syria used mustard gas in August 2015.
Moscow made clear last week that it would defeat the draft measure to impose sanctions on the Syrian government, calling it unbalanced. The Russian veto signaled how far Russia was willing to go to shield its ally in Damascus.
Mr. Putin reinforced his opposition before the vote on Tuesday, adding that any Security Council penalties on the Syrian government would complicate diplomatic efforts underway in Geneva aimed at halting the war.
"As for sanctions against the Syrian leadership, I think the move is totally inappropriate now," he told a news conference while visiting Kyrgyzstan. "It does not help, would not help the negotiation process. It would only hurt or undermine confidence during the process."
Human Rights Watch concluded in a recent report that the Syrian military had not only violated its promises not to use chemical weapons but had systematically dropped chlorine bombs in the final weeks of the battle to take the northern city of Aleppo last fall.