In Tehran Berri praises Iran's ME role at the sixth conference on the " Palestinian Intifada"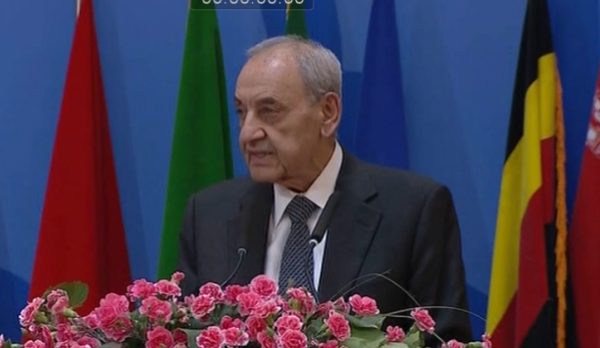 Amal Movement leader , Speaker Nabih Berri thanked  Iran for "supporting Lebanon in facing the Israeli occupation and its solidarity with the Army, people and the Resistance,"  National News Agency reported on Tuesday.
Berri who is in  Tehran delivered a speech at the opening of the sixth conference  on the " Palestine Intifada"  in which  he praised Iran' support for the  Intifada and for its support  for Lebanon in  facing the Israeli occupation .
He stressed in his speech  that none of the Israelis want a political solution, pointing out to the daily occupational practices. He called upon the world "to realize that starting war in the Middle East begins and ends in Palestine."
"We cannot forget that Israel has greedy ambitions, not only in the region but also especially in Lebanon, which is a thorn in its side," Berri said yesterday upon his arrival in Tehran
"We do not forget the Islamic Republic of Iran's support for the resistance in Lebanon, which secured that victory and, God willing, permanent victory," he added.
He criticized president Trump's plan to move  the US Embassy from Tel Aviv to Jerusalem stressing  that this will encourage Israel to take more pre-emptive decisions and called for  "Arab-Islamic preparedness to respond by closing (our) embassies in Washington," in retaliation.
"It is due time for us to get together and achieve justice for the Palestinians."  The Shiite leader who is closely allied with the Iranian- backed Hezbollah militant group was quoted as saying today