Geagea tells Le Pen: Assad is a terrorist just like the Islamic State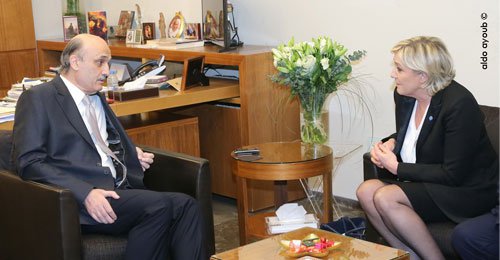 Lebanese Forces chief Samir Geagea met on Tuesday visiting France's far-right presidential candidate Marine Le Pen at his residence in Maarab, where he stressed that Syrian President Bashar Assad is a terrorist  and is no different than the Islamic State terror group.
"I took my time to explain to Le Pen the unclear images that reach the West and that we are all against terrorism which has no religion. Based on the aforesaid, Bashar Assad is one of the biggest terrorists in Syria and the region," said Geagea after the meeting.
"One can't forget the military operations he conducted over tens of years. One can't forget the terror acts he carried out. He can't stay in Syria, so (we say) no to the Islamists and no to Bashar," he stressed, adding that the issue was discussed at length with Le Pen.
On the first day of her two-day visit, Le Pen, head of the anti-immigration National Front, called Assad "the lesser evil  for France" and said the best way to protect minority Christians is to "eradicate" the Islamic State group preying on them — not turn them into refugees.
She said she told Prime Minister Saad Hariri that there is "no viable and workable solution" to the Syrian civil war beyond choosing between Assad and IS.
Le Pen has made known her pro-Assad position in the past but her stance represents a major divergence from official French policy and that of Hariri, who is allied with Saudi Arabia against the Syrian leader.
Discussions in Maarab have also highlighted the Lebanese-French ties, Geagea said: "Relations with France have always been good and we look forward to make them better in the future."
Insulting
Similarly Progressive Socialist Party leader MP Walid Jumblatt slammed  on Tuesday statements made Le Pen which he dubbed as "insulting."
"Marine Le Pen's statements in Lebanon are inappropriate and are considered an insult to both the Syrian and Lebanese people," said Jumblatt in a tweet.