Future Movement says Nasrallah attack against GCC "deals a blow to Aoun's Initiatives"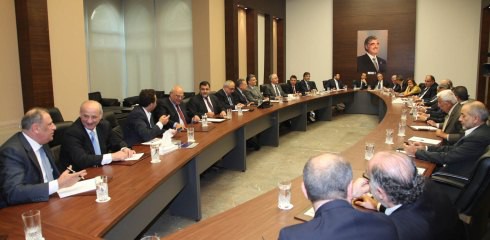 The Future Movement on Friday called on President Michel Aoun to respond to Hezbollah chief Hassan Nasrallah's latest verbal attacks against some Gulf countries, describing them as a "strong blow" to president Aoun's efforts to repair ties with the Gulf.
"Through his attacks on the Kingdom of Saudi Arabia, the United Arab Emirates and the Kingdom of Bahrain, Hezbollah's secretary-general has dealt a strong blow to President Michel Aoun's efforts and to the visits that he intends to make to Kuwait and the UAE after he had visited Riyadh, Doha, Cairo and Amman," The Future Movement said in a statement.
The Future Movement noted noted that since the president "is keen on developing the best relations with KSA, he should address Nasrallah's stances which was described as an "insult to the oath of office" of the president."
The Future Movement was commenting on Nasrallah's Thursday speech in which he accused Saudi forces of "oppressing and killing the Bahraini people" and slammed Bahrain's government over its crackdown on Shiite-led dissent.
He also blasted Saudi Arabia and the UAE over their military campaign in Yemen against Iranian-backed Houthi rebels.
Bilateral relations between the Islamic Republic of Iran and the Kingdom of Saudi Arabia have been strained over different geo-political issues . Although Saudi Arabia and Iran are both Muslim-majority nations and follow and rule through Islamic scripture, their relations are fraught with hostility, tension and confrontation, due to differences in political agendas . Saudi Arabia is a right-wing conservative Sunni Islamic kingdom with a tradition of close ties with the United States, the United Kingdom and France. Iran is a Twelver Shia Islamic Republic founded in an anti-Western revolution with close ties to Russia and China. Both Saudi Arabia and Iran are seen to have aspirations for leadership of Islam, and have different visions of stability and regional order.
Hezbollah was created in 1982 by the Quds force , the foreign arm of the Iranian Revolutionary Guard . The militant group is also funded and trained by the Iranians .
Aoun met with King Salman and other Saudi leaders in Riyadh in January as he sought to repair ties after a falling-out between the two countries last year.
Gen Aoun is hoping to restore a US$4 billion Saudi arms grant to Lebanon's security forces as well as normalise ties with the kingdom.
In February of last year, Riyadh suddenly cancelled the grant and downgraded ties with Lebanon, blaming Hezbollah's domination of the country. Arab Gulf States followed Saudi Arabia's lead by imposing travel bans and endorsing sanctions targeting Hezbollah at the GCC. The moves left Lebanon worried that Saudi Arabia and other Arab Gulf states would take harsher measures against Lebanon to punish the country over Hezbollah's role.
Aoun's trip to Riyadh was his first journey abroad since becoming president, signalling the importance the Lebanese government attaches to strong ties with Riyadh.
"The Lebanese-Saudi relations have been affected by the events that took place in the Arab countries; there have been some ambiguities. I am here today to dissipate them, carrying with me love and friendship for the Saudi people," Gen Aoun said in an interview on Saudi Arabia's state-run Al Ekhbariya television station ahead of his meeting with the king.
Hundreds of thousands of Lebanese citizens work in GCC states, often sending remittances back home to family. And amid the height of tensions last year, there was significant worry among Lebanese that measures could be taken to limit or expel these workers.