Harsh Hezbollah words were a "red line "warning for Trump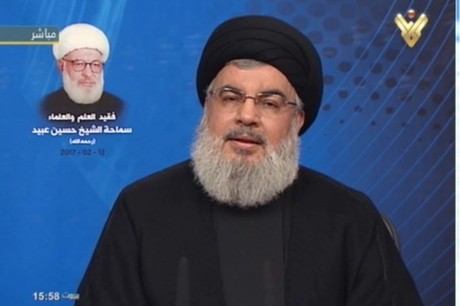 Speeches by Hezbollah's leader this week were aimed at making clear to the new administration of U.S. President Donald Trump that the Lebanese group could strike U.S. interests by hitting Israel, a source familiar with its thinking said on Friday.
Trump and administration officials have used strong rhetoric against Hezbollah's political patron Iran and to support its main enemy Israel, including putting Tehran "on notice" over charges it violated a nuclear deal by test-firing a ballistic missile.
Hezbollah leader Sayyed Hassan Nasrallah on Sunday described Trump as being an "idiot". On Thursday he said that his group, which played a major role in ending Israel's occupation of Lebanon, could strike its nuclear reactor at Dimona.
The harsh words for Israel and Trump were aimed at drawing "red lines" for the new U.S. administration, the source familiar with the thinking of the Lebanese Shi'ite group said. "Until now, Hezbollah is not worried about the arrival of Trump into the U.S. administration, but rather, it called him an idiot this week and drew red lines in front of any action that threatens Lebanon or Hezbollah's presence in Syria," the source said.
Israel and the United States both regard Hezbollah, which dominates Lebanese politics and maintains an armed militia that has had a significant part in fighting for President Bashar al-Assad in Syria, as a terrorist organisation.
The group was founded as a resistance movement against Israel's occupation of the predominantly Shi'ite Muslim south Lebanon which ended in 2000, a role that meant Beirut allowed it to keep its arms after the country's civil war ended in 1990.
In 2006 Israel launched another war against Hezbollah in south Lebanon but withdrew without forcing the group, which gives allegiance to the supreme leader of Shi'ite Iran, to abandon its weapons.
Lebanon's President Michel Aoun, an ally of Hezbollah, defended the group this week, saying: "As long as the Lebanese army lacks sufficient power to face Israel, we feel the need for (Hezbollah's) arsenal because it complements the army's role".
In his speech on Sunday, Nasrallah said: "We are not worried (about Trump), but rather we are very optimistic because when there is an idiot living in the White House, who boasts of his idiocy, it is the beginning of relief for the weak of the world".
On Thursday he urged Israel to dismantle its nuclear reactor at Dimona. Israel is widely believed to have the Middle East's only atomic arsenal at its Dimona reactor but it refuses to confirm or deny if it is a nuclear power.
"We can turn the threat (of their nuclear capability) into an opportunity," he said, signalling that Hezbollah could strike the Dimona reactor and other Israeli atomic sites according to the source familiar with Hezbollah thinking.
Israeli Intelligence Minister Yisrael Katz said in a statement on Thursday:
"If Nasrallah dares fire on the Israel's home front or on its national infrastructure, then all of Lebanon will be hit."
The source familiar with Hezbollah thinking said that it has been Nasrallah's policy since the 2006 war with Israel to reveal elements of the group's military capabilities as part of a policy of deterrence against attack by the Jewish state.
NASDAQ/ REUTERS